Charles, an English mystery writer, played to perfection by Ben Roddy, is delighted to be spending Halloween in America and has invited five others to join him on a mystery weekend at a remote island cottage in the middle of a lake. The other guests, Willy, one time American footballer but now in a wheelchair, the result of a car accident, is performed tonight by director and sound designer, Patric Kearns in a cast change. Kearns does not disappoint, delivering comedic moments with some double entendre with perfect timing.
The glamorous, pouting, McKenzie, (Michelle Morris) is the girlfriend, or rather professional escort, of the bullying Elwood (John Hester), a wealthy bragging and tetchy tycoon and owner of 147 companies. Sisters, Valerie and Henri (Natasha Gray and Claire Fisher) couldn't be more different, with Valerie the elder, outgoing and confident and Henri quiet and reserved, completing the guest list.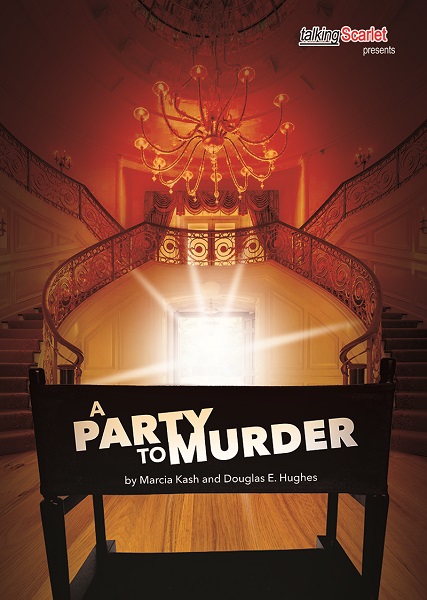 Comparisons to Agatha Christie's 'And Then There Was None' are inevitable and the mystery novelist is paid homage to, with a large portrait of her hanging over the fireplace. Indeed the group taking part in the mystery weekend are called ' The Mousetrap Society' so any similarities are obviously intentional in this play written by Marcia Kash and Douglas E. Hughes.
Presented by 'talking Scarlet', (a company formed in 2001 and now run by multi-talented Patric Kearns, (yes the same one mentioned above!) and Jane Shakespeare, 'A Party To Murder' takes on many sinister twists and turns and unravels a 25 year old mystery as the plot unfolds. There are secret corridors, banging windows and unexplained lights popping, the evening even has a storm brewing outside, all adding to the intensity. A perfect, scary, Halloween location!
After the initial mystery death game finishes and the winner is declared there is surprise when instead of the usual luxury prize which is offered, the player declares that instead, each guest should grant a favour, anything asked of them and from here on the mysteries really start. One of the guests is found dead, hanging and with an axe through his chest, the other guests realise that the murderer has to be one of them.... but who?
As an audience you are kept intriguingly wondering as to 'whodunit' as more of the guests die and the guests ponder as to whether the house is really haunted after the mysterious deaths of five others at the very same house. This is one play that keeps you guessing until the very end, and then you'll probably be wrong!
With further performances at the Grand Theatre Blackpool until 17th September2016 for information and tickets: https://www.blackpoolgrand.co.uk/events/
Reviewer: Lorna Weekes
Reviewed: 13th September 2016
North West End Rating: ★★★