It is a pleasure to be at this unique production of Anniversary, currently playing in West Yorkshire Playhouse's Courtyard Theatre. This contemporary production offers an opportunity for a group of 11 older performers, some who had begun performing as far back as the 60s, to share their life experiences on stage through a kaleidoscope of story-telling, poetry, movement, dance and music.
A Performance Ensemble and West Yorkshire Playhouse created and developed Anniversary and last year the production was commissioned through The Baring Foundation Late Style programme. Anniversary is unique as there is a particular emphasis on celebrating the present instead of living in the past or in the future.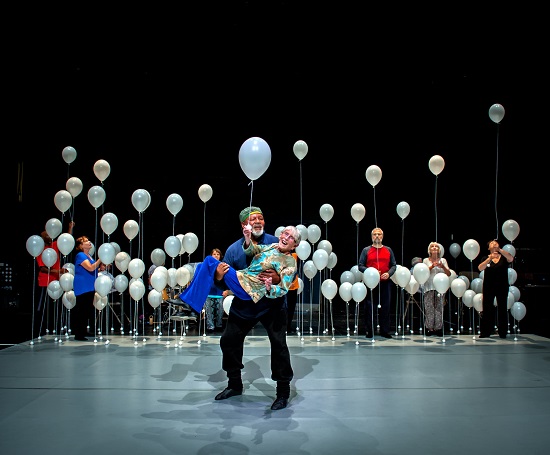 The performance begins when performers announce key anniversary dates which later on in the show will link to significant events that have happened in their lives. The performers share honesty "an anchor" at different stages during the show and reiterate how such events shape and strengthen who they have become today.
Optimism is shared by some of performers such as Namron and Villmore about making wishes, dreaming dreams and never knowing what the future holds. Alex shares his experiences and pleas for not to take my "sunshine away" during the company's adaptation of Johnny Cash's "You are my sunshine".
A moving moment is certainly is the heartfelt singing of "Seasons of Love", from the musical RENT, by the company and a sign language choir. It sums up the stories that are shared on stage and how, for some performers, the anniversaries are continuing such as the Phoenix Dance Company, which Villmore jointly founded in 1981, and the company is currently celebrating its 35th anniversary. There is also Connie whose "two year plan" on her arrival from Madeira to England in the 1960s is still ongoing.
The finale is unique with balloons filling the stage and the question being asked how balloons associate with one's life whether it is a happy or a poignant occasion. Anniversary concludes with a creative and reflective dance finale by the company and receives a heartfelt standing ovation from the audience.
West Yorkshire Playhouse certainly lives up to its reputation for being the "home of incredible stories" and this performance is an evening of such. The theatre takes pride in their creative arts programme, Heydays, for the over 55s. This is a very heartfelt and moving production where each and everyone in The Company have a role to play from its creation to choreography.
Reviewer: Dawn Smallwood
Reviewed: 15th September 2016
North West End Rating: ★★★★