A laugh-out-loud comedy about misunderstandings and mistaken identity, Relatively Speaking (originally titled Meet My Father) opened at the Duke of York Theatre in March 1967 and was written by Alan Ayckbourn, having first premiered in Scarborough in 1965.
The London production at the Duke of York's Theatre was Ayckbourn's first London West End hit. It also aided the launch of Richard Briers' career, and starred Michael Hordern and Celia Johnson. Since then, it has been staged by both amateur and professional companies; and in 2013 had a successful revival for three months at Wyndham's Theatre, London, starring Felicity Kendal as Sheila. The play has also been produced internationally – in Singapore, Kuala Lumpur and Sri Lanka, in 2007 by the British Theatre Playhouse.
I must admit I was rather apprehensive about the play, having no previous knowledge of the storyline and having read mixed reviews for the current tour, however I went with an open mind and was certainly left regretting any previous doubts!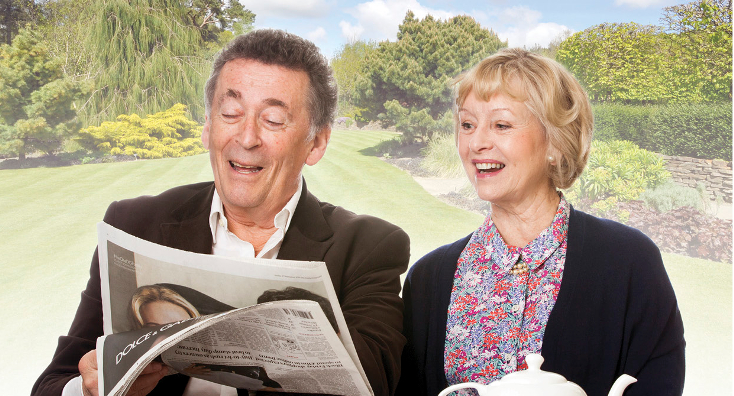 Act One opens in Ginny's (a young woman with a chequered past) London flat in the late 1960s, where she is currently co-habiting with current boyfriend Greg. On waking one morning Greg answers the phone to what appears to be a wrong number, and is as equally confused by the amounts of flowers in Ginny's flat but is too besotted to believe that they could possibly be from ex-boyfriends or besotted admirers. Ginny is in a hurry to leave on what Greg is left to believe is a visit to her parents in rural Buckinghamshire, and insists on going alone.
Unbeknown to her, Greg secretly follows her, however he is the first to arrive at her "parents" address. Believing they are her parents, Greg introduces himself to the confused Sheila and Philip who reside at the quintessential "The Willows" grand country house in Buckinghamshire. Prior to his arrival, Sheila hints to husband Philip (the pair have an obviously strained marriage) that she is herself having an affair, to which Philip replies "The fun of having an affair is keeping the secret". This then leads Philip to get his wires crossed when Greg asks permission to "marry her" thinking Greg is Sheila's secret toy boy lover.
The show is filled with witty lines and plenty of laugh out loud moments from a fabulous cast of four – Robert Powell (Philip), Liza Goddard (Sheila), Lindsey Campbell (Ginny) and Antony Eden (Greg). Although I had no previous knowledge of the storyline, it did not take me more than five minutes from the opening of Act One to guess the twists in the storyline, however this did not take away any magic from the show itself, in fact I just found myself hanging at the edge of my seat even more so.
Antony Eden instantly wins the audience over with his comically sketched opening entrance, where he wiggles himself (supposedly naked) from under the bedsheets in Ginny's flat and then twists it into a giant nappy/loin cloth and then imitates a sumo wrestler. Greg is a well-mannered young and naive businessman whilst Ginny (Lindsay Campbell) is less naïve and innocent and has a drawer full of secrets. The pair together work wonderfully and they are a delight to watch.
Robert Powell and Liza Goddard are equally perfectly paired, Powell as Ginny's ex-employer and Goddard as his charming wife.
Acting and laughs aside, for me the highlight of the show was the fabulous stage set by Peter McKintosh, with "The Willows", the rural grand house occupied by Philip and Sheila being impressively realistic complete with a green stage from opening to curtain call which formed the impressive lawns at The Willows, along with perfectly pruned edges and patio.
Having recently spent a week at Leeds Grand Theatre prior to arriving in Sheffield at the Lyceum Theatre, Relatively Speaking has one week in Sheffield (playing until Saturday 24th September) before continuing onto Richmond in October and Milton Keynes in November. It is definitely on my list of shows to see again!
There are still tickets available for the Sheffield stretch of the tour, and I for one am already planning a second visit! Tickets are available through www.sheffieldtheatres.co.uk or calling the Box Office on 01142 496000.
Reviewer: Lottie Davis-Browne
Reviewed: 19th September 2016
North West End Rating: ★★★★