So how does a musical work when it's based on a story where dance and rock music is banned and there isn't even an orchestra supporting? Simple, you cast multi- talented actors who will leave the audience wanting more after experiencing a high energy, fast paced and toe tapping show that will delight people of all ages. Footloose was originally a successful film written by Dean Pitchford in 1984, who, along with Walter Bobbie has now created the stage adaptation and is loosely based upon the true story of a small religious community who banned public dancing and rock music in rural Elmore City, Oklahoma.
Set in the town of Bomont, the plot unfolds, as due to his father leaving them, Ren McCormack and his mother Ethel are forced to go and live with his uncle in the sleepy backwater. Luke Baker as McCormack gives a brilliant performance and although the townsfolk of Bomont are suspicious and unwelcoming of him, the audience took to him straight away. He is befriended by Willard (Gareth Gates) who tells Ren about the dancing ban, enforced after a fatal car accident involving four of the community's teenagers, including the son of the Rev Shaw Moore.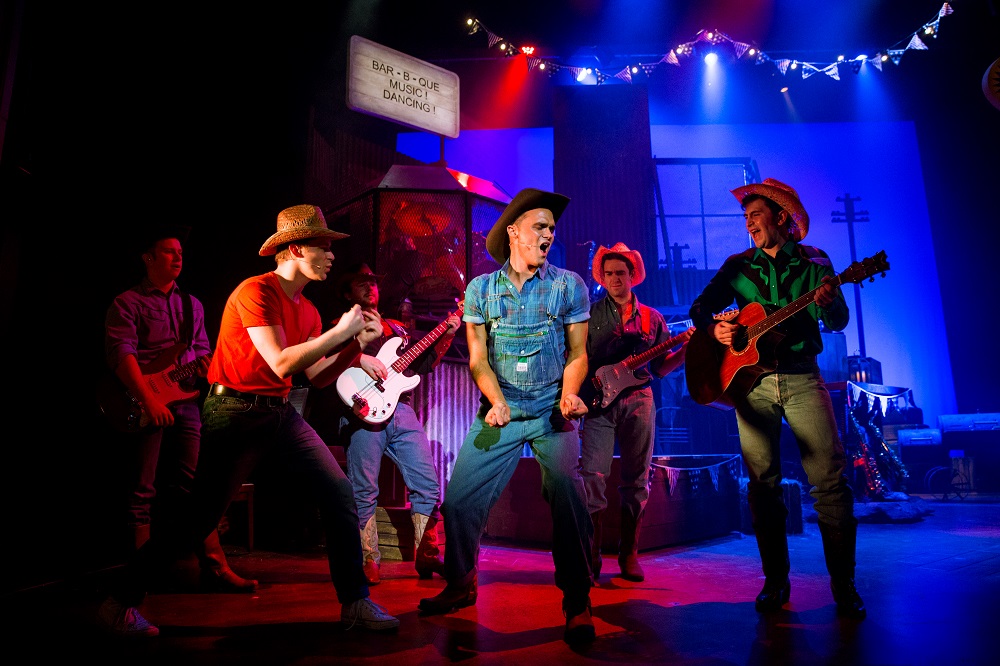 Nigel Lister as the Rev Shaw Moore holds the authority for the part with his bigoted attitude and until the arrival of Ren, has never been challenged. Will Ren be able to win him over and allow a school dance? Maureen Nolan as his downtrodden wife Vi is quietly superb, with a fabulous rendition of 'Can You Find it In Your Heart' and adds a familiar stability to the musical. Another stand out moment is the song 'Learning to Be Silent' when Nolan is accompanied by Price (Ariel) and Nicky Swift (Ethel McCormack). Lesser known song 'Somebody's Eyes' is beautifully sung by (Urleen) Miracle Chance, Rusty (Joanna Sawyer) and Wendy-Jo (Natasha Brown).
No good story is without a love interest and this is no exception and Hannah Price as Ariel is our rebel's choice. Unfortunately she is the daughter of the Reverend and already has a boyfriend, the abusive Chuck. (Tom Hier). The chemistry is there between Ren and Ariel and you would never know that this is in fact, the first official role for Price since graduating, with an impressive performance throughout. There are some surprises with Gates as the loveable, but slow witted Willard, as he shows his ability to perform as a comedy actor with perfect timing and reveals more about him than expected. (I won't spoil that bit!) His endearing attempts at learning to dance bringing love and warmth to the show.
What sets this musical apart from others is the amazing versatility of the performers. They dance, they sing and incredibly they play all the instruments as they perform, which seems an impossible feat, but without exception, they accomplish with ease.
All the expected classic 80's hits from the film such as 'Holding Out For A Hero' and 'Let's Hear It For The Boy' and of course 'Footloose' are included and at the end of the show a medley of them have the audience standing and joining in. Footloose is fun, its lively, its emotive and guarantees a great evening's entertainment that will for many, bring fond memories of the 80's flooding back.
The show continues at the Winter Gardens Blackpool Opera House until 24th September 2016 and for more info and tickets: http://www.wintergardensblackpool.co.uk/movies/footloose/?gclid=CKiCt_3Rnc8CFQ6eGwod7qAEtQ
Reviewer: Lorna Weekes
Reviewed: 19th September 2016
North West End Rating: ★★★★