Presented at the Grand Theatre Blackpool, Travels With My Aunt, by Graham Greene and produced by Mathew Parish for the Creative Cow Theatre Company, is a play of many characters but in a twist there are just four actors taking on the roles. Central to the plot are Henry Pulling, a middle aged recently retired banker who leads a very mundane life, spending most of his time in the garden tending to his dahlias and his Aunt Augusta, an eccentric elderly lady with a zest for travel and having led a very colourful life they couldn't be more different.
Daniel Goode, Richard Earl, Jack Hulland and Katherine Senior take on up to seven characters each and confusingly all take on Henry Pulling and Aunt Augusta in this adaptation by Giles Havergal, directed by Amanda Knot. The set for the duration of the play is of a well stocked club bar relying on imagination for the various scenes to come. In fact imagination plays a very large part as there are very few props used during the play, a pair of bright pink spectacles portray Aunt Augusta, various hats and an eye patch for others. As the play unfolds the various places visited are highlighted with subtle music with an accordion playing representing France, a guitar in Buenos Aires.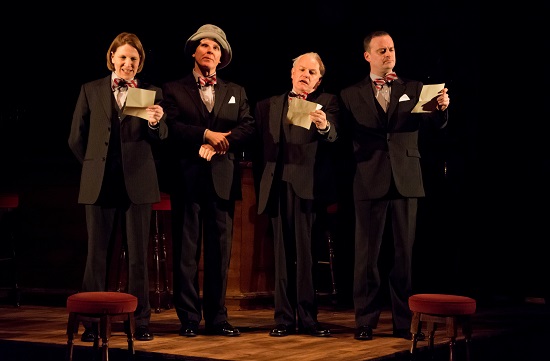 The play starts with all four actors sitting at the bar and wearing identical suits. Their movements are synchronised perfectly and for me the confusion started here until I realised that Henry or Augusta are being played by more than one actor on stage at the same time! It is the funeral of Henrys mother and his first meeting with his Aunt Augusta in over 50 years. She persuades him to travel with her, Henry's idea of travel is to Brighton and he could never have imagined how his life was about to change as they embark upon a journey of discovery in more ways than one. Henry is shocked to learn from his aunt that his dearly departed mother was actually his stepmother. The travels bring him into contact with many dubious characters, from psychics to CIA agents and with adventures he hadn't even dreamt about, even romance is on the cards.
Two other significant characters are Wordsworth, a devoted and loyal, pot smoking, toy boy lover of Aunt Augusta from Sierra Leone and wonderfully portrayed by Daniel Goode. Of all four actors playing Henry Pulling, I preferred Goodes portrayal of the character and for Aunt Augusta, Jack Hulland. Mr Visconti, a former lover of Aunt Augusta is a renowned swindler, but she is keen to meet up with him again. He is performed brilliantly by Richard Earl who adds just the right amount of comedy to this disreputable character. Although there are eight female roles in the play, Katherine Senior 'only' takes on six of them including a brief but endearing depiction of the young poetry lover Yolande.
I have to confess after the initial confusion over who was who, sadly at times I became bored with this unusual presentation. Despite new characters, new places, it was the same actors, same set, the same costumes bar a couple of accessories, even with the unquestionable skills of the actors and a good storyline it became predictable and I found myself wishing for a good old fashioned play. My husband loved it.
Travels With My Aunt continues at the Grand Theatre Blackpool until 24th September 2016, for more information and tickets: https://www.blackpoolgrand.co.uk/events/
Reviewer: Lorna Weekes
Reviewed: 22nd September 2016
North West End Rating: ★★★