Never did I think I would come out of a musical singing the line "you've got to have your dream in your spleen and live it" so there really IS a first time for everything!
Showstopper is one brave concept. Each show is as unique as a fingerprint in that it is a brand new musical completely based around suggestions from the audience as to concept and style. For one night only every night – this is performance art in its truest and finest sense! It gives a whole new meaning to spontaneity.
The show began as an hour long workshop exercise which was the brainchild of Dylan Emery, Adam Meggido and Ken Campbell. It was so successful that Emery and Meggido decided to create a fully fledged show from the idea.
I can proudly say that I contributed to tonight's production...but more of that later.
While waiting for the show to begin, there was a soundtrack of songs from musicals playing... presumably to get the audience in the correct mindset and inspire them. Even if it didn't have this effect, it was very nice to listen and sing along to.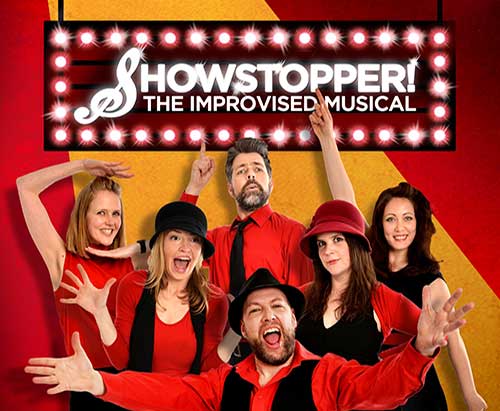 The show begins with the ringing of a red telephone. On stage comes our MC for the evening (Sean McCann) who had the audience in stitches even before the musical started. The concept is that "the producer" is on the phone ("oh hi, Cameron") and he needs a brand new musical by 10 pm. McCann states that he is with his writer's group (us!) and that not to worry, we're on the case.
The audience are then asked to suggest a setting for the new musical. From suggestions including a crystal maze, Old Trafford and Hogwarts ("already taken"), the audience are asked to cheer for the one they would like. So what does Salford choose? A mortuary. True northern grit. We are then asked to provide suggestions for composers and then a title for the musical.
So tonight saw the world premiere of "I Sing Dead People". You read it here first!
The opening song commenced straight away. With literally only a couple of minutes' notice of the setting and title, the cast of six plunged straight into an impressive opening number with no hesitation or faltering. The song scanned perfectly and rhymed and you would think they'd been singing it for months!
To summarise the entire plot: The mortuary belongs to the Death Squad Sisters who provide 'respectful' funerals. We learn that the musical is set in the First World War (some anachronisms including eco funerals and the M25 gave rise to huge laughs from the audience) and the sisters are East End born and bred. Two of the sisters have an affair with Mr Clyde, a Pall Bearer and heartbreak but then happiness ensues. In the meantime, another of the Pall Bearers falls in love with Brigadier Forsooth Forsythe... heartbreak but then happiness ensues. It's just like a proper musical! We laughed, we felt sorrow...we learned that dreams live in your spleen.
From time to time, the action stops and the MC is spot lit to announce that the next song will be in a certain style (suggested by the audience).
There were moments when some occasional corpsing occurred (although what would you expect from a musical set in a mortuary) but this was hilarious and added to the whole experience.
At the end of the first Act, the audience were encouraged to tweet ideas of how to open the second Act. I'm pleased to say that my idea was chosen and the second half began with a Bob Fosse style choreographed song performed perfectly with just the right amount of jazz hands. Thank you, Showstoppers.
Apart from this song, I think my favourite of the evening was "Stop Dicking About" sung in the style of Billy Elliott the Musical... the choreography was hilarious, as were the words and the way it was sung. The title song "I Sing Dead People" was performed towards the end of the show in the style of "Close Every Door" from 'Joseph'. Fantastic!
The show ended with a positive message of hope as all good musicals do, with the three sisters planning to move to Switzerland because business should be good there as there are lots of mountains for people to fall off. Don't mock! Mainstream musicals have been created out of more ludicrous ideas than this!
What a talented team the Showstoppers are. Tonight's performers were Ruth Bratt, Pippa Evans, Lauren Shearing, Ali James and Andrew Pugsley. There was a sixth performer (who played Jacob) but sadly, he isn't credited on the website so apologies to him. Huge recognition must go to the two musicians (Craig Apps and Yshani Perinpanayagam) who produced a fabulous musical score seemingly effortlessly.
This wonderful concept of a show has to be seen to be believed. It is fabulous and hilarious entertainment but it also showcases some outstanding talent. The thought of what they do makes me break out in a sweat of nervous fear. If you didn't know it was all improvised, you couldn't possibly guess. This is entertainment with a capital E and this is why live theatre cannot be eclipsed by anything else.
Silly? Yes. Zany? Very. Highly entertaining and the best night out you'll have in a long time? Definitely. There must be a song that can be made out of that.
Do not miss the chance to see the fabulously talented Showstoppers in action. They're at The Lowry on Saturday 24th September. You don't know what you're missing...and neither will the performers until you suggest it so get down there.
Reviewer: Nicky Lambert
Reviewed: 23rd September 2016
North West End Rating: ★★★★★