Once again the Oldham Coliseum have produced yet another stellar production, this time directed by Iqbal Khan that hits all the right notes and is full of laughs and in parts very moving.
Educating Rita is a stage comedy by British playwright Willy Russell. It is a play for two actors set entirely in the office of an Open University lecturer. Commissioned by the Royal Shakespeare Company, Educating Rita premiered at The Warehouse, London, in June 1980 starring Julie Walters and Mark Kingston. Walters went on to star in the film version of the show opposite Michael Cane.
Liverpudlian working-class young woman – hairdresser – Rita (Scarlett Brookes) wants to better herself by studying literature. Her assigned Open University professor, Frank (Steven Elliott), however, has long ago openly taken to the bottle, and soon develops misgivings about Rita's ability to adapt to student culture. Frank is a jaded university lecturer, who describes his occupational ability as "appalling but good enough for his appalling students". His passion for literature is reignited by Rita, whose technical ability for the subject is limited by her lack of education but whose enthusiasm Frank finds refreshing.
Elliot as Frank is played beautifully throughout as you witness how drink has an effect on his life, career and everyone around him. Brookes as Rita steals the show in this production putting in what deserves to be an award winning performance. A faultless Liverpudlian accent is maintained throughout delivering as many laughs as costume changes!
A stunning set from Florence de Marè sees the entire play set in Frank's university office which is littered with what seemed like thousands of books, some of which proved handy hiding places for his nemesis, the drink. Large bay windows looked out over the university campus and even at one point got rained upon. Couple this with ingenious lighting effects from Jane Barrek and as Brookes's performance it too is deserving of an award.
This play is very relevant right now as director Khan touched on in his programme notes. He says "It (the play) was written when Thatcher's Conservative party was beginning its radical project, dismantling values that informed how we saw ourselves and our responsibilities to others. Society was atomised. Now, as the first Conservative government in a generation begins its project, the Labour movement have a new champion and the old debate, the vital debate of how we live side by side, how we support and protect each other's freedoms and opportunities is set to dominate for the coming years".
Educating Rita is only playing two short weeks at the Coliseum so do not delay in getting your ticket, you could just be watching the best the Coliseum has produced in what has been a sensational year.
Reviewer: Paul Downham
Reviewed: 16th October 2015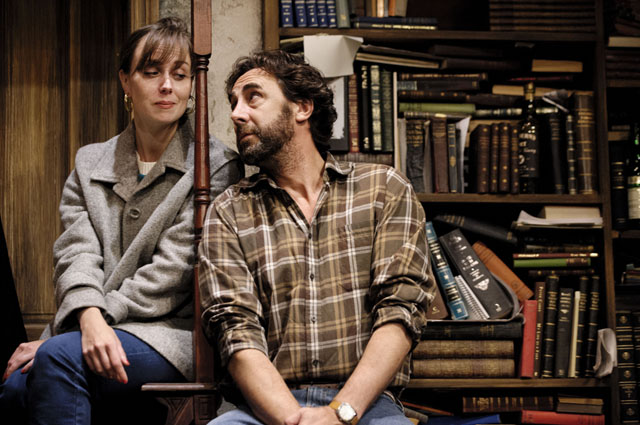 Photograph: Joel C Fildes