Vincent Simone and Flavia Cacace are synonymous with the Argentine Tango. They are world champions in it, having danced and competed together for many years and of course, they became household names through Strictly Come Dancing.
They have had two previous tours: Midnight Tango and Dance 'til Dawn.   The Last Tango is their final ever theatre tour and will be the last chance most people have of seeing them dance live together.
While Midnight Tango was set in a late night bar in Buenos Aires and Dance 'til Dawn was set in the golden age of Hollywood, The Last Tango is a poignant, reflective story and is the reminiscences and memories of George (Teddy Kempner) as he looks back over his life and remembers happy times and memorable occasions with his wife, while going through forgotten belongings in the attic.   Their story is told through dance.
We see how they first met and follow their courtship, set to a lively and fun Charleston and Quickstep routine.   This progresses to the marriage proposal, wedding, honeymoon and buying their first home.   Children follow, as do momentous birthdays. This is done sweetly and in a charming way. Throughout the whole story, we are kept wondering where George's wife is and why she isn't reminiscing with him... No spoilers - you will have to see the show to find out.
There is no dialogue in this show, apart from George's comments which are designed to make the audience chuckle.   Teddy Kempner's role is relatively small overall but is very important nevertheless - the whole premise of his memories forming the basis of the show is very well executed and effective. He plays this part with great pathos and empathy.
A large part of the stage is taken up with the attic props and the actual area for dancing is not overly large, yet Vincent and Flavia and their company of eight dancers manage in the confined space extremely well.   The scenery changes are slick and quick, also the costume changes.
A wide variety of Ballroom and Latin dances are showcased, as well as the trademark Argentine Tango. The Viennese Waltz was almost ethereal and absolutely breathtaking and probably had every lady in the auditorium wishing she could change places with Flavia for just a minute or two. The Jive/Lindy Hop section set to a medley of wartime songs was utterly compelling and executed to perfection (and also seemingly effortlessly) by the eight supporting dancers.  
Matthew Gent is the singer who provides smooth vocals with great ease to accompany some of the musical numbers.
Towards the end of the show, Vincent and Flavia perform a Rumba.   They say you should dance like no-one is watching and this they certainly did. It almost felt as if the audience was intruding by being there.   This dance was very moving and sensuous, although it wasn't the high energy dance that is perhaps more of a crowd pleaser to finish on.
The final treat is the encore when Vincent and Flavia perform an absolutely stunning Argentine Tango. They have clearly saved the best one to last.   It should really be renamed as an Argentine Tangle - how they can move their legs with the speed and precision that they do is completely unbelievable.
This is a good show with moments of great dancing but I'm not sure whether it is the dazzling finale to their theatre career which I was expecting.   That said, the final Argentine Tango...or the last Tango...has to be seen to be believed.
Reviewed: 10th November 2015
Reviewer: Nicky Lambert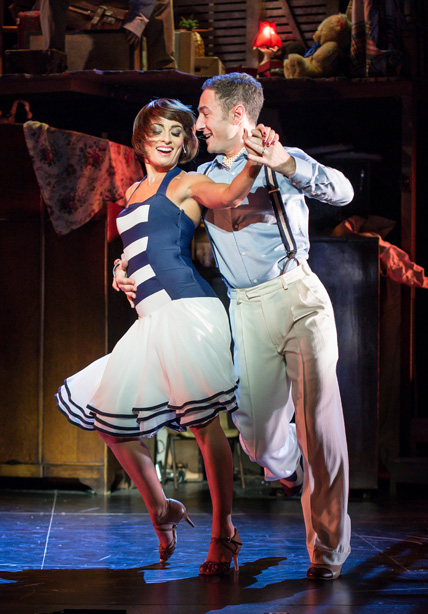 Photo: Manuel Harlan