I'm just going to come right out and say it: THIS IS A MUST SEE SHOW!  I'm starting on a high because there is no low whatsoever!
Anyway...Guys and Dolls is a very well loved musical set in downtown New York amongst the seedier element of 'crap games', gambling and out and out sin.   We follow Nathan Detroit's attempts to stage an illegal 'floating' crap game and his tempestuous romance with Miss Adelaide, together with Sky Masterson's efforts to woo a Salvation Army 'mission doll', Sarah Brown.
From the moment this show begins, it is a feast of colour and spectacle with amazing dancing and dazzling choreography.
We meet Nicely Nicely (Gavin Spokes) and Benny (Ian Hughes). They are an extremely well paired comic duo with excellent voices.   They sing "Fugue for Tinhorns" and their precision sets the tone for the rest of the show.
Then we meet Nathan Detroit, played by David Haig.   When I knew he was playing this part, I was a little bit dubious but I was quickly proved very wrong.   He carries it off beautifully, bringing a cheeky chappie charm to the role which is just perfect.
The surprise of the night though was Sophie Thompson as Miss Adelaide. It has to be said that she stole the show.   What a versatile actress this lady is!   She can sing and dance and she has a razor sharp sense of comic timing. Her delivery and intonation are honed to perfection. She can make the audience laugh without even saying anything and you could feel the warmth radiating from the audience to her. She portrays the character as a ditzy, wide eyed, 'dumb broad' but can quickly become a raunchy vixen, determined to get her man.  
Jamie Parker is Sky Masterson, the high roller who sets his sights on the seemingly unattainable Sarah Brown. He oozes charm and confidence - which she finds hard to resist (although it has to be said, she doesn't resist very hard!).   His performance of "Luck be a Lady" was intense and meaningful and I have never seen it performed this well.   I didn't want it to end.   He bears a slight resemblance to Marlon Brando (who starred in the film with Frank Sinatra) but he can actually sing!
Sarah Brown is one of the less flamboyant and colourful roles to play but Siubhan Harrison pulls it off extremely well.   She is the prim and starchy Salvation Army "sister" to begin with, on a mission to save wicked sinners from the evils of drink and gambling but gradually mellows as Sky relentlessly pursues her.   She shares a scene with Miss Adelaide when they perform "Marry the Man Today" and this was totally joyful to watch.
Special mention should go to Nic Greenshields who plays Big Jule...and he is BIG! Absolutely fantastic characterisation.
The scenes between Nathan and Miss Adelaide are an absolute treat.   The chemistry between the two actors is spot on and these roles could not have been better cast. There are moments of hilarity in some of the scenes they share.
The ensemble are spectacular.   Their timing and precision is flawless and they perform some jaw dropping moves and backflips.  This is particularly evident in the sewer scene where the illegal 'crap game' is taking place - I could have watched them all night.   Speaking of the sewer scene, this is represented by an oversized inflatable grey coil.   A stroke of genius! It was evident what it was but yet so simple!
It is almost impossible to favour any one scene or song as every song is a joy but "Sit Down You're Rocking The Boat" is absolutely wonderful. The quality of the choreography and the singing is completely amazing.
This is pure musical theatre - escapism, fun and it leaves you wanting more, more, more! You will come out humming and I challenge you not to have "Sit Down You're Rocking The Boat" in your head for hours after the show.
What a sparkling production.   Every musical should make you feel like this.   It is truly glorious and if you have to sell your soul to get a ticket - just do it.   It will be worth it...and you can always call in at the mission for a prayer meeting on the way home.
Reviewed: 12th November 2015
Reviewer: Nicky Lambert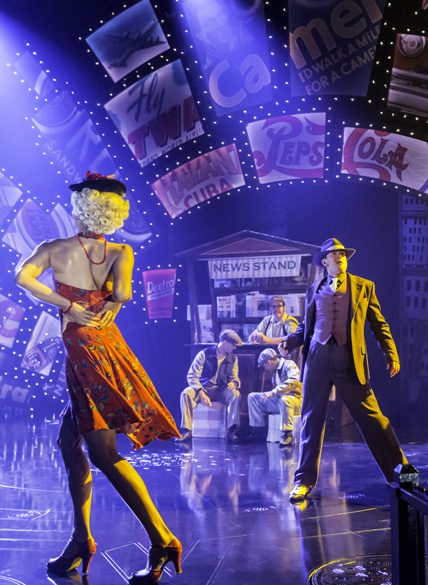 Photo: Johan Persson