To mark the 125th anniversary of the birth of Agatha Christie, the Theatre Company set up in her name by West End Theatre producer Bill Kenwright, has spent most of this year touring up and down the country with Christie's own stage adaptation of her most famous novel. Originally published in the UK under another title, (which in this age of political correctness has understandably been changed), the novel is generally regarded to be Christie's masterpiece and has sold over 100 million copies. It may come as a surprise to some people who now regard Agatha Christie and her work to be unfashionable that at the time of publication the novel's plot was regarded by many critics to be ground breaking.
When it was published in America in 1939, using the more familiar title, (as is used here), And There Were None, The New York Times described it as being, "utterly impossible and utterly fascinating. It is the most baffling mystery Agatha Christie has ever written." Since the first stage performance and cinema adaptation of the novel in the 1940's, its format has been much copied in the theatre and on film and TV. In an interesting programme article the Director of this production even goes so far as to claim that the novel and the play amongst other things are precursors of TV's, Big Brother and I'm A Celebrity ... Get Me Out Of Here!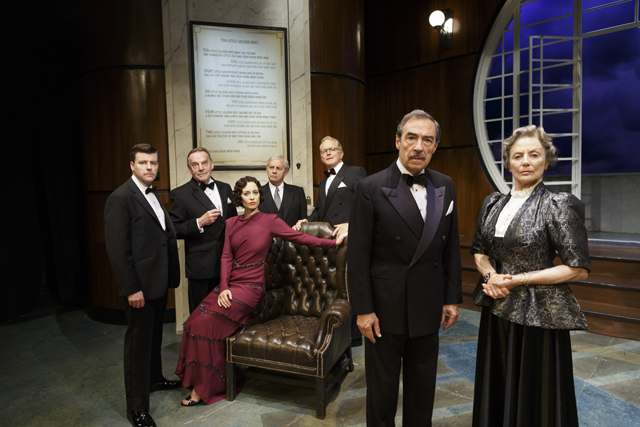 The play version of And Then There Were None begins as the novel does with the arrival of ten strangers on a remote island off the coast of Devon. They have been summoned by their host, a mysterious eccentric millionaire, who when they arrive is discovered to be missing. At dinner the guests are played a recorded message in which each is accused of murder. Stranded by bad weather the guests are forced to stay in the isolated millionaire's mansion and confront the crimes of their past. As they do so as in a well-known ancient nursery rhyme, (which is thoughtfully and tastefully renamed in this production, Ten little solider boys), they are murdered one by one.
Set at the time of the novel's original publication the play is performed on a magnificent art deco period set designed by Simon Scullion. Ably directed by Joe Harmston, the cast, most of whom are instantly recognisable from their many appearances in popular TV programmes, impress throughout and overall the acting is of a much higher standard than would normally be expected from a touring production of this kind. Credit must go to both the director and the hard working cast for making the script, which in lesser hands could easily be thought of as being clichéd and hackneyed, believable and convincing. Particularly impressive are former Blue Peter presenter, Mark Curry as the Butler, Rogers and Deborah Grant as the elderly curmudgeon spinster, Emily Brent. Good support is provided by Kezia Burrows as the young Governess, Vera Claythorne and Colin Buchanan as a former London Police Officer turned Private Investigator.
In no way could this play be described as a classic; however it is a cracking whodunit which keeps the audience guessing right to the very end. Having not read the book or previously seen a TV or stage version of And Then There Were None, I really had no idea who the killer was until their identity was revealed. All of my suspects were quickly despatched before the first of the two intervals and I expect like many of the audience will have done, I fell for each of Dame Agatha's strategically placed red herrings!
Bill Kenwright, astute as always has discovered a real niche in the market for producing well-made period theatrical thrillers. His Agatha Christie Theatre Company has enjoyed considerable success with a range of productions including Witness For The Prosecution and Black Coffee and on the strength of this production looks set to continue in this rich vein for some time yet.
Reviewed: 16th November 2105
Reviewer by Richard Hall