Speaking as a comedy club virgin but nevertheless an enthusiastic fan of comedy I was extremely excited to be attending the opening of the new LAUGHTERHOUSE Comedy Club on Mathew Street in Liverpool, and I was not left disappointed. A few well-known and well respected comedians were in attendance such as Mick Miller, Jo Caulfield, Liverpool's own Neil Fitzmaurice and, filling in for John Bishop last minute who sadly could not attend, The Boy With Tape On His Face.
The evening was off to a great start where we were warmly received at the door by staff and directed, complimentary champagne in hand, to our seats where we awaited the start of the show. The low ceiling and dimmed lights really added to the cosy atmosphere of the room, making it really warm and comfortable as soon as we entered (especially when the heating was turned on!!) The laughter of the night started with the brilliant LAUGHTERHOUSE MC Chris Cairns, who was my personal favourite from the whole night, who warmed the crowd up perfectly for the acts to come.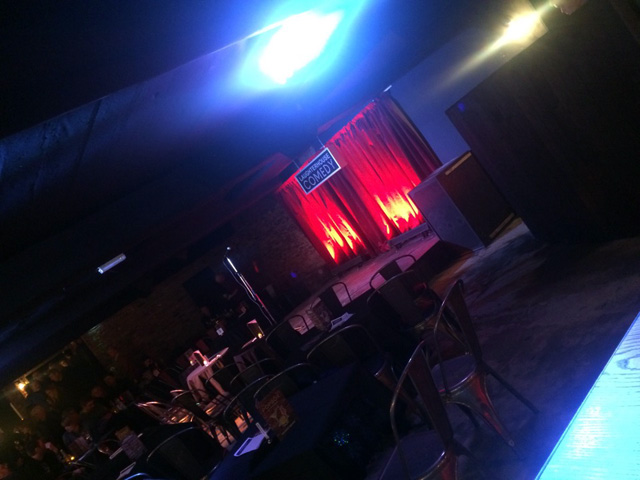 Although some of Mick Miller's material may have been a little dated for people in my age group (20 and younger), there was no doubt that he had fans in the crowd and he was certainly an old favourite for many. His set was witty and wonderfully amusing and he was a brilliant act to open the night with. It only went from strength to strength.
Waving the flag for the female comedians was the brilliant and beautiful Jo Caulfield. Better known for her TV appearances on comedy panels such as Never Mind the Buzzcocks and Mock The Week she showed she was just as funny taking the stage by herself. Opening her set with jokes about 'posh scousers' and the everyday troubles of marriage she was on to a winner from the start and the laughs continued throughout her set.
The much loved Neil Fitzmaurice followed and was warmly welcomed from a home crowd who were delighted to have him on stage and representing true scouse humour. Most famously known for his appearances in Phoenix Nights, The Office and Peep Show, it was a refreshing change to see him take to the stage himself and have many in the crowd fondly reminiscing about holidays in Rhyl whilst also cracking a joke about Liverpool football player Sturridge that seemed to get the biggest laugh of the night. Definitely a crowd favourite.
The night was concluded with a surprise appearance from The Boy With Tape On His Face. Admittedly, he may not be everyone's cup of tea as his unusual, silent, prop based act that relies heavily on audience participation does not always tickle everyone's fancy, but there is a simple, accessible and silly quality to his performance that had the crowd in stitches and many people on their feet at the end. Highlights included a re-enactment of the famous pottery scene in the film Ghost and a strip tease from a member of the audience. You would have to see it to understand or believe it and I absolutely recommend you try to see his live performances with an open mind and fully prepared to embrace your inner silly soul.
A huge round of applause is necessary for all of those involved who managed to successfully create such a relaxing, welcoming atmosphere. There was no sign of what I can only imagine was an incredibly stressful and anxious opening night for those organising and there wasn't a member of staff who didn't respond in the warmest and kindest way. The sometimes distracting music coming from Rubber Soul next door was eventually drowned out by the hearty laughter and rapturous applause from all of those in the audience. There is no doubt the club will be a massive hit and I will be sure to visit again as soon as possible for more brilliant, live comedy.
Reviewer: Sarah Goldsmith
Reviewed: 27th November 2015