Carmen was written by French Composer Georges Bizet and was his 17th, final and most popular opera. However, it faced critical failure on its premiere in 1875 due to its intensity, violence and passion. He died shortly after, never knowing how successful it would become.
Carmen is a passionate story revolving around a gypsy girl and the two men who are besotted by her: Don Jose - a Corporal and Escamillo, a Toreador. It is set in southern Spain and the abhorrent practice of bullfighting is also an element of the story.
Tonight, Carmen was played by Liza Kadelnik. Right from the very start, she mastered the role of sultry, manipulative vamp with a very earthy performance and even managed to flirt with the audience at certain points. She conveyed the full bewitching effect of her character to great effect and every movement and look was loaded with devious intent.
At the other extreme, there is Micaela, a 'village maiden' who wants to marry Don Jose. She even brings him a letter from his mother telling him to marry her. She is the kind of girl that mothers would like their sons to bring home to them. No mother would approve of Carmen. The two characters demonstrate the extremes of womanhood very well...Don Jose appears torn between them at one point - this doesn't last long and he clearly decides that Carmen is the one for him, even becoming involved in smuggling with her to ensure their connection is maintained.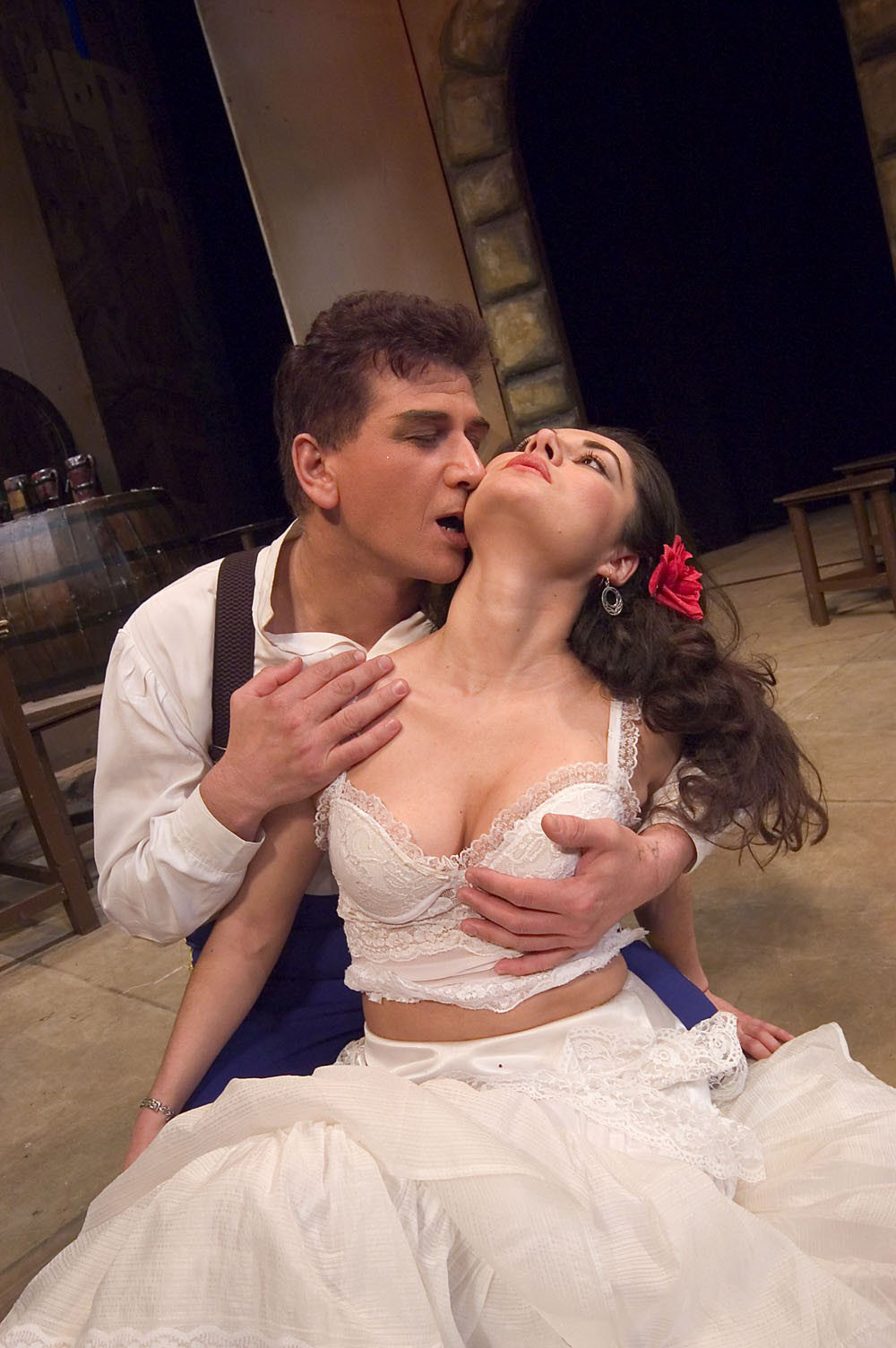 There isn't a great deal more to the story, other than the doomed relationship between Carmen and Don Jose.
The songs are sung in French with surtitles and there are four Acts. It has to be said that opera is not for the faint-hearted or those with long legs - as you have to stay cramped up in your seat for so long. Some of the songs did seem to go on for a very long time without anything of any substance being said but I think that is a common operatic feature!
The set is an impressive architectural façade and is very pleasing to look at and the costumes, particularly in Act 4, are colourful and authentic.
This Ellen Kent company is clearly extremely experienced and talented. Unfortunately, I was disappointed that the singing wasn't more powerful - although when they sang together as an ensemble, it did have more of the strength that I expected. With the exception of Escamillo, played by Iurie Gisca, I felt that none of the individual singing was able to project the level of power that the production deserves.
I was looking forward to seeing this opera and was hoping to be impressed with its intensity and passion. Sadly I wasn't. I found the whole thing to be a bit lacklustre, even the music which, although played magnificently, also seemed to be a bit low-key and lacking in volume and energy. The well known pieces of music left me feeling unmoved and disappointed as I wanted so much more from them. Basically, I felt underwhelmed at the end of the evening.
On the positive side, no bulls were hurt in the making of this production.
Reviewed on: 28 November 2015
Reviewed by: Nicky Lambert