Being a newbie to the opera I was a little hesitant about what to expect and whether I'd understand the plot or roles on stage. I was very wrong to judge this show before watching the performance as I was very overwhelmed by the new experience.
Tosca first premiered in January 1900 in Rome, this is an Italian piece normally in three acts and by Giacomo Puccini and composed by Luigi Illica and Giuseppe Giacosa. What I liked about this production is that it was traditional and told exactly how it was meant to be which is credible when telling a story through song.
We were all transported to Rome in the 1900's.
Personally I struggled at times to follow what was going on in the performance however this didn't stop me drifting into the Italian culture and being drawn into the set, lighting and fantastic special effects all complemented by the elegant performances on stage.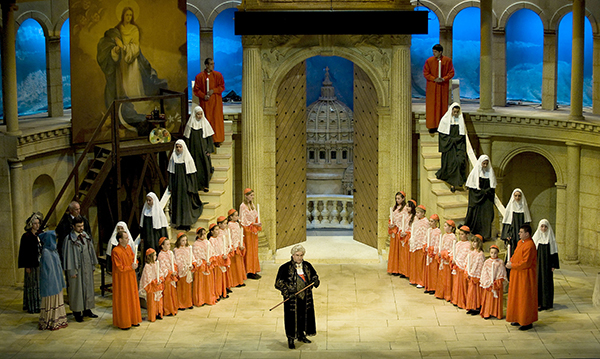 For those like me that need a head start with the story of this show. A painter Mario Cavaradossi helps the fugitive Angelotti escape which grabs the attention of Scarpia who captures Cavaradossi and has him procures all within feet away from Tosca (his lover). Scarpia is actually a well-known and much used villain in Italian opera which creates a well-known link to the opera scene in Italy and particularly in Rome.
Tosca confides with the chief of police about Angelotti's whereabouts however Cavaradossi is sentenced to death leading to Tosca being under the power of Scarpia. Scarpia uses blackmail to captivate Tosca into giving herself to him by ensuring her his death will be faked and kept well under wraps. This is all led to a tragic ending but with this in mind brings a very big twist to this story that you'll have to see to discover.
Being a dark plot the production at Manchester Opera House very much reflected this, the dark lighting really captured the sense of earlier life in Rome while the sound mimicked this perfectly adding new levels of tension to this production.
This production continues to tour and is certainly an unmissable performance for loving fans of the opera. More information of show dates can be found on www.ellenkent.com/how-to-book.html
Reviewer: Jamie Greenwood
Reviewed: 27th November 2015