What a fantastic night at The Royal Court in Liverpool watching this years' Christmas offering, "Pharaoh 'Cross The Mersey". On the way home I was discussing how best to describe the show to somebody who hasn't seen it, and my son who accompanied me tonight said, Back to the Future meets Carry On! I couldn't have put it better myself. If you are looking for a Christmas show to take the older kids to, don't look any further.
Pharaoh 'Cross The Mersey is the latest in what is now a tradition of shows produced at The Royal Court over the festive period which have a distinct Liverpudlian twist. Previous shows have included Scouse Pacific, A Nightmare On Lime Street and The Hitchhikers Guide To Fazakerley. All have been written by Fred Lawless as was tonight's masterpiece.
So the story, not wanting to give too much away, Daisy (Hayley Hampson) and Boris (Michael Fletcher) have fallen in love and after proposing Boris buys a golden Liver Bird necklace for Daisy as a gift. During a holiday in Egypt and in a bazaar they spot a hieroglyphic in the same shape as the necklace and decide to match the two together. Upon matching the couple are transported back to ancient Egypt complete with Pyramids and Sphinx.
The couple first meet Bill (Andrew Schofield) and Ben (Danny O'Brien) who are slaves to King Tut (Michael Starke) and Queen Nefertiti (Lindzi Germain) and tasked with building Pyramids, although they have not quite grasped the plans correctly. They also are intent on escaping their slavery, although their attempts are about as successful as their building!
Things take a dramatic turn after Queen Nefertiti realises the power that the Liver Bird necklace harbours, that of eternal power, and she will stop at nothing to make this hers. What follows is straight out of a Carry On film with love potions, talking camels, and visits to a chip shop and a nightclub.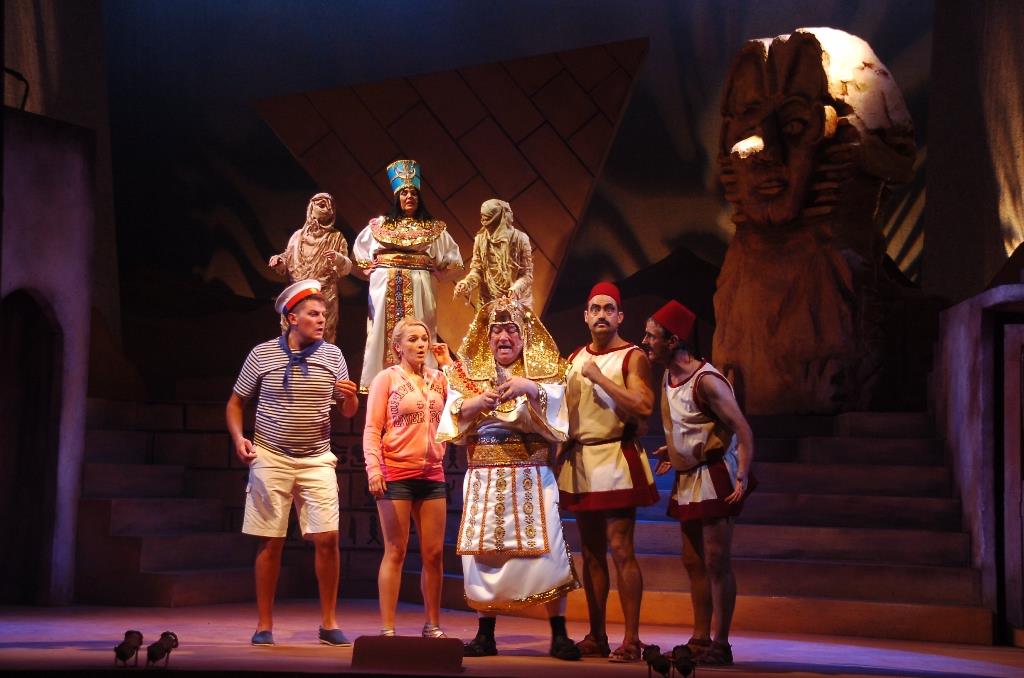 The stars of this show are undoubtedly Schofield and O'Brien as Bill & Ben. Resembling famous vaudeville act Wilson and Keppel their mad capped antics have you roaring with laughter from the outset. They bounce off each other perfectly with clinical comic timing and you are left wondering what they will get up to each time they take to the stage.
Hampson and Fletcher as the young lovers are well suited and both have great singing voices. Fletcher is also faultless throughout with his accent which never wains. All they want is to get back to the year from where they were transported from but are subjected to slavery and even death at one point.
Starke and Germain as the royalty of ancient Egypt are a superb pairing with Germain calling all the shots as the dominant female she is, Starke plays the down trodden husband well and has a connection with the audience from the second he takes to the stage in his bright and glitter laden costume.
A special mention has to go to the four piece band led by Alex Smith, who are onstage throughout perched in pairs high up at each side of the stage. They frequently wander down onto the stage for some of the musical numbers with Emily Linden taking on a large amount of vocals as well as playing guitar and banjo.
Director Howard Gray along with choreographer Nicola Bolton have created a stunning piece of theatre all set on Richard Foxton's striking stage. I really cannot recommend this show highly enough.
If, like me your kids have reached an age (16+) where traditional pantomimes have become 'uncool' and somewhere not to be seen at, then this show is your answer. As a father my greatest joy is to see my children laughing, and tonight to see one laughing out loud throughout is probably a greater endorsement of this production than any words I could write.
Pharaoh 'Cross The Mersey is playing at The Royal Court until the 16th January 2016 so you have plenty of time and no excuse not to miss this stunning and hilarious show. Book here http://www.royalcourtliverpool.co.uk/whats-on/pharaoh-cross-the-mersey/ without delay.
Reviewer: Paul Downham
Reviewed: 3rd December 2015