An appropriate but misleading title at one and the same time if ever there was one. Yes, this play is about a Snow Queen, but if it's your traditional fairytale or even the Disney version of this story then you are in for a bit of a surprise.
Z-Arts Theatre, Manchester's leading theatre for young people and families has chosen a rather surprising, but also somehow refreshing offering as their seasonal fare this year. I was left wondering though just exactly what age-range this play would be suitable for, and I would advise that perhaps a 7 years or older sticker is placed on the advertising.
Snow Queen tells the story of two children Kai and Gerda who are temporarily living together; Gerda having been in care and now adopted, with Kai being played temporarily in foster-care. Whilst living together they develop and very strong bond between each other, a friendship that goes beyond the normal boundaries of what friendship means to most of us. Gerda's outbursts of crying, and Kai's petulance and naivety being all too symptomatic of children in their familiar situations.
Kai's escape is the computer and he is something of an expert in that regard. He spends all his time gaming, and has created his own game especially for and called Gerda and Kai. It is an adventure game whereby in order to win the game you have to travel through various worlds or domains with the end one being the realm of The Snow Queen.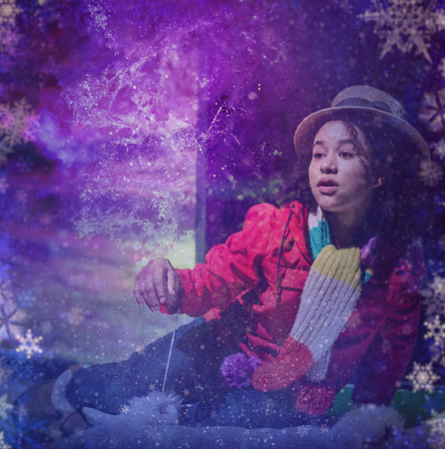 Somehow this avatar has grown without Kai's help and now has plans to become a human and to turn the whole world to ice. She tempts Kai into the game and takes him, through the computer, back to her domain where, once he is sufficiently frozen, she will take his form and become human. Gerda follows him, enters the game and travels through various domains and gains the help, or hindrance, of the avatars that dwell there, and of course, just like all good fairy stories Gerda and Kai are reunited and save the world from her evil and icy clutches only just in the nick of time.
This almost cinematic vision is brought onto the stage using only five actors. However this is a multi-media presentation and uses computer-projected images, most of which looked fantastic and really worked well, and also various puppets (the little Witch being mine, and possibly everyone's favourite), which the actors manipulated excellently themselves. This is no mean feat for any actor to attempt, but all five rose to this challenge remarkably and without some rather solid and imaginative direction by Johnathon McGreath the whole thing could easily have fallen apart.
The acting was indeed extremely good. However I particularly enjoyed the eerie, other-worldly physicality and computer-ish voice of the Snow Queen, played by Bryony Thomas; the almost clown-like and delightful interpretations of farting frog and Frog Prince, unhappy reindeer and goodness knows what else brought to you by multiple-rolling actress Denise Kennedy, and the superb and totally believable acting of the young Gerda, Nisa Cole.
I saw this production on its preview night and so a couple of things were just a little raw; but one thing that really did irritate me was the use of an office chair as the seat in a royal carriage, and the rather contrived and very awkward way of reversing this carriage offstage. Oh and one more minor little irritation was that none of the cast really actually looked convincingly cold either, except Kai towards the end with white make-up on his face staring at the computer screen.
The set itself was rather interesting; using three main blocks which act as flats, scenery, props and projection walls throughout the play being turned and moved by the actors. The idea is good but it slows the narrative and leads to a lack of fluidity... the actors literally pedalling the scenery round the stage. If it hadn't have been for the strength and skill of the acting it would have dragged unbelievably.
My overriding impression from last night was that this is really a very different and most interesting piece of family-oriented theatre, influenced undoubtedly by people like Terry Gilliam and Tim Burton, but the budget did not fit the size of the vision. As good as all the technical projection was, this style of presentation also needed more technical help with the onstage set. It's a very good story, and this new and inventive slant on something so familiar is certainly going to appeal to older children who spend all their days staring at computer screens anyway!
Reviewer: Mark Dee
Reviewed: 3rd December 2015