This production of Snow White is performed by balletLORENT - a contemporary dance company based in Newcastle-upon-Tyne. The pride themselves on creating "fantastical, heartfelt and beautiful dance that is inclusive and inviting". The 'Scenario Writer' is Carol Ann Duffy, former Poet Laureate and Professor of Contemporary Poetry at Manchester Metropolitan University.
The show is stated to be a production for the whole family...I'm not sure I would agree with this wholeheartedly. It begins with a rather sensuous and erotic dance sequence between the King and Queen with some intense kissing. Personally I felt it was a little too sensuous for a production which is being promoted as suitable for the whole family and deemed to be appropriate for children aged 7+. This scene lasts for quite a long time - the King and Queen seemingly unable to keep their hands off each other - and on stage there were a lot of young children - not entirely sure what their role was while the King and Queen were getting steamy but their performance was excellent, considering their very tender ages (6 onwards). I did find that I was getting a little bored though because it was going for too long.
Once Snow White was born, the King died. This deviates from the traditional fairy tale written by the Brothers Grimm in which the Queen dies giving birth to Snow White and the King takes another wife who becomes the evil stepmother. I'm not sure why the story was changed, unless it was to lend extra darkness to the whole thing - which it did, particularly as the Queen plotted the death of her own daughter and even ate her heart (or so she thought).
Being honest, I was feeling quite negative about what I was seeing until the adult Snow White made her appearance. My word can she dance! She is a shining light in this production. Her dancing is spellbindingly beautiful; she moves effortlessly with grace and elegance and can make difficult sequences look very simple yet stunningly effective.
The scenes where the Queen speaks to the mirror are very well done indeed. Her reflection has its own role and the actress dances en pointe for a lot of the time. The narration over these parts is quite humorous, with reference being made to the Queen being beautiful thanks to facelifts. These lighten the dark overtones which are ever present (but which I quite liked).
At times, some of the dancing was confusing with lots of people on stage and it wasn't clear why they were there or what they represented. It alternated between being very good but occasionally a bit silly - giving an air of an improvised school performance at times.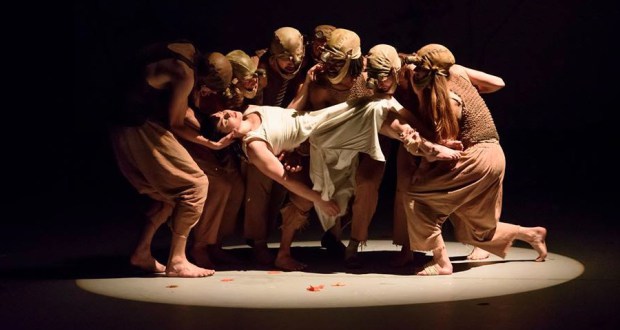 The show started over ten minutes late and at the end of the first half, the stage simply went dark but the house lights didn't go up so the audience was left hanging...to applaud or not to applaud?
The seven 'stunted miners' make their appearance in the second half and there is some playful interaction between them and Snow White as she learns that she has to contribute her share to the household (one assumes that this is restricted purely to household chores and nothing more...!)
The performers do not speak but the narrator is the well known actress, Lindsay Duncan, who is perfect for this role. Her intonation and barbed, sardonic delivery match the darkness and menace of the production perfectly.
I very much enjoyed the music which is performed by Murray Gold and the Royal Northern Sinfonia. It was very dark and haunting but could quickly become quite jazzy and upbeat and was well suited to this production.
The scenery is very interesting, resembling a large chest of drawers which is used imaginatively throughout and when rotated, it doubles as part of the forest into which Snow White is banished.
The children who dance in this show are to be congratulated as their performance is very well executed.
This is a dark show with some scenes which I think young children may find upsetting - such as the Queen eating what she believes to be Snow White's heart with blood smeared on her face and hands and also the 'slaughter' of a doe - although maybe I'm being too sensitive there and some children will enjoy the blood and gore. I do think it isn't engaging enough for children, however; the dance scenes are long and protracted and whilst some of them are extremely impressive and enchanting, I don't think it's enough to keep younger children interested - this was demonstrated to me by the two children on the row in front (sigh!)
I did like the undercurrent of darkness and menace, particularly the final statement by the narrator which informed us that they all lived happily ever after...'pretty much'. A suitably ambiguous ending with an air of threat which matched the overall theme.
Reviewed: 5th December 2015
Reviewer: Nicky Lambert