Diversity found national fame in 2009 when they won Britain's Got Talent - beating Susan Boyle to the top spot. They were something new and refreshing and nothing quite like them had been seen on mainstream television before.
They have become a tour de force and they now run the Danceworks Studio in London to encourage and promote dancing to everyone. Their tagline is "Dream...Believe...Achieve".
The show is opened by Theo - who is a mini-me of Perri Kiely, one of Diversity's long-standing members with trademark big hair and classes. Theo exudes confidence and happiness and is a good choice to open the show with a comical and theatrical routine. We are then launched into the world of Diversity - it's a loud, exciting and exuberant world!
Very effective laser lighting is used in the opening number and we see plenty of trademark Diversity moves: gymnastic doesn't even come close to what these boys (and men) can do, it is astounding and amazing - they must practice in their sleep as they are utterly precise and flawless. Their timing and symmetry is perfection itself and some of the jumps/flips/twists they execute are totally gravity defying and astonishingly brilliant (I'm running out of superlatives). The music is mainly street dance music - not to my taste but it does suit them and their moves perfectly.
Ashley Banjo is the choreographer and leader of Diversity. He is clearly very at home on stage and at ease when he interacts with the audience. He has an easy, charming manner and is instantly likeable, a very good MC indeed.
The dancing is interspersed with film clips, the first of which charts the history of Diversity and how they came to fame in 2009. Then they performed the routine which won them first place in Britain's Got Talent - the Transformer routine. I loved this at the time and it was quite amazing to see it live. Their talent knows no bounds, I just don't know how they do what they do.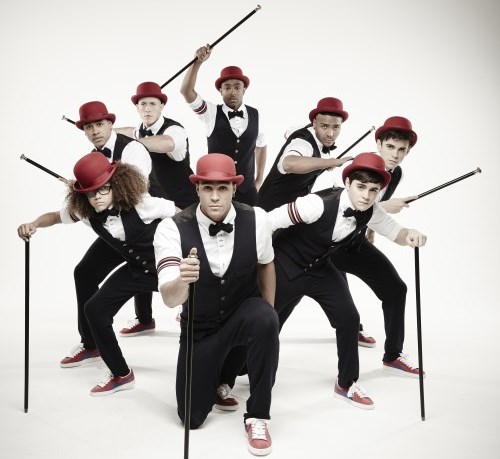 Ashley and the other members continually thanked the audience for voting for them in Britain's Got Talent - they expressed their gratitude with great humility, stating that they wouldn't be where they are today without those votes.
One section which I particularly enjoyed was a section devoted to the people who have influenced them: the greats such as Fred Astaire, Gene Kelly, Frank Sinatra, Elvis Presley and Michael Jackson. This really gave them a chance to showcase their - well, diversity I suppose. To a soundtrack of 'Putting on the Ritz', 'Feeling Good' and 'Come Fly with me', dressed in tails, bowties and complete with canes, they paid homage to the greats that have gone before them and acknowledged the influence that is still very much felt today. They put their own stamp on it and the whole routine was fabulous. It was topped off with Benny Goodman's 'Sing, Sing, Sing' and the pizzazz and glamour of this genre was just oozing out of all of them.
The second half opened with a funny routine between Ashley and Theo which was really entertaining. Then the party really got started with a routine to 'Uptown Funk' with live vocals. More brilliant dancing and jaw dropping moves and then as a really nice touch, they told the audience to get their phones out as it was time for some selfies...and they came down into the audience and quickly posed with as many people as possible for some photos. What a really nice touch.
We had a section of audience participation with a "Dancing Dads" competition - all credit to those poor men who were dragged up on stage because they very quickly entered into the spirit. One of them, Tim, was an imposter as we later found out - he is a member of Diversity and executed a floor spin that just left you wondering if what you'd just seen had actually happened. The moral of that tale was don't judge a book by its cover - nicely done and presented I thought.
We learned more about individual members in the second half through various short pieces of film. Most of them have come from difficult backgrounds and Diversity and dancing has simply turned their lives around. One particularly emotional moment was during Perri's film when he struggled to retain his composure whilst saying he was just so grateful for the chance he'd been given. Many of the other members echoed heartfelt sentiments about how the group had saved them from taking a wrong path and had changed their life in so many ways for the better.
Diversity are so clearly passionate about what they do that they constantly promote the fact that you can achieve whatever you want if you go out and work hard to get it. This is a very positive message to put out there in today's often self-centred society and I applaud them for this.
Diversity have been much copied but never bettered. What a credit this amazing group of people are - to Ashley Banjo and also to themselves. They are not just street dancers, they are all-round entertainers who have honed their craft to absolute perfection.
When you go to see Diversity, you are not just going to see a group who dance and who won a talent competition. You are in the presence of earnest and genuine individuals who want to share their passion and belief with a positive message about what you can achieve if you really want it badly enough. This is so much more than a dancing show and I'm very glad I had the opportunity to see it.
Reviewed on: 6th December 2015
Reviewed by: Nicky Lambert