Betty Blue Eyes premiered in 2011 and was one of Cameron Mackintosh's early musicals which only ran for a period of 6 months much to the critics amazements as this production was dazzling and delightful but unfortunately it did not bring the public in which has become a heart-breaking normality in the West End for many up and coming Musicals.
The Musical Comedy is based on Alan Bennett's classic motion film 'A Private Function' - Betty Blue Eyes is a about a downtrodden Chiropodist and his social climbing wife - Directed by Jack Hawkins a second year student at the University of Manchester.
The era is set in 1947 where Britain was desperately trying to recover from the bleak and miserable post-war period, food rationing and a government who could only offer slogans like "fair share for all" were hypercritical as clearly the social elite feathered their own nests and certainly took more than their "fair share".
The early scenes portray a kind and gentle man Gilbert Chilvers played outstandingly by Hugh Beckwith who dreams of a place on the Parade a prestigious position for a humble Chiropodist. The town's ladies believe Gilbert has Magic Finger's as he tenderly makes every one of them feel special as he cares for their tired feet during this awful decade.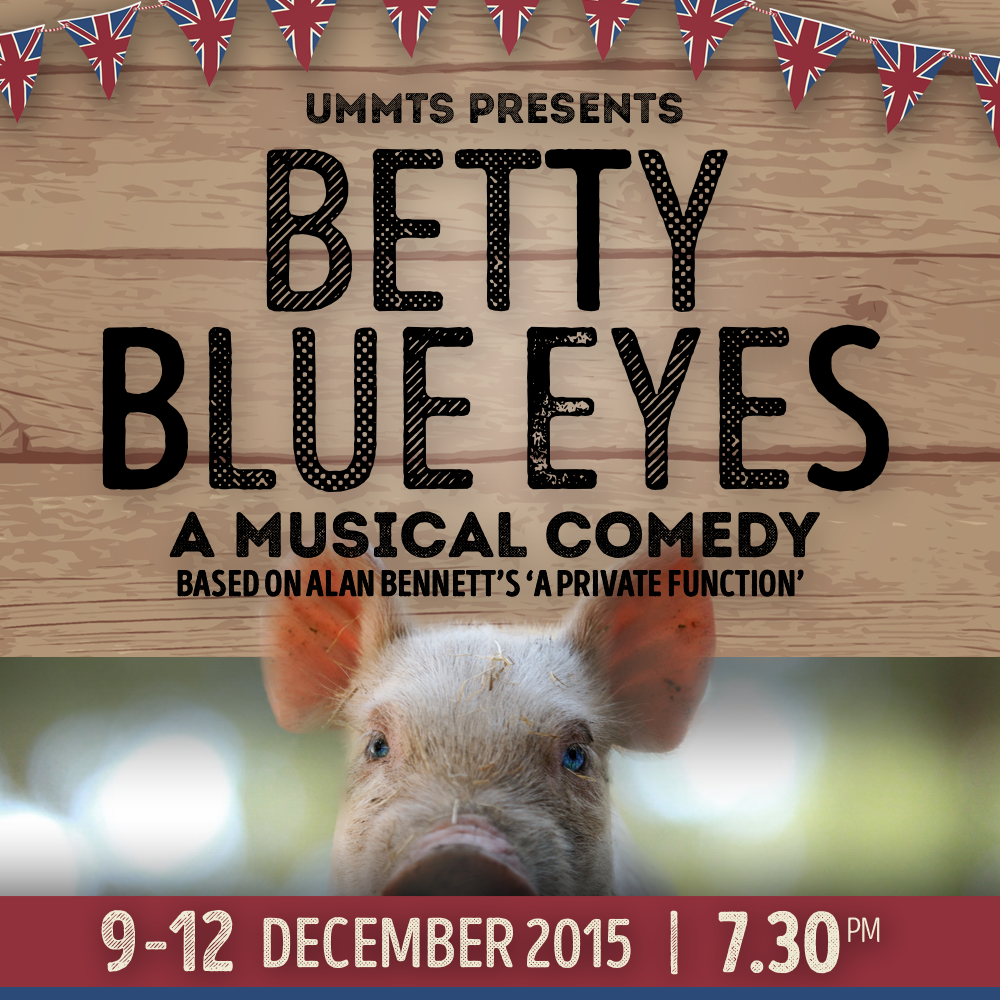 Joyce Chilvers played beautifully by Lani Calvert is the wife of Gilbert who feels a 'nobody' and is desperate to climb the social ladder to be an important figure in the town; Joyce is a strong female with a drive and motivation of a leader but is plagued by her elderly mother played by Georgia Affonso who is a social embarrassment.
Inspector Wormold played by Joe Dickens is a man on a mission to prevent all illegal meat entering the town; the character is fun but equally has a dark side to his obsession of painting meat green.
The small town of Shepardsford prepare for the impending marriage of Princess Elizabeth and Philip Mountbatten and plan to throw a 'Private Function' with only the elite invited to a banquet where Pork is on the menu which is to be supplied by the endearing illegal pig hidden away in a local farm Betty Blue Eyes.
Some fantastically funny scenes by Henry Allardyce played by Sam Keeler with regards to his love of Betty Blue eyes, Sam not only brought the character to life but held the audience's attention throughout with his endearing role.
The second half of the production had a mixture of heart-warming and hysterically amusing scenes where the 'Private Function' reaches it Finale; my favourite part was the Confession as it brought the community together in collusion with some fantastic lyrics where and all ends well leaving you with the feel good factor of musical theatre.
There are lots of twists and tales in the plot which makes the performance interesting and a delight to watch. The Choreography was elegant and enchanting from Sophie Handley and there were two very outstanding ladies - Annie Davies and Jo Renzulli. The costumes were perfect for the era thanks to kate Tighe as the cast looked stunning in all their designs. The Orchestra was a delight to listen to a big credit to Musical Director Michael Phillips.
It is always a privilege as a theatre critic to see the actors and actresses of the future and after attending productions for over 40 years it is clear to see who will make the elite of the elite in the theatrical world: the two outstanding performers who I believe are the ones to watch out for were Hugh Beckwith and Ollie Kaiper-Leach who are definitely well on their way to stardom, I look forward to see these two in the future. Lani Calvert is a fabulous all-rounder who will go far I'm sure and a very dark horse was Matthew Quinn who played Sergeant Noble his voice was outstanding amongst the company; I would love to see this talented young man in a lead role.
May I say thank you for allowing North West End to review your fabulous production and well done to all involved as this is a definite must see production, thoroughly enjoyed the hunger and enthusiasm of such young and talented actors and actresses.
Reviewer: Katie Leicester
Reviewed: 9th December 2015