Entertaining, Enthralling and Enlightening
Charles Dickens was born in 1812 residing predominantly in London and Kent until his death in 1870. Renowned for his humour and satire, he was a keen observer of character and society and is considered by many to be the greatest novelist of the Victorian era.
His works include fifteen major novels, many of which were serialised for monthly magazines allowing him to evaluate and respond to his audience's reaction with each instalment as well as capturing topical events. He enjoyed an unprecedented popularity during his lifetime.
Dickens made numerous visits to Liverpool, a place he considered 'that rich and beautiful port', initially featuring in theatrical repertoire and later to perform public readings of his works.
Frank Kennedy's one-man show picks up on this theme as he appears dressed the part of Dickens, goatee beard included. Now in his 204th year he reminiscences of his earlier visits to the city to frame a selection of readings capturing characters and encounters from a selection of his works.
The first half of the evening contained 9 readings from 8 pieces, a couple of which were lesser known (to me) and thereby serving as a great introduction to them. Each reading contained several characters and Kennedy successfully dropped into each with accents and mannerisms to differentiate young and old; illiterate and educated; poor and well-off; unskilled and professional; male and female. With a minimal use of props to visually facilitate the switch in voice within a piece, Kennedy took full advantage of every opportunity to play for laughs with an audience who remained rapt and focused throughout as Kennedy animatedly brought the readings to life.
Whilst Kennedy, in character throughout, noted not recalling having finished writing 'The Mystery of Edwin Drood' - the piece famously remained incomplete at the time of Dickens death - he did an admirable job of reading throughout, often from memory with occasional reference to the material in front of him. As the evening wore on he began to look more and more like Dickens as he embraced the persona.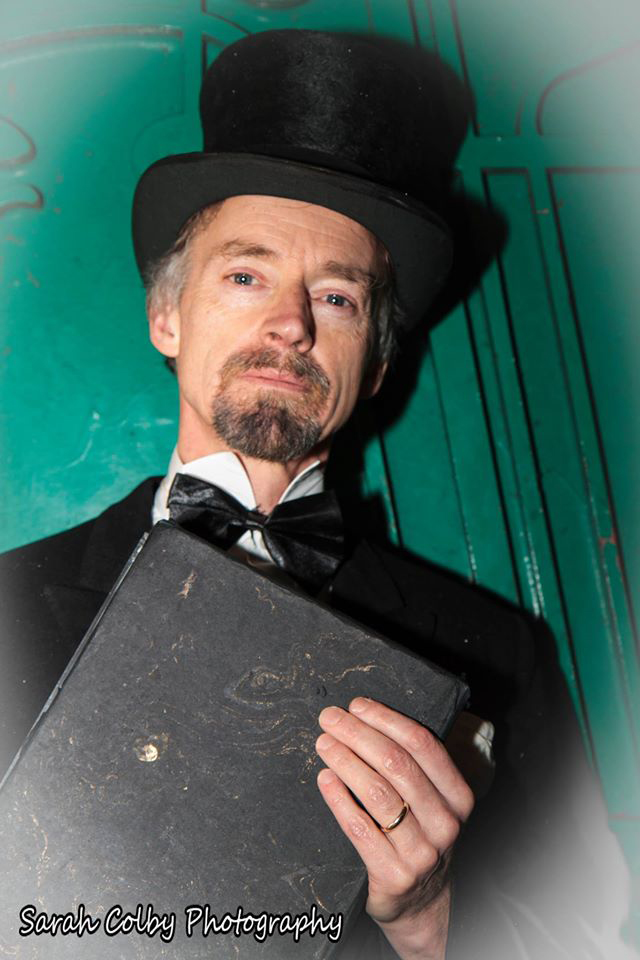 There is a richness and beauty in Dickens use of language which we can often forget when we think of the hardships explored in many of his works, but Kennedy's presentation and delivery really brought it to the fore.
Kennedy's clever links subtly connected the readings together with local references whether it was expressing concern about new mechanical inventions such as the railway - Liverpool was one of the first stations - to staying at the infamous Adelphi Hotel where he could 'wake up breathing the Liverpool air'.
A reference to being unable to locate the nearby workhouse he had seen on an earlier visit demonstrated that Kennedy had really done his homework; Dickens is on record as having visited the city workhouse on nearby Mount Pleasant, which almost one hundred years later was chosen as the site for the RC Metropolitan Cathedral, better known nowadays as 'Paddy's Wigwam'.
An interval of mulled wine and mince pies, or other such delights, was on offer before we headed into the second act. Kennedy noted the evident decorations and time of year as a precursor to reading from A Christmas Carol. As it is a story so well-known, yet perhaps less well read, Kennedy cleverly selected a few pieces that enabled us to appreciate the work as a whole without him, or us, having to read it all. A slight mishap with page numbering was handled with consummate ease.
Unfortunately within the captivated audience there was one who, towards the end and perhaps with too much mulled wine on board, thought a little interaction was called for. Whilst irritating for all, Kennedy took it in his stride, even engaging with the person in question at one point whilst still in character, and the show resolutely went on.
Cuthbert's Bakehouse on Mount Pleasant was a wonderful choice of venue, its eclectic range of fixtures and fittings, including candle holders on the wall and baking sheet scrolls for menus, provided a perfect Victorian-esque intimacy that made me think of Dickens' 'The Old Curiosity Shop'. I am looking forward to a return visit to further sample its delightful selection of homemade cakes and sweet treats including the famous Red Velvet.
It is easy to pigeon-hole Dickens as a 19th Century literary great now at odds with todays demands for immediate gratification. It was a delight and pleasure to take some time out and immerse oneself in this fantastic literary abstract superbly delivered by Kennedy. I came away from the evening not only wanting to dust off and re-read the Dickens works I already own but, more importantly, to go and locate those works I had not read before. In the illustrious words of Mr Pickwick, 'this is, indeed, comfort'.
Kennedy's 'A Date with Dickens' next appears at Domino Gallery, Upper Newington L1 2SR on Saturday 6th February 2016 in celebration of Dickens birthday. Further dates and details can be found at www.adatewithdickens.org
Reviewer: Mark Davoren
Reviewed: 12th December 2015