ADP stands for Acting and Directing Partnership, although it might be better represented by Actors, Directors and Playwrights, since those are the three ingredients necessary to make the Manchester ADP Scripts Aloud Nights work
Held usually on the last Monday of each month they bring together local talent and perform very rough-around-the-edges script-in-hand excerpts or tiny playlets of new writing. Typically each director getting only a couple of hours to rehearse the Sunday before, and perhaps a quick run through Monday before going on. But don't worry, they are meant to be works-in-progress, and the pieces are only a maximum of 15 minutes each so it's not as tough as you might think.
Moreover the atmosphere that you are working in is in fact one of the most co-operative, conducive and supportive friendly working environments I have ever experienced, so really all's good.
Last night's Scripts Aloud though was a little different from their normal format, not least because it was not the last Monday of the month (Christmas getting in the way of that!); but also because there was a most obvious and definite theme running through each of the pieces - yes, you've guessed it; Christmas!., and further, rather than inviting audience feedback after each of the pieces [ normally both writer and director are present for this and therefore it can be most interesting and constructive ] we were asked to vote on our two favourite pieces of the evening and then the overall most popular piece would be awarded a prize in the bar after the show. I am not at all certain that I am in agreement with making something which, up until now has be all-inclusive and showing no favouritism into something which could find certain writers especially feeling out in the cold or inadequate. This lessened the experience for me and I didn't vote and didn't stay behind to find out the result. Oh well... back to the usual and fairer format in January!
The other thing that differed from usual was that we were treated to 9 short pieces last night....... without an interval! It was a little too long to sit through without a break I think, and if you really wanted to do this, then 2 of the pieces could have been cut from the evening making it a more acceptable length.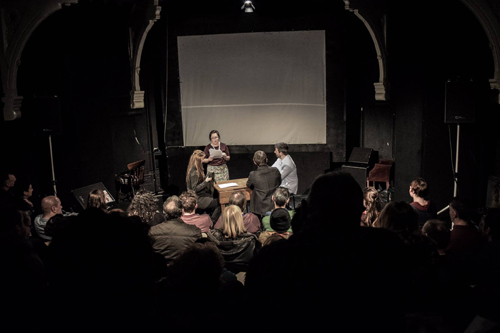 I am not going to go through each play and crit each piece of writing, directing and tear the actors apart; that would neither be in the spirit of Manchester ADP, nor would it be fair of me to do so. These are not finished products, and at the end of the day, the evening isn't really about how brilliant the acting or directing was, it's more about giving support to the writer as he / she develops and hones their craft.
That being said however, and this being a review after all, I can and will here tell you which two scripts I would have voted for had I have exercised that right last night. I chose these two simply because the writing and development of ideas were much clearer than in others and the narrative of both shone with confident and clear objectives. Both were quite humorous pieces too, and both writers obviously understand comedy. These were...'Nice' and 'A Wonderful Christmas Tale'. Unfortunately the writers aren't credited on the programme. And I add here that really I have no idea at all who won last night.
It only really remains for me to congratulate all who took part last night. Actors and directors give up their time and talent freely here to help support the industry and to nurture home-grown writing talent and that surely should be applauded and supported. The evenings also help both directors and actors hone their talents too by having to work under such a short time frame and formulate their ideas and objectives of a previously unknown script in time for the audience to cast their critical eyes and ears over.
Manchester ADP is a lovely idea, and long may it continue! Thank you Hannah Ellis and Diana Atkins for bringing this to Manchester for us!
Reviewer: Alastair Zyggu
Reviewed: 14th December 2015