The stage was minimally set giving nothing away about the spectacle that was about to traverse its boards. The band were warming up and familiar tunes could be heard floating above the hubbub of the waiting audience.
I was not disappointed, from the very beginning with the company's first song - sung acapella; to the last rousing refrain of Ol' Man River, the cast and crew produced a stellar performance that would easily have fitted in the West End or on Broadway.
I can't single out anyone from the cast because, without exception, they all brought performances with heart, soul and full voice. The ensemble voices were rich and warm, the solos and duets were full of passion. From the youngest to the oldest, they caused me to feel the full range of emotions and yes, I shed a tear at the climactic ending and couldn't help give a standing ovation!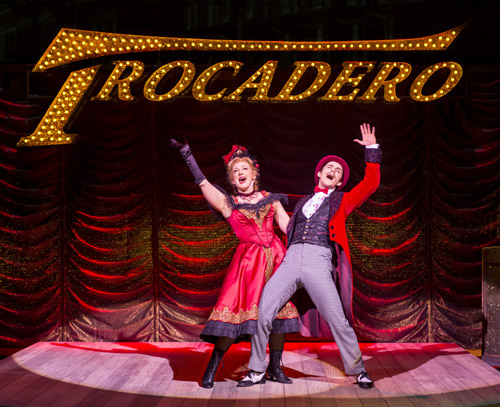 Widely recognised as the first Broadway musical, the Hammerstein and Kern classic, Show Boat has been reinvented for successive generations. This latest reincarnation was written in 2011 from director Rob Ruggiero and this streamlined version hasn't lost any of the impact originally intended in the 1927 premiere. The production didn't shy away from the themes of racism and addiction but it didn't wallow in them either.
The outstanding performances were brilliantly framed by a great set design from Lez Brotherson, great lighting design from David Hersey and the sound and video design added additional layers, thanks to Paul Groothuis and Tim Reid. It also has to be said that it was beautifully directed and the musical score felt timeless.
I'm running out of superlatives to describe this production. It was truly exceptional. After my 2 1/2 hour drive to get to the theatre, I was transported further to another time and place and I really grew to care about each character. This really was musical theatre at its best, I highly recommend you see it and I am thrilled that I had the privilege of participating in this night at the theatre - there's nothing like it!
Reviewer: Alan Harbottle
Reviewed: 16th December 2015