Comedy duo LipService kick off their 30th Anniversary Season with a reprisal of their take on the work of Sir Arthur Conan Doyle; 'Move Over Moriarty'. The show follows the super sleuth Sherlock Holmes, and his nice but dim side-kick Doctor Watson, as they investigate the garibaldi biscuit affair, and features all the hallmarks of a LipService show. There are misbehaving moustaches, speedy costume changes, wisecracks, inventive chase sequences and lots of laughter. Directed by Gwenda Hughes, Maggie Fox and Sue Ryding navigate the affectionate literary spoof with their usual aplomb; although at times it was a struggle to hear the witty retorts and cynics in the audience might question some of the spontaneous adlibs.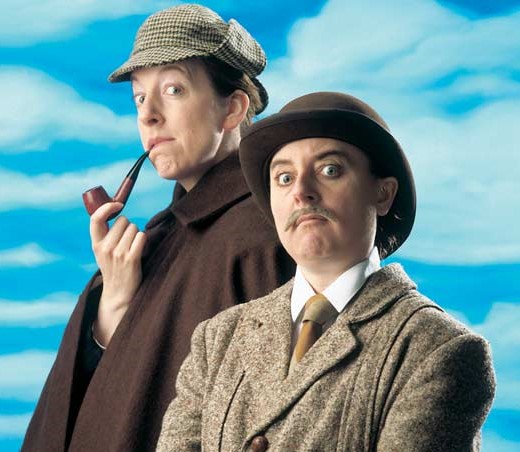 In the post Sherlock (Mark Gatiss and Steven Moffat's slick adaptation) era 'Move Over Moriarty' could feel a little dated and the show's ending is something of a damp squib! That said there are some wonderful comedic moments and the appreciative audience were guffawing from the start. Stand out moments include a clever solution for the classic actor pretending to play a musical instrument issue, a wonderful Victorian music hall pastiche (sadly the song 'Father's got Gangrene and Gran's got the runs' was discussed but not performed) and a perfectly timed night fall gag.
Kate Owen's set also deserves a mention, with almost as many changes as Fox and Ryding. Initially it appears very simple; a two dimensional backdrop to the hilarity that is about to ensue, but soon it evolves beyond the painted book etching style backdrops. It twists and turns alongside the plot to reveal the music hall, a train carriage, the interior of 221b Baker Street, backstage at the music hall, the middle of Dartmoor (helpfully signposted) and the cell of an insane asylum – which, as Sherlock notes, looks very much like the music hall.
LipService are entertaining as ever and an evening in their company promises laughs- if you are a fan of women badly disguised as men and silly accents. However, 'Move Over Moriarty' never quite reaches the laughter induced tears and aching cheeks of classic LipService shows such as 'Withering Looks', 'Very Little Women' and 'Women on the Verger'. Whilst it is wonderful to watch two talented women reclaim and wreak havoc in the tidy masculine world of Sherlock Holmes perhaps their madcap irreverent romps are better when subverting straight laced heroines of literature. That said a full house at the Unity theatre tonight left contented with one punter overheard declaring 'well that was rather enjoyable.'
Reviewer: Clare Chandler
Reviewed: 14th January 2016