Imaginative, Entertaining and ....Truthful?
Many of us are familiar with the YouTube footage when we are asked to count the number of passes made by one basketball team and it is only when prompted to re-watch the footage that we see the gorilla that comes onto the court and waves at us. How did we miss it the first time? What else do we miss that is going on right in front of our very eyes?
More recently studies in America have focused on witness recollection of events - all remember correctly from their own point of view but none in isolation are in fact the truth of what took place: the truth is an amalgamation of all these experiences and yet who determines where the line of truth is drawn?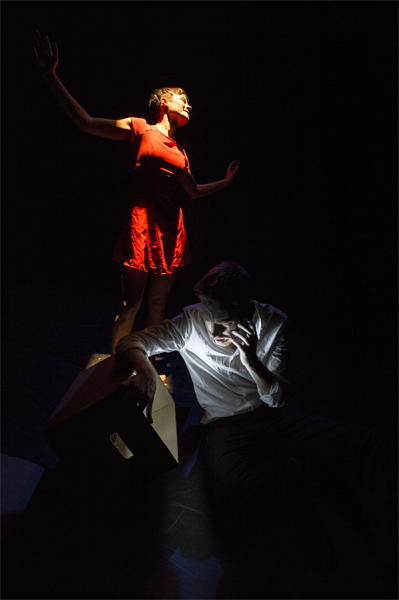 This is a huge subject in the realms of modern day society as we consider the events that unfold around us, particularly in troubled areas of the world: what is the truth? Is my truth the same as yours?
Babel Theatre are a Manchester based physical theatre company that was founded in 2013 to explore and challenge the ways in which our language, our ideas and our bodies interrelate in surprising and unusual ways. In their own words, You Must Be The One To Bury Me is an intimate, physical journey into a fragmented world as one man's grasp on reality crumbles when the fantasies, memories and monsters of his recent relationship materialise around him, subjecting him to an onslaught of romantic terrorism.
The play follows the relationship of Richard (Joseph Lynch - also the Artistic Director) and Sophie (Wiebke Acton) from their first meeting to the onset of anxiety and heartbreak as the relationship breaks down and explores the subjective, distorted and often confusing ways in which we remember experiences which have emotional meaning for us.
It's a challenging idea and one that this production brings off very well as we see Lynch and Acton brought together through a blind date and cleverly shows the social mishaps of those first communications when we try to be 'funny - amusing' whilst desperately endeavouring not to come across as 'funny - ha, ha' - you know what I mean, we've all been there!
We stroll through their first dates as each tries to impress the other and alternately they try to stay aligned with the faux sophistication of the one they've fallen for. It's only a matter of time before the pair are comparing notes on the similarities of their backgrounds and experiences - they are clearly soul mates who are meant to be; the Plato reference though serves as a clever foretelling.
There are a number of humorous moments which an eclectic full house picked up on; I particularly enjoyed Lynch's internal debate as he moves from 'liking' Acton to 'loving' her - we've all been there too as much as we've all met and we've all been part of that irritating couple returning from that exotic holiday, sharing photographs and completing each other's sentences. The scene is now well and truly set for true love to evolve between our couple. Or is it?
The appearance of Claire (Tilda O'Grady) as a psychiatrist 'helping' Lynch make sense of all that has gone on - before, during and after - challenges us to where in this story we think we are: is this happening now or is it merely a memory?
Further little nuances chart the one-sided despair of Lynch's character as the relationship unravels around him and his psychiatric sessions offer some brilliantly written observations. Pleasingly Acton's later 'Dear John' letter suggests she too has suffered so we are not drawn into taking sides. It also reinforces the point that Lynch's earlier concerns over the behaviour of Acton may be nothing more than self-imposed made-up worries rather than reality.
Prior to showcasing at HOME Manchester, the play was winner of the 'Best of Fest Award' at the International Youth Arts Festival at The Rose Theatre Kingston for its provocative mix of 'physical, visual and lyrical theatre'.
I enjoyed the fact that this performance challenged typical production techniques but on occasions I was unsure whether the physical dance elements really added to the play; whilst there are a numerous examples of great prop use, I found the torch effects too distracting in the scenes in which they were used.
Writers are often told to 'show not tell' and I think this applies equally to theatre. Towards the end of the play we are explicitly told the difference between truth and memories and how we can become hooked into our own fictional narrative. It felt a little like being back at school. I don't think this was entirely necessary and perhaps a more subtle conclusion is called for. We certainly have a cast who have more than demonstrated their abilities to deliver this clever and intricate play.
Showcasing at Home Manchester as part of the Push 2016 Festival, You Must Be The One To Bury Me performs again on Wednesday 20th and Thursday 21st January at 21.00.
Tickets are available via telephone hotline 0161 200 1500 or online http://homemcr.org/
Finally, my thanks to Nuradin Abdi of HOME Manchester for going out of his way to get me full cast details, all typed up as well, during the performance due to the absence of a programme. Much appreciated.
Reviewer: Mark Davoren
Reviewed: 19th January 2016