Last night I found myself travelling to the wonderful Oldham Coliseum; a delightful and friendly regional theatre, although much changed and lost a lot of its atmosphere and charm since their recent renovations, to see an adaptation for the stage of a novel by the world's best-selling and most celebrated crime novelist, Agatha Christie, A Murder Is Announced presented by Middle Ground Theatre Company.
My companion for the evening was delighted to be doing so, since she is an avid reader of the genre and knows almost all of Christie's novels backwards! So who better to take with me than someone who could really analyse what they were seeing with a knowledgeable and discerning eye.
Sadly we both left last night feeling really rather disappointed.
The first thing which irritated both of us was the opening music and the same music used for scene changes. It was apt and actually really rather good, but far too loud! Turn it down PLEASE!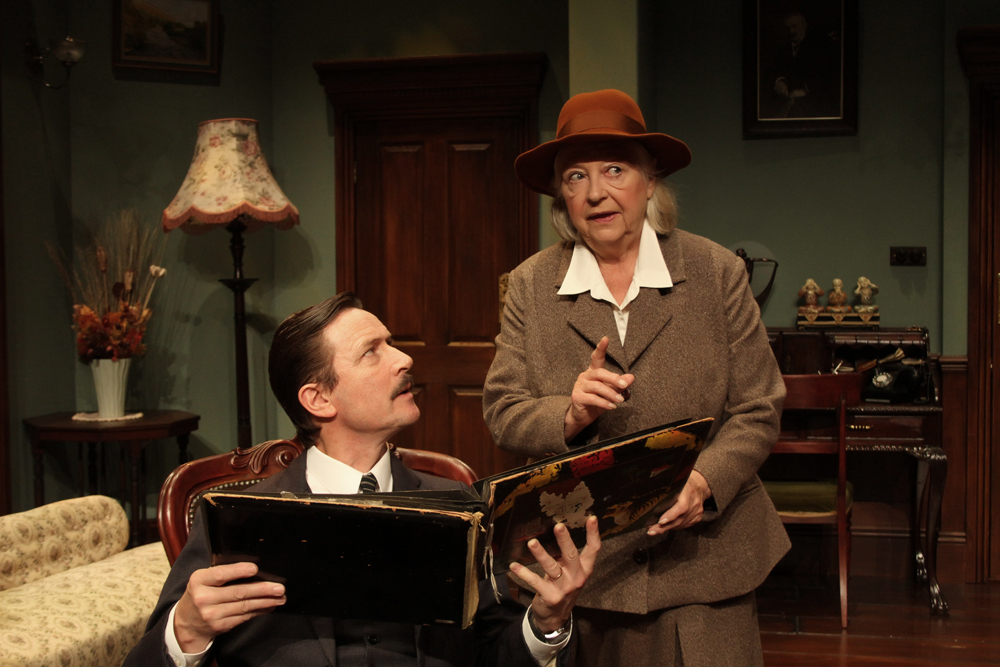 Once the curtain opened we were presented with an extremely well-thought out and beautifully designed drawing room of a country estate. The play is set in the 1950s and as such there was much which was antique about the room, which given the type of room, is as is should have been, and there were some lovely 1950s touches too, but nothing at all that was out of place. So what was wrong with the set? Everything that lay above the top of the flats is the answer to that. Once the flats ended, and the ceiling should have started it was just bare empty stage on both sides and a rather incongruous, pointless and completely out-of-place pastoral scene on a backcloth which did not cover the whole of the back. With so much attention to detail and such a realistic set within the flats, the spaces that were outside of the flats looked totally wrong. It was something akin to placing a pre-Raphaelite painting next to a modernist abstract; the two simply didn't belong together.
The lady of the house, Laetitia Blacklock, was played absolutely superbly by Diane Fletcher. Her characterisation was for both myself and my companion, absolutely spot-on. Every single nuance in the text delivered with ease and perfect timing and she was utterly believable and a joy. Another notable performance came from Tom Butcher, playing Inspector Craddock. I loved his decorous manner and almost obnoxious condescending nature, which was always bubbling underneath but he never let it get out into the open and so his vocal intonations and slow speech patterns were a perfect foil for the faster speaking village residents.
Three characters which did little to impress in the first act, came much more into their own in the second. Julia Simmons (Rachel Bright), Patrick Simmons (Patrick Neyman) and Philipa Haynes (Alicia Ambrose-Bayly).
Sadly none of the other characters in the play made any positive impact on either of us. From an over-acting Mitzi (Lydia Piechowiak), through an obviously acting and therefore totally unbelievable Dora Bunner (Sarah Thomas), to the lady that most of the audience had come to see, Miss Marple herself (Judy Cornwell), who was at times so insignificant she might as well not have bothered gracing the stage. She had a rather unerring half-smile about her at times which made her almost sinister, and we had great difficulty in hearing her most of the time. She only really became strong and audible in her final speech when she denounced the real murderer.
The direction, by Michael Lunney, was slow and indulgent, and there was also a problem with sound last night too. We were sitting on the fifth row of the stalls and had trouble hearing many of the interchanges.
The costumes in the main were really rather good and looked authentic.
I really love the Coliseum Theatre in Oldham and so it pains me to have to write negative things about a production there; but thankfully it was a visiting production and not an in-house one. I was also left wondering whether or not word about this production had already spread, since the theatre, which I would normally expect to be full to bursting for such a crowd-puller as Agatha Christie was less than half full last night.
Reviewer: Mark Dee
Reviewed: 19th January 2016