"This tour de force starring Maggie Fox and Sue Ryding is like a warm bowl of soup on a cold night"
It's January, we're all trying to recover from the overspending and overeating of Christmas, we've been blighted by floods and snow, and the world is still in chaos. So what better than a bright, clever, stylish, gag-a-minute spoof to will take our minds off it all?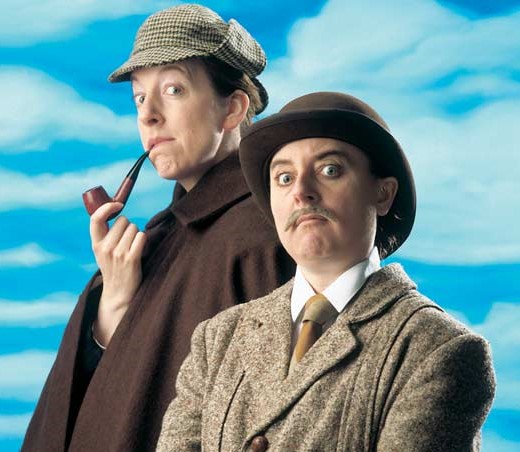 As the production begins, we're very quickly aware that what we're going to see is to be an exercise in comic acting, with Fox and Ryding playing all the parts – Sherlock Holmes, Dr. Watson, and the ensemble cast. The punchlines are rolling from minute one, both spoofing the quintessential British whodunit as well as themselves. And any pangs about this production being a bit naff are put to bed in the first five minutes, as it's clear that every move, every glance, every flourish, has been timed to perfection – and that everything is done for a reason. As the duo take us cross country, from Baker Street to a Victorian music hall to a lunatic asylum, transforming their ingeniously-crafted set themselves, it's clear that this production has been painstakingly planned. The whole team are to be applauded – including director Gwenda Hughes, designer Kate Owen, and Mark Vibrans who has created some original music for the show.
The changing costumes, the musical numbers, the sending-themselves-up and the exuberance of it all recall variety shows from a by-gone era and classic TV shows (Are You Being Served?, 'Allo 'Allo). The writing is tight and witty, and surprisingly the plot does come together nicely at the end, even though half way through it feels like the mystery is playing second-fiddle to the comedy. So in these dark times and cold weather, this show is a tonic that will leave you feeling comforted. By the end of the show it feels like Fox and Ryding are a double act that we've been watching for years.
"Move Over Moriarty" continues at Sale Waterside Arts Centre until Saturday 23rd January- don't miss it.
Reviewer: Ben Spencer
Reviewed: 20th January 2016