As you enter the auditorium four people sit motionless on wooden chairs all dressed in black apart from a splash of colour in the form of braces or bow ties. Each holding a lantern with only one lit they look deep in thought as the audience mills around, taking their places and reading the one page programme provided on every seat. There was something powerful about this piece even before it began.
Reading the description of the piece we were about to witness it said, "Through club nights, street fights, bombsights and car lights – run, dig, breathe, riot, war, tunnel, think, tunnel, bomb, dig, dance." Is this what it would be like to witness an A-Bomb detonating in the crowded streets of a major world city?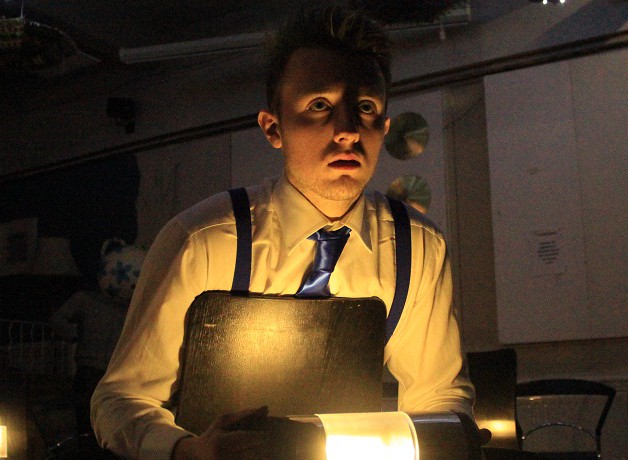 The 45 minute piece consisted of four monologues delivered to perfection by Oliver Hamilton, Tom Coffey, Lucy Ross-Elliot and Steph Reynolds on the entirely black stage each illuminating their lantern as their time came and extinguishing it as they finished. The pace ebbed and flowed as what can only be described as distorted noise rose and fell in the background to match the pace, an almost hypnotic beat. The literature accompanying the show describes it perfectly, "A-Bomb on Broadway is a decade spanning, post-apocalyptic epic charting the memories and dreams of individuals as the world burns."
The title of this show and indeed references within it suggest that Broadway was the setting and in a time not long from now, however there seemed no trace of an American accent. Perhaps in this day and age as we live in a multi-cultural world it is possible none of the four were meant to be from the United States but I'd have expected at least a trace of Americanism in their voices. A small observation from what was an almost faultless performance.
Torches lit cast members as they delivered their piece, boxes of shredded newspaper recreated the moment the A-Bomb went off burying survivors in yesterday's news. From the moment it begins to the moment is ends the pace is frenetic with well worked choreography allowing the actors to move around the stage creating a sense of chaos despite their number being only 4.
The 1121 Collective based in Manchester bring the show to the 2016 PUSH Festival which was written by Jack Busby and judging by the near capacity audience last night, with it they bring a following, possibly from when the show was first performed in 2015 at the Nexus Art Café. This is a slick, well worked intense production which will have you transfixed for the entire 45 minutes.
Reviewer: Paul Downham
Reviewed: 22nd January 2016