This rather misleading title has nothing at all to do with a style of dancing, and even less to do with a water-faucet. The tap in question here is an acronym and the title means a double bill of one act plays by the students on the Theatre and Performance course at Manchester's Arden School of Theatre. (Hence the TaP).
The first piece was the play, 'Offending The Audience' by the Austrian, Peter Handke, freely adapted and updated by director and cast. The play was first published in 1966 and just as the Post-Modernist Movement in UK theatre was just beginning to take hold and think about trying to break down others' plays or works of literature, this play doesn't even start with any pretension of being a play. It is a non-play. The actors are not actors, there is no plot as such (except two do keep trying to perform a Shakespeare monologue); but yet it is immensely watchable and entertaining. I think this is perhaps because in 1966 in Germany this would have shocked, provoked and outraged many audiences, but we are now 50 years further down the line and theatre and what we understand as theatre has changed considerably over the last demi-decade. And this is not new - we are already familiar with some elements here. If you look at Ancient Greek Theatre - a style of theatre where the actors were just that - actors. Everyone knew they were not trying to be real, because no mortal could ever be or play a God. They wore masks, and the action was narrated by a chorus. This, in today's terms in non-theatre, and possibly even less acceptable and harder to access than Handke's work. We also have pantomime; a very British institution, where we expect things to be not quite what they seem - a male mother of a female principal boy for example - and of course the audience participation. No pantomime would be complete without it, and so British audiences are possibly more prepared to heckle and join in when given the opportunity to do so. I think of the apple sequence, and try to imagine an audience of Germans in 1966 being asked to stand and close their eyes etc!!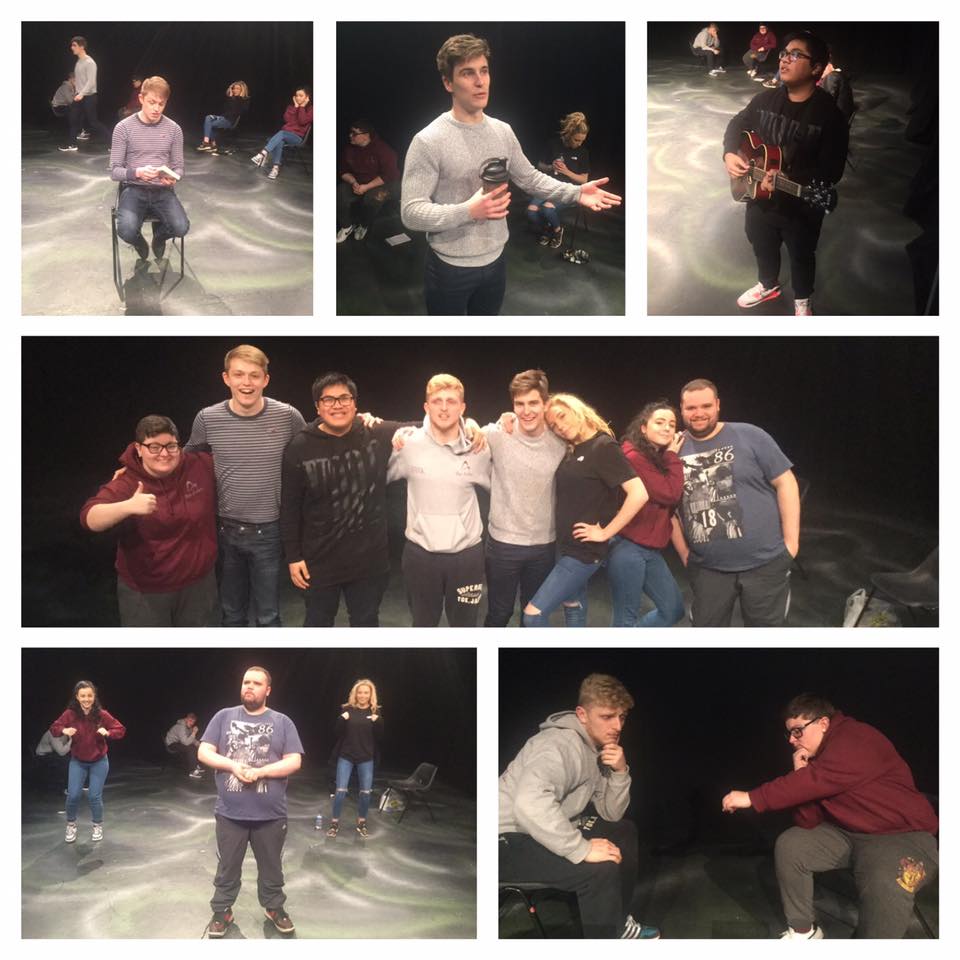 Originally written as a four-hander, yesterday the cast had been doubled to eight, and were all in their first year at Arden, and so for them, this play was an excellent starting ground for them to explore exactly what their relationship with and reaction to theatre is. There was nothing new in there; nothing that modern theatre audiences haven't experienced before; so the challenge was therefore to try and make this a little more challenging! They tried using multi-media - a projection screen against the back wall and a camera. This started out very well as the text messages sent to each other were displayed on there as they all apologised in their own way for being late, whilst one of the actors, a very personable young man, made some half-hearted attempts at trying to make himself look busy setting the stage. The screen was then further used to film a game of draughts (not 'checkers' - why was it translated into American English?!) And finally forgotten about.
Despite this play being ground-breaking and innovative when it was written, by today's standards it is really rather tame, and modern theatre-makers are pushing those boundaries further and further with every production they produce. We now have Site-specific theatre, Installation theatre, as well as theatre forms using traditional theatre spaces such as Complicite, Absurdist or Grotesque Theatre. So it was nice to see students trying out something which doesn't try to fit itself into any box or carry any label. Just 8 human beings - take them as they are - not even trying to project their voices; there are two microphones for that; laying themselves bare in front of the audience and then involving and even perhaps insulting them. [The original German title for the play is Publikumsbeschimpfung, which more accurately translates as 'insulting' not 'offending'.] It was good-natured, humorous and well-presented, and instead of either offending or insulting us, we all really enjoyed it. Therefore I am uncertain as to whether or not their mission had been accomplished or not.
Directed rather 'traditionally' by college tutor Craig Bennett, the eight 'actors' were, Paul Burke, Tristan Chadwick, Raymond Gultom, Lily Hewitt-Jasilek, Sam Lowe, Frank MacDonald, Kate Smith and Louis Smith. I am not sure who did what, but between them there was a rather brilliant comedic deconstruction of the Titanic film, some rather passable impersonations of Gary Barlow and Mr. Bean, and a young man whose comedy timing and acidic one-liner put downs were just perfect, and could possibly make it on the stand-up circuit; I think he was Frank.
The second play in the double bill was even more accessible than the first, and was actually a play in the sense that there were actors and there was a through narrative and clear storyline. Seven actors are to present their version of Romeo and Juliet and the eighth actor with cine-camera in hand tries to stop them from doing so by showing their full face on the screen. If he succeeds, then that actor is 'out', and must then wear a full plain mask, read a current news item and no longer be part of the Romeo and Juliet presentation. The play was called, 'Consequences' and was devised by these eight students from the second year of the Theatre and Performance course, lead and directed by tutor Wayne Steven Jackson.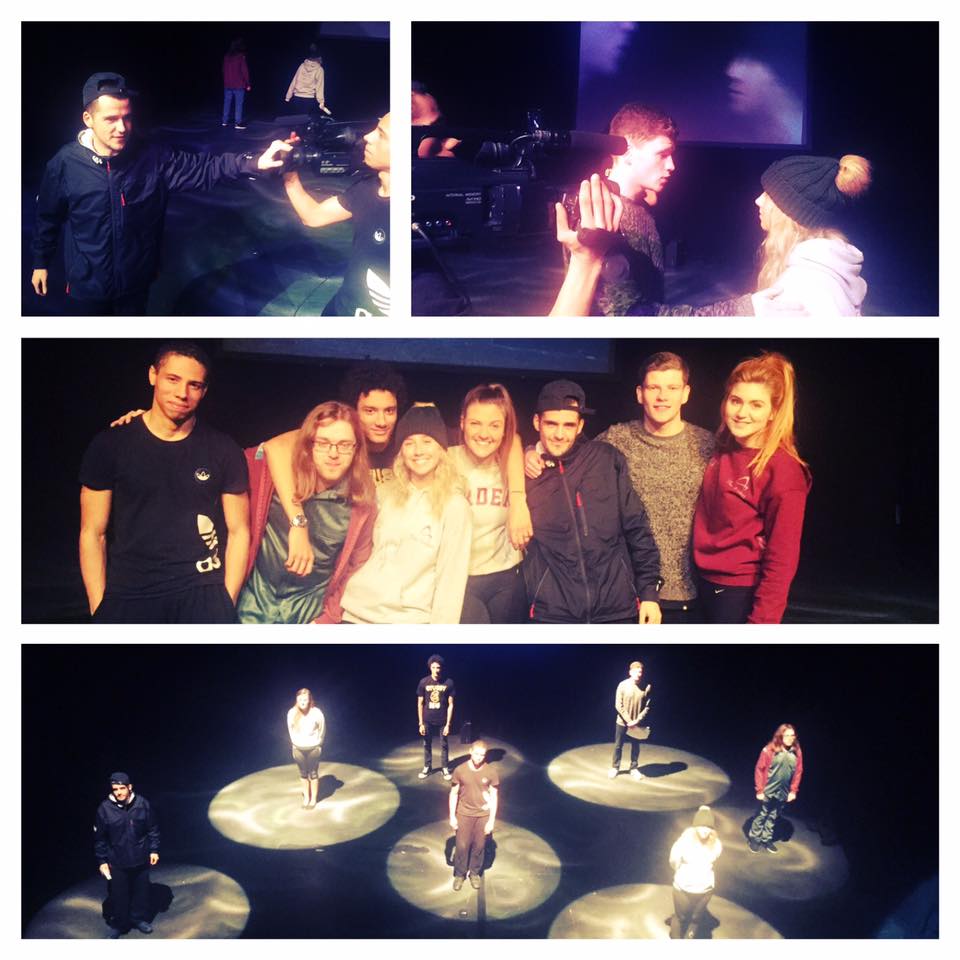 This play was so accessible and mainstream in fact that it would not have been out of place in Home's current Push festival, or on the bill at either The Lowry's or Bolton Octagon's respective studio theatres. All the cast wore costume - majority in checked shirts but all with shirts and black ties and black trousers. The set was very simple and effective - pools of light and seven small black travel cases which were used in various ways throughout, but mostly to shield their faces from the camera's glare and to build boundaries. The storyline was clear, and the games began. The consequence of finding your full face on camera being that you are no longer a part of the story. And of course as all good tragedies end tragically, Romeo and Juliet ends with a double death of the ill-fated romantic pair, so this is re-enacted now for us at the end of their presentation, filmed from behind the wall of black luggage, complete with rose petals, strands of newspaper and bubbles all blown across and on to the two actors.
Again there was humour in this show; but no audience involvement this time, nothing to make the audience feel uncomfortable. We could just sit back, relax and enjoy the ludicrousness of the pretext.
There was also music, recorded and provided live by one of the actors who rapped his way through some of the storyline.
Consequences was a fifty-minute piece of non-offensive, slightly off-beat, comedic, Complicit and Interpretive theatre which was enjoyed by all and again very sensibly directed.
The cast were Jourden Drew, Lauren Greer, Ashley Griffith, Jordan Ramos, Luke Riley, Charlotte Todd, Cieran Watson and Richard Young.
...............................
The intentions behind these two pieces were clear. First and foremost to allow students the freedom to explore and express in a 'safe' environment. These are the actors, directors, producers and the makers and shapers of our theatrical future, and so they themselves need to be challenged and pushed to find out exactly where their fortes and interests lie. This is to be encouraged and supported wholeheartedly.
The second purpose though was less obvious with the two pieces that were chosen here. If the Theatre and Performance course is all about breaking boundaries, then neither of the two pieces today did that. They were both very conventional in today's terms. Yes, they were undeniably breaking the boundaries of 'traditional' theatre, but so have thousands of others before them; so although some of what the students presented might have been new, challenging a difficult for them; they were much more readily acceptable and commonplace for regular theatre-goers.
What was very refreshing and gratifying about both performances though was the commitment from all the actors. They totally embraced the theatre forms and injected their performances with a freshness and energy that is sometimes lacking in a professional production (especially if it's week 11 of a three month run!!). There was a good deal of humour and high spirits in both productions and we, the audience were laughing with you, enjoying the moments. The first rule of 'Complicite', and indeed what the word means.
The show I saw was full of students and friends, but it was a mid-week afternoon, so I can only hope that they find a more across-the-board audience for their evening show!
Reviewer: Mark Dee
Reviewed: 22nd January 2016