Following sell-out runs in London, Berlin and Edinburgh, Newcastle based Encounter Productions are bringing this wonderfully dark physical comedy to venues throughout the UK this year. Written by Lee Mattinson, it is a whirlwind journey through Catherine Pistachio's childhood, from infancy to early adulthood, all set to a nostalgic 90s soundtrack.
The stage is bare, consisting of just two chairs, and on entering the studio the audience is greeted with the sight of a fully-grown man (Carl Harrison) dressed as a little girl, playing on the stage.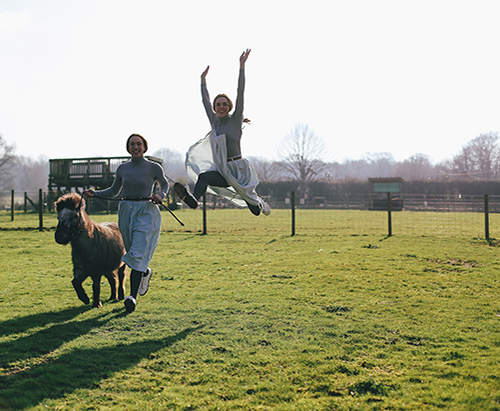 This sort of 'immersion' into the production doesn't always come off, but with Harrison's childish fidgeting and dancing, and the music of The Lighthouse Family, Salt-N-Pepa and 4 Non Blondes in our ears, it just about works. Unfortunately the somewhat patronising introduction from a producer of The Lowry before the show started ruined the mood slightly, and made me feel like I was being spoken to by a teacher on a school trip! Kudos to Harrison for being a true professional in this situation!
On with the show, and enter Nick Blakeley, also dressed in a blonde wig, dress and glasses. Even before any words were said the audience were in stitches, a good indicator of the hour to come. Harrison and Blakeley skilfully take us through an array of characters, from Catherine's neglectful parents Lionel and Linda, to other relatives, pets and even Saved By The Bell's own Mario Lopez.
This show is really, really funny. Jen Malarkey's clever direction utilises lots of contemporary dance and physical theatre to paint the picture of Catherine's life. However there are moments of real sadness and shock that cut through the comedy, tales of abuse and neglect, and an overwhelming pity for Catherine. I can't have been the only one with a lump in my throat at times.
Harrison and Blakeley are simply outstanding, able to switch between big comedy characters and real heartfelt anguish in an instant. Don't let the title put you off; although there are more than a few 'WTF' moments, I Heart Catherine Pistachio is well worth a watch.
Reviewed: 29th January 2016
Reviewer: Poppy Stewart