We've all been there - waiting for the clock to strike six on a Friday evening so we can go out and party. 'Night + Daze' tells the story of 25 year old Sheffy (Lee Bainbridge) in search of the 'perfect' night out.
Entering the theatre, tickets were checked by a man in a red t-shirt. Initially I thought it was a member of staff from the Lowry, but judging by his use of strong language it was clear he was an actor. As we were seated, his co-star; Ella Daley danced on the stage to club music.
As the performance starts it doesn't take long to realise that this is a physical theatre piece. It is essentially a one hour monologue from Sheffy. While Daley becomes the other characters through physical movement alone.
The lighting in this play is absolutely spot on. It really sets the tone, and the audience gets a sense of where the characters are. There was no set, but it wasn't needed as the simplicity of the piece and the writing, acting and physical movements were so good. The action wasn't limited to the stage. Quite often the actors went into the audience and interacted with them.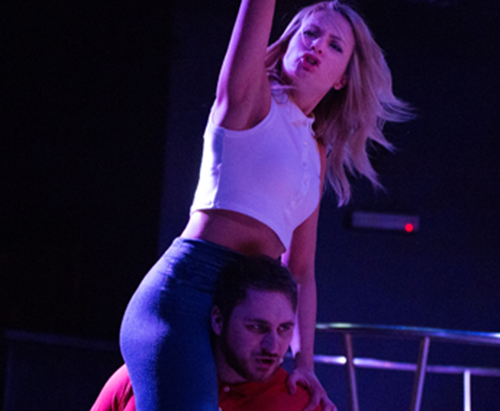 One of the nicest thing about the play was that although it was a monologue, it went in and out of Sheffy's inner thoughts and the actual action of the night. There was a clear distinction between the two, his inner thought were always in colloquial speech, while the action was in rhyming verse. Daley also gives a strong performance. Although she doesn't speak, the physical movements she does are fantastic. I lost count of how many characters she portrays in the show, but each one had a unique physicality to them.
Towards the end of the play we see that Sheffy isn't all about going out and trying to pull a girl. He has a sensitive side, and a brush with death makes him realise he needs to re-establish his ties with his family.
Definitely one of the best pieces of fringe theatre I have seen in a long time. The acting and writing is superb - not once does your mind wander. There were times when it would have been nice to see a bit more variety in Sheffy's character, and I would have preferred that Daley had more to do in the production. However, they are very minor points in what is an excellent show.
'Night + Daze' concludes its national tour in Barnsley on 4th February.
Reviewer: Brian Madden
Reviewed: 30th January 2016