Inspirational, emotional and thought provoking - A Raisin In The Sun is everything theatre should be. This worldwide famous play has now landed in Sheffield ahead of its UK Tour under the direction of the incredible Dawn Walton who shows this piece in all its glory. From the moment I entered the 'in the round' space I was transported to a small 1950's apartment that gives home to the Younger family. The set design was simple yet effective, work done no doubt by Amanda Stoodley (Designer) Aideen Malone (Lighting Designer) and Adrienne Quartly (Sound Designer) each complimenting each other to make a beautiful theatrical experience. The smaller details really make this play believable, from the authentic music from the period to the subtle lighting touches made from scene to scene - a marvel of great live performance.
The story follows as said the Younger family over the period of a couple of weeks, they are an African American family based on the Southside of Chicago. As the show opens, they are within days of a $10,000 cheque coming to Lena Younger also known as 'Mama' (Angela Wynter). Walter Lee Younger (Ashley Zhangazha) is especially looking forward to the cheque to help with him big business dreams - which we find out is to open a Liquor store. Going into much depth of storyline with a compelling would be a mistake so I won't - but I will say there are many twists and turns which make it an emotional roller-coaster for not only the Younger Family but for the audience as well.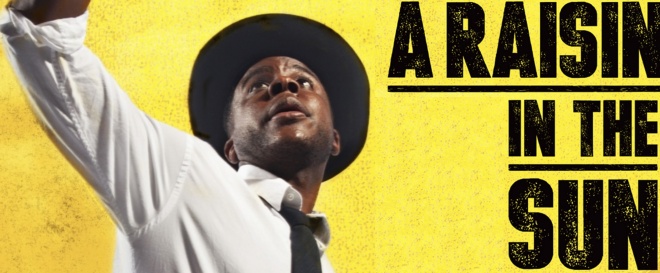 Walter Lee Younger is magnificently played by Ashley Zhangazha who was simply made to play this role, his transition throughout the play gives you an insight of becoming a strong man and the trials and tribulations that go with it. His strength and demeanour over the audience is breath-taking and he was enthralling every time he entered the space. To step into the same roles as names such as Sidney Poitier, Sean Combs and Denzel Washington would have kept many an experienced performer but in this production Zhangazha exceeds all expectations. Lena Younger is played effortlessly by Angela Wynter a simple and god driven woman who fights to keep her family together and would do anything for them. She was warm, caring, funny and brass all in the space of a line - an ultimate professional. Beneatha Younger is the younger sister to Walter and is played by the incredible Susan Wokoma, she was surely an audience favourite from her expertly hilarious looks and one liners she brought the light to a production that could be full of dark and depressing context. She also excelled with more dramatic moments with a favourite being when Beneatha is expressing she does not accept God. Ruth Younger who is Walter Lee' Wife was played by the beautiful Alisha Bailey, she also brings a warmth and homely feel to the show while also showing us a wife who pleases her husband but can also just as well be a strong and charismatic independent woman. Her portrayal of this role is pure joy to experience and her connection to the other members of the family makes her as believable as possible. Travis Younger who is the young child of Ruth and Walter on this occasion was played by the superb Solomon Gordon - a natural on stage presence and brilliantly bringing this intelligent, kind and innocent to life. The ensemble is rounded off with Mike Burnside playing Karl Lindner - wonderfully showing the strong separation between white and blacks of the period. Everal A Walsh plays the friend of Walter Lee whom decides to go into business with - a fantastic role which was filled with an immensely talented actor. And finally, playing two roles with amazement Aron Julius portrays Joseph Asagai, with an authentic and amazing accent and also the prudish and rich George Murchison.
This production is outstanding, and every detail make the difference to make for an impressive piece of theatre. Anyone who is associated with A Raisin In The Sun should be proud of this and huge congratulations to all of the spectacular and powerful cast.
The play runs at the Crucible Studio Theatre until 13th Feb before touring around the UK until 26th March. See Eclipse Theatre Website for more details.
http://eclipsetheatre.org.uk/projects/240-a-raisin-in-the-sun-2016
Reviewer: Brad Wilson
Reviewed: 1st February 2016