The Lonely Walk Home is an intriguing tale set in the pubs and clubs of Canal Street. It starts with the usual fodder: an older shy man, a young man using bravado to hide insecurity, drugs, chance encounters, and sexual frustration. Given the expansion of gay drama over the past decade, this predictable beginning feels a little dated, but quickly we realise that all is not as it seems, and as the plot kicks in the play develops quickly, holding our interest up until the final revelations and plot twists. The audience surrounds the stage in the basement of Taurus bar, a setting which heightens the darkness and claustrophobia. There was a real buzz in the bar before we descended into the basement, and the friendly staff helped make the whole evening really enjoyable.
The play is an adaptation of a short story Ian Townsend initially re-wrote as a radio play which went on to win a special BBC writers room prize. It breaks a lot of classic writing rules (don't use several first-person narrators; don't give the game away too early), but Townsend gets away with it, creating a short, crafted piece of entertainment. Both actors mix dialogue with narration, catching the audience members' eyes frequently-- sometimes glaring for effect. The narration works better with the lead, played by CJ de Mooi, because the supporting character's (Jake Benson) narration is subject to some author intrusion, breaking from their heavily-colloquial language for moments of uncharacteristic articulation. The performances by both de Mooi and Benson hold our interest right until the last line.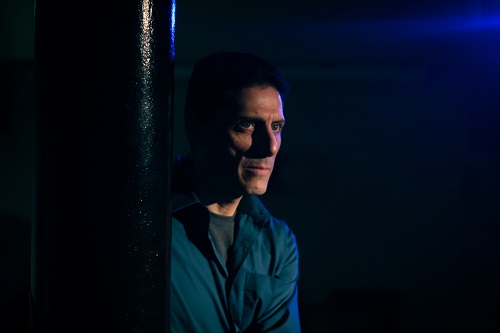 We quickly invest in these characters, we care about them and want to see what happens to them. The delivery has clearly been thought through in minute detail, as each glance and pause is perfectly placed, each movement is precise, and both actors deliver their performances naturally and with confidence. The whole creative team (including director Dan Phillips and technical manager Alexandre Carvalho) have clearly worked hard at this and it pays off, as scenes progress as slickly as you'd expect at a large professional theatre. Original music from Ben McGarvey adds to the dark atmosphere and the experience as a whole, and helps move the play swiftly through time and scene sequences.
This is an engaging theatre experience that swiftly moves from the superficial to explore themes of sexual desire and loneliness in a modern setting, with an exciting plot that doesn't stand still. The audience is asked to provide feedback at the end, meaning that we can help to shape the play as it is developed in the future. Currently the play is short and entertaining; hopefully it will be developed into a longer piece on a bigger stage. If the play is lengthened, there needs to be more of an exploration of the chain of events that have brought these characters to where they are, and a greater depth of insight into why these characters are who they are.
The Lonely Walk Home runs through to 12th February. For more information and tickets go to www.thelonelywalkhome.co.uk or connect on twitter at @LonelyWalkHome
Reviewer: Ben Spencer
Reviewed: 3rd February 2016