It is easy to see why "And Then There Were None" is Agatha Christies' best-selling novel with more than a hundred million copies sold, as it is truly thrilling, ingenious and full of delightful twists and turns.
Ten guilty strangers are trapped on an island off the Coast of Devon. Eight guests who have never met before, along with two house servants and an apparently absent host and hostess, are marooned. Soon after their arrival to the island a mysterious voice accuses them all of murder one by one. Then one by one they meet their demise. In this superlative mystery comedy, statuettes of little soldier boys on the mantel piece at the house, go missing one by one as those in the house succumb to a diabolical avenger. Accompanied by a framed nursery rhyme that tells how each of the ten soldiers' meets their death.
This captivating Agatha Christie classic has been brought to life by Rob Parry lead Director, with the help of Cathyrn Hughes, Cameron Rowe and Bethany Gregson. The Almost Famous Theatre Company preforming in the Adelphi Building of the University of Salford, each year aims to put on around 4 shows: including plays, musicals and variety shows. 'And then there was none' showcased a cast of ten strong performers.
The Adelphi Building as part of the Adelphi Salford University campus is an old building that brims with character. Walking down the corridors of this old building it was hard not to be drawn to the array of sounds booming from the heavy wooden closed doors. Clearly, this is a dwelling that holds training for many budding young musicians and performers.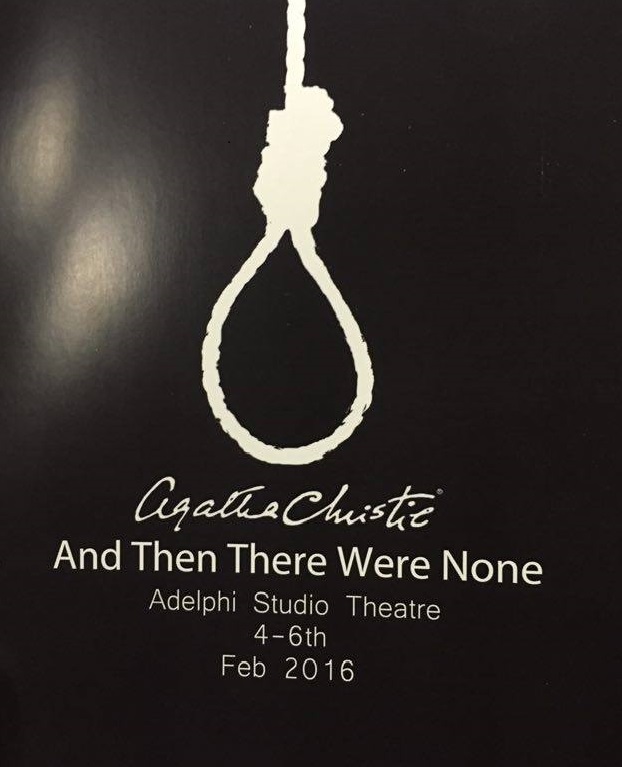 'And Then There Was None' was performed on a simple stage that was perfectly decked for the acts, this coupled with an auditorium that had a seating capacity of fifty added to the intimate performance of this entrancing show.
As a reviewing and an avid theatre goer I have the privileged of seeing many shows, some big West End productions like Miss Saigon that I saw over the weekend to shows like this one. Nothing excites me more than seeing the enthusiasm and dedication of young performers who produce a spectacular amateur performance like this one. All cast members were perfectly cast and the team produced a spectacular piece of theatre. Charlie Clegg and the costume and makeup team did a splendid job on making each character look the part.
Beth Castleton (Vera Claythorpe), Rob Folkes (Sir Lawrence Wargrave), Harland Morgan (Philip Lombard), Kenneth Mackenzie (Dr. Edward Armstrong), Joe Davis (William Blore), Jack Fletcher (General John Mackenzie), Courtney Butterfield (Emily Brent), Sam Blackhurst (Anthony Marston), Ian Snell (Thomas Rogers) and Anna Makepeace (Ethel Rogers) you did yourselves proud in your interpretations of each character. My stand out performer of the night had to be Rob Folkes who delivered an outstanding spine chilling performance of his character.
A fantastic evening's entertainment that I would highly recommend seeing whilst it is running until the 6th February, and I look forward to any future productions from this Company. I am certain that this isn't the last I will see of some of these young performers as their professionalism and talent will certainly take them far if they pursue a career in theatre.
And Then There Were None plays at the Adelphi Studio Theatre, Salford University, running from 4th 6th February 2016. http://bit.ly/20el5De
Reviewer: Victoria Wilmot
Reviewed: 4th February 2016