Nostalgic, Interactive and Funny
The Bradshaws is a fictional family created and voiced by the comedian and musician Buzz Hawkins. The family was created for The Gary Davies Show in 1983 when Hawkins wrote a poem about a family's day trip to Blackpool and soon developed into a radio series which has gained great popularity in the North and abroad. Some episodes were also made into a television series by Granada TV.
The Bradshaws is set in a terraced house with an outside loo in a fictional Manchester suburb during the 1950's, the era of pounds, shillings and pence, and with a brass band playing two or three streets away. The Bradshaws are a typical working-class family with stereotypical housewife Audrey and chauvinist Alf as mother and father to the never-ageing seven-year old Billy. Other characters are referred to but never seen.
On entering the theatre there is a sheet of paper on every seat detailing how to turn it into a paper aeroplane and we are invited to provide our details and throw them towards an animated target on the stage. It is a clever way to get the audience involved and in the mood before the action has even started with a winner drawn at the end of the night receiving a complimentary CD.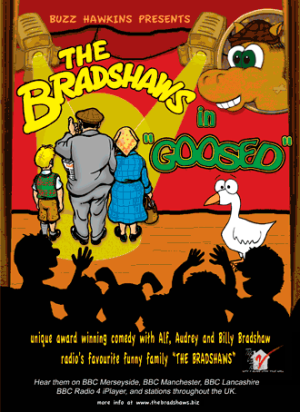 Some clever screened animation gets the performance going before Hawkins appears to introduce the evening, reminding us that the Bradshaws are real people and anyone who thinks otherwise is fictional. In tonight's story, amidst the danger of peace breaking out in the little two-up two-down home of the Bradshaws, Audrey doesn't yet know that Alf has pinched her club money and lost it on a lame horse. Alf doesn't yet know that Audrey has volunteered him for a part in Billy's school Panto to raise funds for the local church. Billy doesn't yet know that the goose his dad brings home under the influence (that's Alf, not the goose) is not a pet. The plot thickens and in Hawkins own words, 'it doesn't come much thicker than this.'
Much credit to Debbie Torr (Audrey), Colin Smith (Alf) and Dom Collins (Joe Woods) for their superb mime performances: what many of the audience did not appreciate until very late on was the fact that Hawkins provides all of the character voices from off-stage. This production is in effect a visual realisation of the radio play. Much of the deception is achieved as we are introduced at the beginning to Billy as an animated puppet who we know is being voiced off-stage by Hawkins.
The tale is broken into scenes throughout the evening by cameo's from Hawkins as, with rose-tinted glasses, he takes the audience on a nostalgic journey back to their childhood and, perhaps, better days through a combination of social observations and reminisces of penny sweets and childhood games. Audrey's song 'Where Did The Romance Go?' serves as a gentle reminder that it wasn't always rosy for everyone in days gone by.
Hawkins is naturally good-humoured and through his use of song, clever word play and innuendo he had the audience involved at every turn. A hilarious ukulele and song sketch towards the end served as the nod that this production clearly gives to old-time music hall entertainment.
The first half flew by, always a sign of a great performance in my opinion, and the second half didn't let it down either. This is very much Hawkins' show and he deserves much praise for it even if I will never be able to look at a walnut whip the same again....!
It was pleasing to see a very full house, particularly given the stiff competition being faced on the night in this Rugby League stronghold with the opening match of the season (St Helens comfortably beating Huddersfield 30-16 in case you were wondering.)
Sadly this was the last evening of the tour and the next twelve months are committed to animation. For those who cannot wait until 2017, the series can be heard as a strand of the Billy Butler show on BBC Radio Merseyside, on the Chorley-based Station Chorley FM, and on 7 Waves Radio 92.1
Reviewer: Mark Davoren
Reviewed: 5th February 2016