The lyrics may be in French but there's no mistaking the beat that would have stirred even the tiredest of audience members at Wolverhampton Grand Theatre last night at the start of the hit musical Jersey Boys. Ces soirées-là - better known as Oh, what a night! - was number one in Paris, 2000, 40 years after Frankie Valli and the Four Seasons first recorded it. How'd that happen? Jersey Boys gives us four different versions, one for each member of the band (Tommy DeVito, Bob Gaudio, Nick Massi and Valli) who each lead a quarter of the biographical musical, which is cleverly split into four seasons.
Spring - Tommy DeVito
Starting at the beginning, Spring is surprisingly dark. DeVito tells of how he first met Frankie Valli in the gangster filled streets of Belleville, New Jersey. Many of the locations throughout the show are depicted simply but effectively using scaffolding and basic props that the company can wheel on and off. Yet - despite the gloomy setting - the stage glows thanks to both the doo-wop rhythms of songs from the 50s and later by the band's greatest hits (the roof-raising medley of Sherry, Big Girls Don't Cry and Walk Like A Man a particular standout).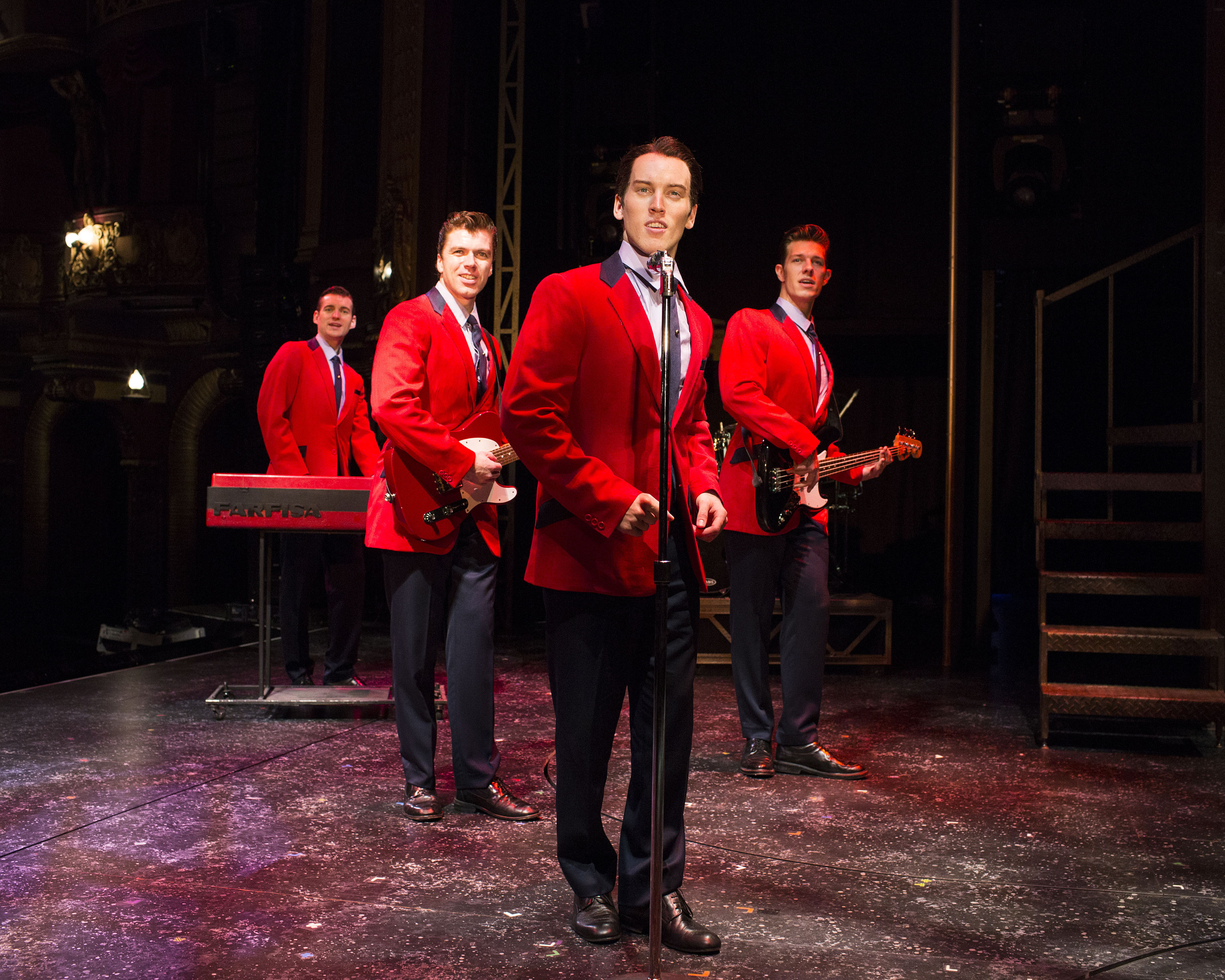 Often seen wielding a guitar, DeVito is big-headed and pushes people around but gets the audience on side thanks to his charm and charisma, which Stephen Webb (who played him) had in abundance.
Summer - Bob Gaudio
Gaudio is far less arrogant than DeVito but nevertheless aware of his vital contribution towards the Four Seasons' fame; Sam Ferriday played the band's song writer with a confidence that oozed off the stage.
Fall - Nick Massi
Although he refers to himself as the Ringo Starr of the band, Massi's contribution to the Four Seasons should not be understated. After all, it is his deep voice that helps to make Valli's high voice stand out; Lewis Griffiths shone in the role.
Winter - Frankie Valli
Of course, the lead singer and most famous member of the band has to have the final say. All eyes and ears on Matt Corner - can he do justice to Valli's iconic voice? Well, the short answer is Yes! Here we get to learn more about the personal tragedies that Valli suffered when he started to pursue a solo career; Fallen Angel used to poignant effect. Corner also got to build up to a terrific crescendo in delivering one of Valli's most famous solo songs - Can't Take My Eyes Off of You. The audience certainly couldn't take their eyes off of him and he seemed to hardly believe the rapturous applause that greeted him upon finishing the song. Finally, Valli reminiscences that his favourite memory of his time with Gaudio, Massi and DeVito was before the fame - taking us full circle back to Spring.
I would recommend Jersey Boys to anybody who is a fan of the Four Seasons and, even if you don't think you are, you are sure to recognise many of the songs that have been covered by other artists. This is a gripping true life account of battling through hardship to achieve worldwide fame - a must see.
Reviewer: Rob Brown
Reviewed: 10th February 2016
Photo: Helen Maybanks