I have heard so much about Graeae Theatre Company, and have always wanted to see one of their productions, and so when this opportunity arose, I snapped it up.
Graeae was founded in 1980 by Nabil Shaban and Richard Tomlinson. Having met at college in Coventry creating productions for disabled people, their shared vision was to dispel peoples' preconceptions and prejudices of disability by integrating and educating through theatre, workshops and training. Since then Graeae have gone from strength to strength and their work with both deaf and physically disabled actors is now widely known and respected.
Not only do they choose to put these actors centre stage, but they also cater for disabled audience members too by subtitling and partially signing all their productions. They are a truly all-inclusive theatre company who are constantly breaking down barriers to produce excellent plays.
The Solid Life Of Sugar Water is a two-hander by Jack Thorne. It tells the story of a young couple, Alice and Phil. How they met, their first few dates, how they feel towards each other, and also about how they have sex and their sexual preferences and attitudes of sex. In fact, there is quite a lot about sex in this play. If you are easily offended or embarrassed by people talking frankly about sex, then perhaps you shouldn't see this play. However, if you do, then what they say about sex will undoubtedly strike a chord with all of us who have ever been in a long-term relationship. How one partner does something thinking the other likes and wants it, and how they, conversely, pretend to like it because they think their partner is enjoying it. The descriptions of noise and smell are perhaps a little too real, but there is a lot of humour here too, and it is delivered in a frank but inoffensive style.
There needs to be talk of sex, because it is sex which brings about the tragedy. In this case Alice becomes pregnant, and shortly before the baby is due experiences excess bleeding and is taken to hospital. She has suffered an ante-partum haemorrhage, and sadly the baby has died whilst still inside the womb. However she will still need to go into labour and deliver the baby naturally.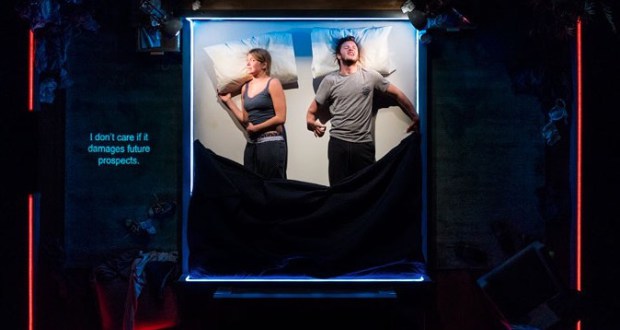 This signals the changing dynamic of the relationship, and how each cope with it in their own way trying to find a way through.
For me though, the end was unsatisfactory. The play started really well with a good mix of comedy and tragedy. A lovely way of story-telling, by splitting the narrative into duologues and narration directed at the audience. The energy and pace were excellent and we were totally engaged in the happening. However, somewhere about three quarters of the way through several audience members started to move about in their seats, change position and our concentration dissipated somewhat. It wasn't that the ending didn't satisfy the needs of the story - it did. It tied up all the loose ends and it gave a conclusion. But it was missing a certain 'je ne sais quoi'. It ended not with a bang but with a whimper. The comedy had long since left the script, and the denouement soliloquy of Alice as she sat on the chair centre stage was long-winded, so by the time they crawled back into bed and said their last words 'I love you', we had already become detached from it. That was such a pity since it all started so well. I think, for the type of play that it was and the message it was trying to deliver, then a running time of just over 80 minutes non-stop is a little long. Well no, actually it shouldn't be too long, but it just felt that it was. Most of the audience were beginning to get restless before the end.
The acting though was first class... Deaf actress Genevieve Barr and disabled actor Arthur Hughes were both superb. Their portrayal of couple Alice and Phil was heart-warming and heart-wrenching. Sparking off each other superbly and their gift at timing lines for maximum impact was second to none. The problem I had with the final 10 minutes of the play is not the actors' fault at all. They played it truthfully to the end. But the writing needed breaking down and a few more moments of light-heartedness injecting, and the directing needed not to be so over-indulgent.
The set was lovely. It was a bedroom, complete with bedside cabinets, chair, wardrobe, plant, and clothes scattered over the floor. Nothing unusual about this, I hear you say, but now tilt all of this at 90 degrees, and this is your back wall, leaving the stage bare for scenes which took place out of bed. The bed scenes were then acted standing up with a sheet attached around their waists. A simple idea, which I have seen before, especially in comedy shows and pantomimes, but never seen it work quite as well as it did last night. The set was designed by Lily Arnold.
Helping the play along was some very atmospheric musical sound effects and I loved the fluorescent lighting strips around the bed and edge of the set which changed colour to indicate and compliment a mood or dynamic change.
It was such a great play and so well produced. What a pity then that I didn't really buy into the ending.
Reviewer: Mark Dee
Reviewed: 10th February 2016
Photo: Patrick Baldwin