Barn Theatre is a charity which opened its doors two years ago. It won the UK's Best Fringe Theatre Award 2019 and like other theatres, had to make the decision to close its doors recently. In a bid to raise funds to be able to continue its wonderful work, the theatre decided to Live Stream its play Henry V which was filmed last year during a live performance.
Beginning with the wonderful line 'O for A Muse of Fire….', this powerful history play starts as it means to go on – powerfully! Even though the language is Shakespeare's, the presentation has a modern twist bringing this play; which was written in 1599 and set in 1415, into our modern era. We must remember that this play was filmed last year, so Brexit was at the forefront of the Nation's mind and we see this referenced throughout the play.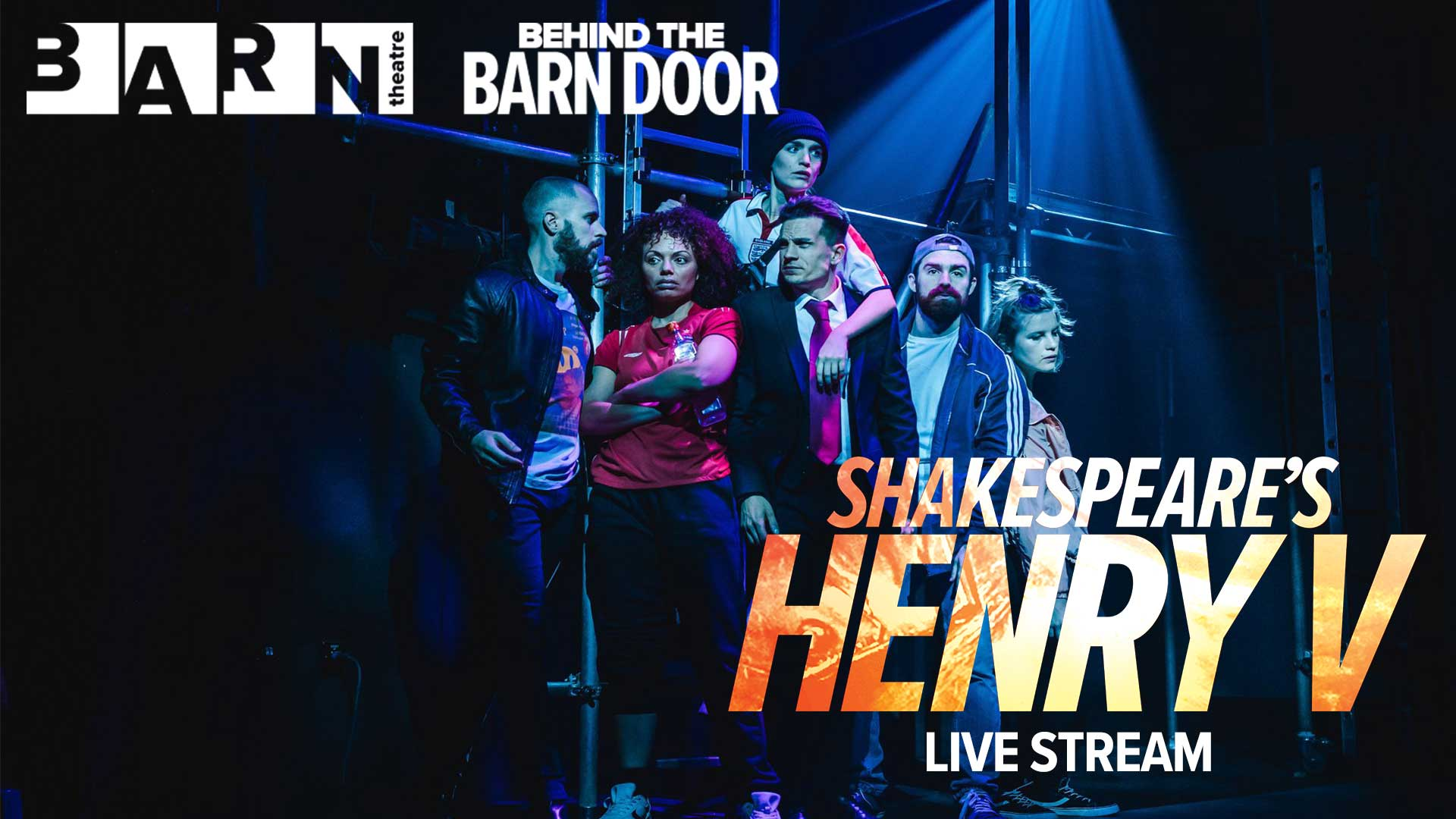 For those who do not know the story, Henry V's father Henry IV has now died, and Henry V accedes the throne in 1413. Henry also believes that he should rule part of France and seeks to take what he thinks should be rightfully his. This led to the Battle of Agincourt in 1415, and for those with a love of history, this play loosely follows Henry's attack on France in the run up to, and following, the battle.
From the outset, this modernised play uses the technical skills and ideas of both the Director Hal Chambers and his team. Using projected images, we witness Henry leaving his life of cavorting in nightclub's (which replaces the traditional tavern in the classic play) and taking on the serious role of ruling the country. Bringing in the Brexit theme, the Anglo-French Union Summit was an excellent idea and later with the negotiating tables and podium speeches.
Music and sound are used in abundance, and at points during the battle scenes, it was hard to remember that this is a Shakespeare play. The sound effects were so realistic, we could have been watching the movie 'Black Hawk Down', with the helicopter sound effect, gun shots and fight scenes, it had the hallmarks of a modern war film. That said, the technical side of this worked very well with the fight co-ordination and the set. When married together with the costumes of modern-day soldiers, with guns and body armour, the cast were able to concentrate on honing their performance. Another nice touch was the hat tip to the location of the theatre and showing a backdrop of the horse racing at Cirencester.
The whole cast performed wonderfully, with Lauren Samuels' perfect French accent when playing Katherine, but by far the standout performance goes to Aaron Sidwell as Henry. His masterful St Crispin's Day speech showed his strength as an actor, that he could carry off this difficult role with conviction.
Overall, this inventive approach to this contemporary history play demonstrates why Barn Theatre was awarded the UK's Best Fringe Award 2019. To enable the theatre to continue, they need to raise money. It would be unthinkable that this innovative theatre company should not be able to continue. I would highly recommend watching Henry V, and remember, that if you wish to continue enjoying their productions, a donation of whatever you can afford would be very gratefully received, I am sure. To view the play and to donate, go to https://barntheatre.org.uk/sob
Reviewer: Caroline Worswick
Reviewed: 28th March 2020
North West End UK Rating: ★★★★