Chichester Festival Theatre are currently streaming their 2018 production of Flowers for Mrs Harris online. Based on the novel by Paul Gallico, this heartwarming musical was directed by Daniel Evans alongside Musical Director, Tom Brady.
The show opens in a scene of simple but lovely domestic bliss, with Mrs Harris (Clare Burt) pouring tea for her husband, Albert (Mark Meadows) as they celebrate their anniversary. They talk about how they haven't had a holiday for a long time and Albert tries to persuade her to sell his watch so she can treat herself. But Mrs Harris is determined that she is happy where she is and has everything she needs right there. Suddenly the power cuts out and Albert disappears. Mrs Harris is left alone in the dark when her friend, the pessimistic and self-pitying Violet (Claire Machin) appears with cake. They reminisce about their dead husbands and discuss their jobs as cleaners, and the neverending demands from their clients.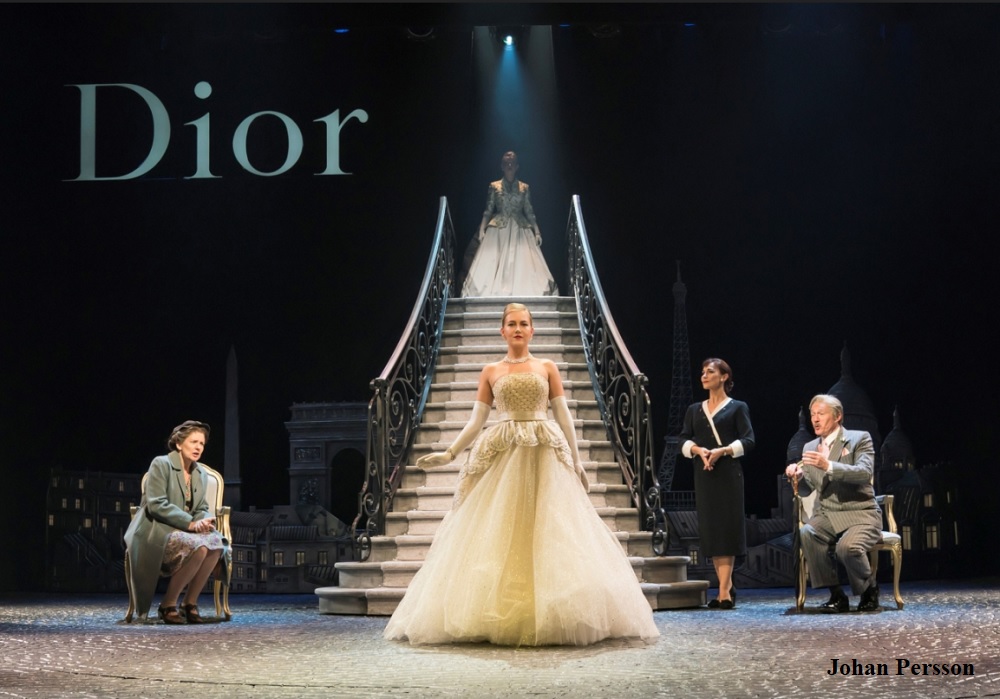 As we follow Mrs Harris around her working day the morning after, the revolving stage is cleverly used to illustrate both space and the claustrophobic atmosphere her needy clients create. It quickly becomes clear that Mrs Harris responds to all situations with a cheery smile and goes out of her way to look after her clients all the time, often at cost to herself. While cleaning Lady's Dant's (Joanna Riding) house, Mrs Harris comes across a breathtakingly beautiful Christian Dior dress and decides that she must have one and perhaps isn't altogether happy after all.
The show explores themes around age and class, pointing out that the make do and mend culture of post-war Britain does not apply to the rich. When Violet tells Mrs Harris that owning such a dress would make her "mutton dressed as lamb" and that it would cost more than a year's wages, one of the most memorable songs ensues, as Violet feels betrayed by Mrs Harris and that she is looking down on her, while Mrs Harris points out that Violet's gloomy nature can be difficult to live with.
Mrs Harris decides to play the pools to try and get the money from the dress, and there is a particularly comical scene when she is trying to listen to the football scores on the wireless and her clients constantly chase her around, switching it off and making their demands. When she finally discovers she has won and begins making plans for her longed for trip to Paris, her joy abruptly crashes around her when she discovers that as so many people won, her prize is not as much as she thought it was She becomes determined to save the money and with Violet's help and extra jobs, she works towards her goal, and herself into a state of exhaustion.
But through her many struggles and some very painful moments, she at last saves enough money to get to Paris and buy her yearned for dress. While there, she transforms the lives of the Parisians she meets and brings light everywhere she goes.
The cast play multiple roles in a clever way which means that Mrs Harris' London life and Parisian adventure echo each other in a lovely way. Good vocals and excellent performances immerse you entirely in the story and have you rooting for Mrs Harris throughout. Meadows regularly appears as a guiding hand for Mrs Harris and the chemistry between him and Burt is tender and sweet. Laura Pitt-Pulford, playing Natasha and Pamela, deserves credit for her powerful emotions and excellent comic timing.
Flowers for Mrs Harris is a post-war Cinderella story with a twist, which is presented in a dazzling, breathtaking way. London and Paris are both created in a simple, yet stunning manner and the story will both delight you and reduce you to tears.
Flowers for Mrs Harris is being streamed on the Chichester Festival Theatre website until 8th May 2020. Click HERE to view now.

Reviewer: Donna M Day
Reviewed: 10th April 2020
North West End UK Rating: ★★★★★