Tonight was a double bill of dance from Aakash Odedra, a British born dancer and choreographer who was originally trained in Kathak (a type of north Indian classical dance that incorporates mime and dance) and Bharat Natyam (an Indian classical dance originating from the Hindu temples of Tamil Nadu in south-east India). However, tonight's performances took us beyond classical Indian dance into a fusion of East and West, the classic and contemporary dance with trance mask work too.
Echoes by Aditi Mangaldas
This piece involved the use of bells traditionally used in classical Indian dance, usually worn around the ankles. However, for this performance they were attached to make long ropes, some were piles or stretched out on the stage, others were suspended from the rigging. They were beautifully lit and created an intriguing set.
Throughout the dance the bells were used as a metaphor for old friends, companions and family -those who live now and those who have passed on. There were times when strings of bells fell from the rigging, for me they symbolised an earthly life coming to an end.
The dance is hard to describe with this rhythms and sounds and powerful authentic Indian music and voices that engulfed the audience - it had been recorded live in New Delhi. There was also great use of an amazing lighting design by Fabiana Piccioli. The heat in the theatre was also high and smoke had been pumped in, it created a place that felt distant.
Within the dance there were moments of rest, mediation and reflection, Aakash used a pile of bells like a bed, an altar and a companion -stroking and caressing it.
This piece was spiritual, ethereal and yet was grounded in the space with every stamp of Aakash's feet on the stage. A piece that took me places in my mind and emotions it truly defines explanation, but was nevertheless a positive experience.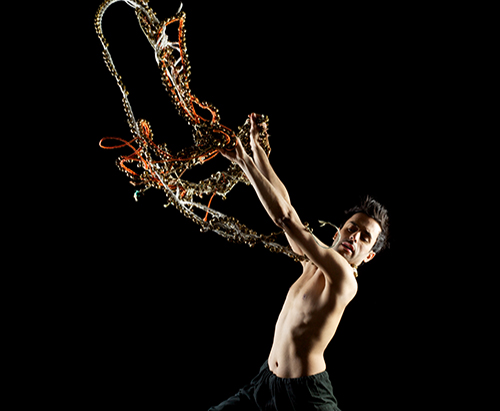 I Imagine by Aakash Odedra & Sabrina Mahfouz
The second act was completely different in tone, mood and style. The stage was set with three piles of suitcases in three pools of light. Aakash appeared in a way that was unexpected and was slightly comical, demonstrating his prowess in physical theatre as well as dance.
This piece involved the theme of migration and integration. It involved three characters which were portrayed through the use of trance masks, which cover the face except the mouth, designed and made by David Poznanter.
The first character was a migrant in the 1970s, dealing with racism and prejudice; as well as the difficulties of a relationship with, what I assumed, was a white British girl.
The second character was a modern, second or third generation migrant who wrestled with her identify and if she was accepted in society. She was a comedic caricature at times, but this was needed as a counter the heavier parts of the performance.
Finally, the third character was an older man that had migrated many years ago and was lamenting about the difference between his native land and here. A bitter-sweet character that brought smiles and tears.
The characters appeared was Aakash wore or used their masks and their stories and voice were interwoven to create a patchwork of thoughts and ideas rather than a linear storyline. Added to this were audio tracks of the old man's voice, spoken word poetry by Sabrina Mahfouz and a much more contemporary musical backing, composed by Nicki Wells, and sound effects. Particularly effective was the use of the buffering sound of a needle at the end of vinyl record.
Overall, this was a very thought provoking piece of dance-drama especially in the light of the current 'immigration crisis' in Europe.
A very entertaining and challenging evening at the theatre with a very talented performer Aakash Odedra, ably supported by an excellent production team for both pieces.
Reviewer: Alan Harbottle
Reviewed: 16th February 2016