Big Telly Theatre Company and Creation Theatre have teamed up to produce live theatre that their audience can not only watch at home, but also participate in.
Having already had success with 'The Tempest Live', which, due to the online nature of this offering; reached audiences in five continents, they are quickly bringing their second set of live performances in the play Operation Elsewhere. Artistic Director Zoe Seaton set up Big Telly Theatre in 1987 and now have experience in providing theatrical games and are very used to innovating and using unique spaces to stage their productions. Realising that lockdown was going to make live theatre almost impossible, they set about using the technology of 'Zoom' and with Creation Theatre's input, they have given a needy theatre audience a chance to see a live production.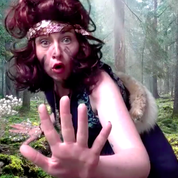 Operation Elsewhere is an immersive production, inviting the audience into a virtual world of faeries and changelings as we travel to the land of Elsewhere. Based upon a book written by Jane Talbot called 'The Faerie Thorn', we are absorbed into a dark tale, after firstly having to pass through border security – of course! The border security guard (Cillian Lenahan) makes sure we go through the usual airport security checks, before we can enter the land of Elsewhere.
Once we enter Elsewhere, we meet an odd assortment of characters. We meet the Changeling (Rhodri Lewis) who wishes to leave Elsewhere, Sweeney (Michael Johnston) who is our dark character of the play, and Scatha (Nicky Harley) who is drafted in to help. Amongst all the mayhem, are a couple who are trying to get married. Confused? It will all make sense if you take the journey.
The immersive nature of the play makes it ideal if you have a family (recommended for children over age 7), as the children are also encouraged to be involved in activities. As parents are no doubt struggling to find different things to amuse their children under lockdown, this is the perfect answer. A way to introduce younger children to the theatre, without having them wriggle in their seats and complain that they can't see.
Considering that all the actors are at home, performing in front of a projected background, having to adapt to their restrictive surroundings, and the creative team are working at a distance, this is indeed a huge accomplishment.
Big Telly Theatre reacted quickly to bring Live theatre into our homes, and for that we give thanks. The show lasts for about an hour, and offers storytelling, but most of all - FUN!
To watch this play go to https://www.creationtheatre.co.uk/book-shows/ and the cost is £20 per device. Book quickly as the show only has three more performances left today (3rd) at 7pm, and tomorrow (4th) at 3pm and 7pm.
Reviewer: Caroline Worswick
Reviewed: 2nd May 2020
North West End UK Rating: ★★★★★