Award winning Vertigo Theatre Productions have come up with a novel solution to the lack of production possibilities during the lockdown period. Revisiting their highly successful 2017 play Noir, Writer/Director Craig Hepworth has rewritten the show as an audio play and recorded it via Zoom sessions with the original cast.
Set in the 50s and the era of film noir, it is the story of Veronica Smart (Emma Morgan), a beautiful, married 39 year old failed actress. But her beautiful exterior hides a bored, manipulative woman. Her husband Cliff wants children, but Veronica has been putting it off and Cliff has started an affair. Determined to get her revenge on her cheating husband, she starts teaching at a local college and becomes involved with one of her students, sixteen year old Jimmy Flynn (Richard Allen). Using his devotion to her, she plans the demise of her husband so she can follow her dream of stardom. But one of her other students Vivian (Anna Hickling) is also devoted to Veronica and has her own hopes for their friendship.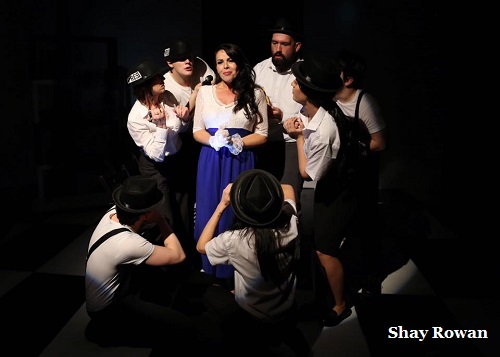 In the style of the Philip Marlowe novels by Raymond Chandler, the plot is narrated by Detective Sal Pelletier (Stuart Meevens), who leads the listener through the action from the scene setting opener through to the summing up at the end. He himself becomes involved in the plot towards the end of the show.
Emma Morgan as Veronica returns to the role as if she had never left it. Her husky voice perfectly playing the femme fatale who switches from harridan to lover to scheming witch within moments. Richard Allen as Jimmy is also excellently recreating his stage character, while Stuart Meevens' New York accent and delivery is reminiscent of Dashiell Hammett's Sam Spade. Anna Hickling's reappearance as Vivian flawlessly develops from mild teenager to a young woman determined to get what she wants. The rest of the cast work well in what can only be the more difficult circumstance of rehearsing and recording this from their various locations.
In the original production a monochromatic staging helped create the feel of the era. Here it is reliant upon the narration, but clever rewriting and Karl Burge's effective sound effects and audio mixing make a good attempt to recreate the feeling.
Ultimately losing the visual impact does mean the show has to work harder to engage the audience, but this is a well thought out and well produced version of a drama which deserved a second outing.
Listen to the show in full HERE!

Reviewer: Helen Jones
Reviewed: 19th May 2020
North West End UK Rating: ★★★★★