The Sound of Music is an iconic theatrical institution, first created as a stage performance in 1959 (borrowing the genius of iconic song writing duo Rogers and Hammerstein to resounding success), before then being made into a film in 1965 starring the resplendent Julie Andrews in the role of Maria Von Trapp, earning the brief but incredible accolade as the highest-grossing film of all time for a short spell.
Naturally, with such a rich history preceding it, people are still very protective over maintaining the integrity of such a long-standing and much-loved show. So when the chance arose to review a 2013 one-off live televisual production of the show, my interest was naturally piqued.
Who would star as the naïve yet inexorably kind Maria, with a diverse and complex vocal range? Would it be one of the long list of the Marias who have played the protagonist on stage? Or would it be a Broadway veteran like Sierra Boggess or Kristin Chenoweth, who have shown time and again that their voices (honed specifically for musical theatre) knows no bounds?
The answer, interestingly, was neither. In this televised production – the brainchild of Bob Greenblatt, chairman of American TV network NBC – the lead role was played by America's sweetheart, country singer and the 2005 American Idol winner Carrie Underwood.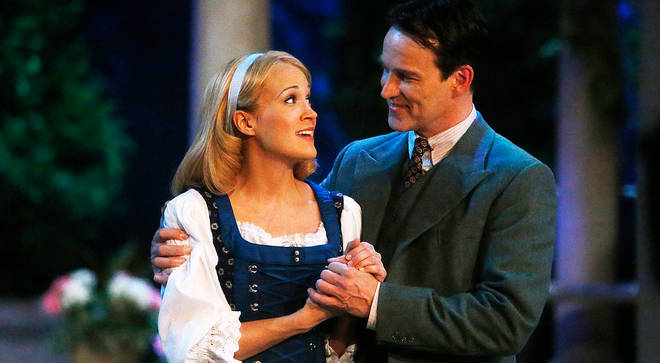 Sure, she has the aesthetic of Maria down to a tee – blonde hair, startling eyes, beautiful face – and she could sing, but could she sing the demanding part of Maria von Trapp? And could she act, move and sing in a live environment, just like being on stage? Only time would tell, but I was excited to find out.
Originally filmed and aired on December 5th 2013, this show was one of many rebroadcast for free on the YouTube channel The Show Must Go On, as a way for theatre lovers to get their fix of the stage while in quarantine. And what a wonderful way for the audience to spend 135 minutes.
While I originally questioned why this was a live televised piece rather than a filming of the stage show, as soon as the camera started rolling inside the abbey, it suddenly all made perfect sense. Filming the show in a studio rather than onstage afforded the performance something that the stage – no matter how big or how experienced the stage hands – could not offer: the ability to create a sublime set, complete with real stained glass windows, stone columns and the echoed eeriness of an old church building. It was masterful.
However, that said, as breath-taking as the opening sequence in the abbey was from a production value perspective (everything from costumes and props to set and movement was perfect), I felt that the opening number – the iconic solo "The Hills Are Alive With The Sound of Music" – was let down in two major ways. The first was by the very crude green-screen background of the infamous hills of Austria – this could have been forgiven onstage, when you are limited with the set design, but in a studio where it's already been shown that logistics (and, it has to be said, budget) is almost no object to set the scene of this show, it left me bitterly disappointed. For me, it was a cardinal sin that more wasn't made of one of the show's most beloved song, and the show's opener, so it should have packed more of an aesthetic and emotional punch.
Likewise, as the show's opener – and one of Maria's best songs from a character perspective – you'd expect the leading lady to give it some real pizazz. However, I felt that Carrie struggled to keep up with the demands of this song, struggling in more than one place to keep in time with the orchestra. That said, it could very easily have been nerves, as she certainly came into her own as the show went on.
Carrie's next song, "My Favourite Things" was much better and stronger than the first – it was abundantly clear that she was more comfortable with this song and was settling into the rhythm of a live performance now, as she kept in time and sounded wonderfully melodious, really showing off her vocal ability to good effect. Here you saw Carrie taking her first tentative steps out of the overwhelming shadow cast by the awe-inspiring Julie Andrews, who most people consider to be the definitive Maria von Trapp, and take the reigns of the show.
The introduction to the von Trapp family was as wonderful as expected – the set was amazingly luxurious, which does much to enhance the grandeur and perfectly sets the scene. Of note is the twin sweeping staircases, which is nostalgically reminiscent of that scene in the 1991 Disney classic, Beauty and the Beast.
The 7 von Trapp children were all very cute and immensely talented, with notable praise deserving for the eldest child Lisl (played here by Ariane Rinehart) and the fourth child Kurt (played by Joe West), who both had the most demanding singing roles of them all; Kurt's falsetto in parts left me with goosebumps.
The children's musical awakening in "Do-Re-Mi" was wonderful, with exceptional staging and blocking, especially the part where they were led into the piazza area, complete with a fountain and stunning (if undeniably fake) backdrop of the Austrian mountains. In moments like this, where Maria was carrying a very difficult song that would make most singers balk and the actors were all playing off each other perfectly, you'd be forgiven for thinking that this was filmed on a traditional stage.
If I had to have one criticism for Carrie Underwood as Maria, it would be that – while she is utterly believable as the loveable and talented nun-cum-governess – her acting sometimes left much to be desired. This is a shame when she does so very well in other areas, but it's something that, as a theatre critic, cannot be overlooked.
She is not, nor has ever professed to be, a triple threat (able to sing, dance and act like the traditional Broadway stars), so you can certainly forgive her for that. But you do have to question the executive decision - why choose someone you know has no classical training in theatre, and may struggle with the acting aspect of the role, when you have bona fide experts at your disposal (and ones, like Idina Menzel), with star quality of their own.
This has always been a particular gripe of mine – especially as this has been seen time and time again when film or TV and theatre collide. There have been innumerable musicals plagued by questionable casting over the years, done purely for aesthetics over suitability for the part. Just look at Gerard Butler as lead role in the 2004 film adaptation of The Phantom of the Opera, Nick Jonas as Marius in the 25th Anniversary Concert production of Les Misérables, and perhaps even more sacrilegious of all, the abysmal casting of Russell Crowe in the role of Inspector Javert in the 2012 film adaptation of Les Mis (those of you have seen the latter will know exactly what I mean!).
Not that I am saying that Carrie's performance was in line with the struggles of Butler, Jonas and Crowe in parts that were clearly not right for them – she more than held her own in the singing department at least in her role. However, I do think that Carrie was cast purely to reel in a larger audience, and to capture a younger demographic – a decision which is understandable when there are no other bona fide "super stars" on the billing.
The choice of male protagonist – Captain Georg von Trapp, played by Stephen Moyer – was also interesting, as Moyer has no musical theatre (or even theatrical) credits to his name. You'd think that the producers would either pull in a Broadway veteran, or a big name to face off against Carrie Underwood, but alas.
For all their faults as leading lady and man material in such as show as this, one thing they certainly had going for them as Maria and Georg von Trapp is chemistry, which they had in spades. The perfectly choreographed dance scene which takes place in the von Trapp house between the reluctant love interests was perfect, again striking a familiarly warm chord with the Disney classic, Beauty and the Beast.
Protagonists aside, thankfully there was some consideration to appease the musical theatre lovers within the casting – Fräulein Elsa Schweiger was played diligently by Laura Benanti and Max Detweiler played indulgently by Christian Borle, both of whom have ample experience treading the boards of musicale and non-musicale shows alike. However, perhaps the most surprising addition to the cast was the sublime Audra McDonald as Mother Abess who, as the winner of no more than 6 Tony Awards, has more musical accolades than any other performing arts actor to date. With such a seasoned professional like that in the midst, it's almost a shame that she was cocooned in such a small role in the production.
All in all, this show ticked a lot of boxes – it had excellent production values, a mainly stellar cast, sumptuous costumes and lighting, and it was all filmed live for good measure.
While people (including the original von Trapp family) may have bitterly contested the choice of Carrie Underwood in the role of Maria – and something that the critics have also bitterly bemoaned since the show's tepid critical reception back in 2013 – you have to give the poor girl credit for her momentous achievement in this role.
Sure, she didn't move mountains (if you'll pardon the pun), but what she does do is deliver a sound live performance whereby she never stumbles over a single piece of dialogue, and she had to sing songs that were both out of her comfort zone and perhaps slightly out of her vocal range. It must have been a very steep learning curve to learn to move, act, dance and sing someone else's songs (and perform them all live for good measure), so even the world's most elite singers may struggle with such a monumental challenge.
If you're looking for a show that is technically perfect and is beautifully delivered, this isn't the show for you. This show has merits as a great all-rounder but will leave theatre fans wanting (and expecting) more.
However, if you're looking for a bit of light-hearted entertainment to keep your spirits high during lockdown, this is most definitely something you shouldn't miss. Catch the show HERE until Sunday (24th May) evening.
Reviewer: Hannah Wilde
Reviewed: 22nd May 2020
North West End UK Rating: ★★★★★