Gecko is an internationally renowned physical theatre company that stages unique performances combining both dance, word and mime around the world and this show, their seventh touring production is streamed online until Sunday 31st May 2020.
It is fair to say that Gecko present their work as a fully sensory experience through their innovative use of light, sound and design and with The Wedding, they skilfully explore the meaning of the word – married and the complexities that word has within the framework of society.
Through vivid movement, mime and speech the show reflects upon the human condition, how we differentiate between love and anger, loneliness and self-fulfilment, how we see ourselves as part of a society that is connected, how we can all be married to a particular idea or belief system.
In short, The Wedding is about the state of union.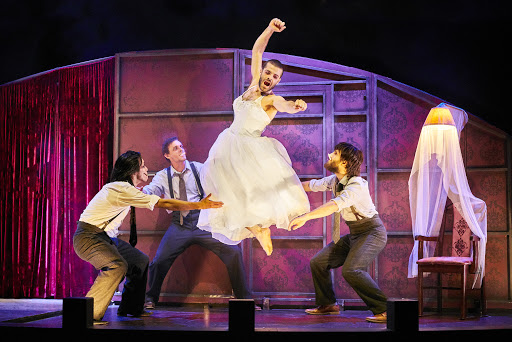 Created by Gecko's artistic director Amit Lahav, this is an entirely collaborative and interesting multi- sensory performance and whilst developing the many themes of union and inter-connection, Gecko have succeeded in delivering a visual tapestry that is both vibrant and relevant.
The design by Rhys Jarman is both bold and inventive, the lighting by Joe Hornsby is imaginative and the sound by Jonathan Everett provides a rich soundscape for the artists to perform.
The accomplished cast of dancers, actors and mime artists added the vital heartbeat to a show that is both lyrical and passionate in turn. The imaginative choreographed sequences are well realised by Lahav and his team and the motifs of wedded "bliss" although never far away, provided a perfect allegory to the central themes of union and belonging.
It's a production that is quite surreal at times but nevertheless, anchored to a formal reality. The use of different languages and non- linear narrative might not be to everyone's tastes and at a running time of nearly 80 minutes it could do with a trim but there is no denying the power of the performances in this richly theatrical piece by Gecko.
Catch this at https://www.geckotheatre.com/the-wedding until Sunday 31st May 2020.
Reviewer: Kiefer Williams
Reviewed: 27th May 2020
North West End UK Rating: ★★★★★