Cast your minds back to America in the 1960s, girls wore their hair big, bright colours were in fashion and racism was still at the very heart of society. Fast forward 60 years and almost nothing has changed. In fact, it seems rather poignant to be watching Hairspray given the current situation in the United States.
Anyone who knows Hairspray will know it's a happy, feel-good, energetic musical with a strong message at its core. It's impossible not to like Tracy Trunblad (Maddie Baillio) as she dances and sings through the two-hour production.
The role of Tracy is so demanding and at times Baillio was great, but sadly there were also occasions when you could hear her out of breath. 'Good Morning Baltimore' is the opening song to the musical and unfortunately it wasn't the best. As it was filmed live in an open air set it was dark, which completely perplexed me as it was supposed to be morning. The set looked quite empty and didn't really capture the energy needed for the song and bring the musical to life.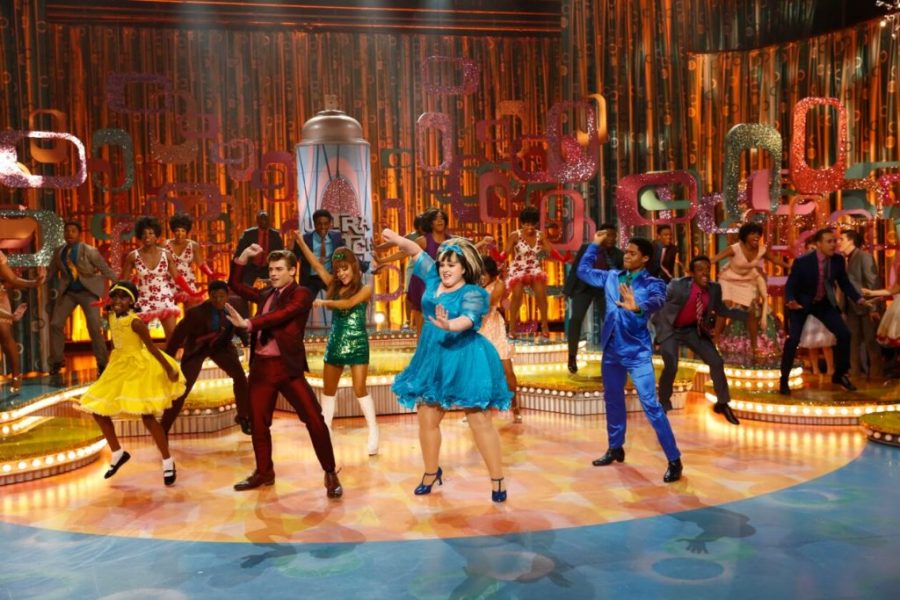 Baillio did her best and was certainly enthusiastic, but as a piece the opening song missed the mark for me. It was then an uphill battle to bring it back to where it needed to be.
Casting wise this production was very hit and miss. Garrett Clayton as Link Larkin certainly looked the part but didn't have the voice or personality needed to carry off the role. Similarly, Harvey Fierstein as Edna Turnblad was in parts terrifying - looked amazing but didn't really deliver for me. You know there's a problem when the supporting cast outshine the leads - Kristin Chenoweth was sensational as the villain; Velma Von Tussel.
There were some moments of absolute magic in this production of Hairspray, most notably Jennifer Hudson in her role of Motormouth Maybelle. If this had been in a theatre she would have brought the house down with her rendition of 'I Know Where I've Been'. The lyrics in the song are still so relevant to today's world and Hudson's powerful vocals really made it the most emotional moment of the production.
Many viewers will have tuned in to see Ariana Grande's performance of Penny Pingleton. Her role is only minor. However, she did capture the character of the nerdy, clumsy best friend well. Her transformation in the final scene is quite fabulous.
No review of Hairspray would be complete without mentioning 'You Can't Stop The Beat'. In my opinion this is one of the best feel-good musical songs. It's just a joy to watch and certainly watching from my home I found myself subconsciously joining in with the choreography.
Overall, the momentum felt a bit stop-start, when it really needed to be 100% from the beginning. During the encore the two biggest names on the bill; Hudson and Ariana Grande joined forces to sing 'Come So Far' - the cynic in me thinks this was only done to beef up their roles.
Hairspray is always a joy to watch as it is so fun and energetic. However, I feel the musical works best on a stage and this production confirmed that. Despite some messy tech, it was still worth a watch.
Hairspray Live is available on The Show Must Go On YouTube channel this weekend only HERE!

Reviewer: Brian Madden
Reviewed: 29th May 2020
North West End UK Rating: ★★★★★