The final year students at Manchester School of Theatre performed Moira Buffini's Welcome to Thebes with striking maturity and skill at Home in Manchester. Taking inspiration from Sophocles' Antigone, Euripides' Hippolytus and Aristophanes' Lysistrata, Buffini creates a world set in the modern day in the aftermath of war. Very current, with so many elements relatable to the violence we see every day on television; however, hearing it 'first hand' it feels so much more brutal. Eurydice has just been elected president through a democratic vote and has installed her all female cabinet, bar one token male.
Directed by Chris Honer in a thrust stage, the set – designed by Lara Booth - worked extremely well creating brilliant standoff scenes between two factions. During a deadlock in which lots of different people were holding many others at gun point there was a real sense of threat in the air, something quite hard to achieve and expertly done. Hannah Duffy brought great comedy to the role of Talthybia in many tense scenes as she was half awkward school girl, half intelligent woman, teetering round on her heels, who found her strength in the end.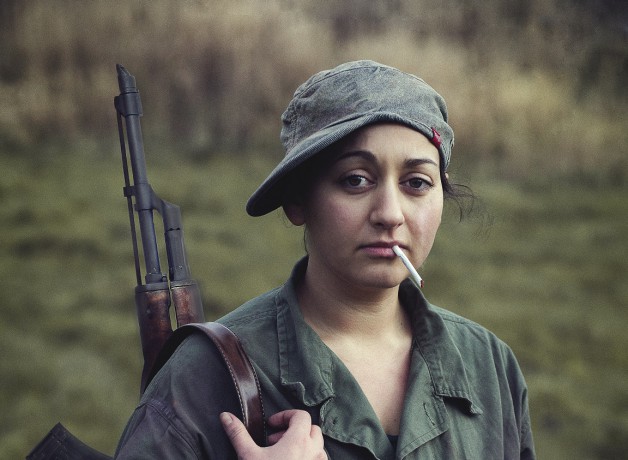 Feminism was a major theme throughout the play and girl power was definitely evident in the strength of acting on stage. Ellie Jackson took control of the play entirely as the charismatic, regal and yet completely passionate and vulnerable Eurydice. Her major speech in the play in front of the majority of the cast and addressing the audience as her people was spell binding, a great orator, I wanted to clap along with the ensemble afterwards. Her multi-layered performance as Eurydice was magnetic and when she dropped into the lower register in her voice telling the over powering Theseus 'I will speak' I got chills. Jackson is definitely one to look out for in the future. Another utterly believable performance was Stephanie Houtman as Lieutenant Scud, with her childlike boldness and contrasting vulnerability she won over the audience easily and broke their hearts in the second act. Not to completely disregard the men in the play Tyler Conti stood out in the sea of women for all the right reasons. He had great physicality as Prince Tydeus with his macho swagger and over confident demeanour he was male bravado personified. I hated his character yet wanted to see more; that sickening baddie you love to hate and another performer to look out for after graduation. Another strong male performance was by Declan O'Connor who really came into his own as Theseus - First Citizen of Athens, in Thebes to offer financial aid - especially when delivering his own speech to the crowd and when discussing politics alone with Jackson. However, to be highly critical of a strong performance, I didn't quite believe his status as First Citizen of Athens and his emotional scene after hearing of his wife's death was a little forced.
One element I did find distracting was a member of the crew was in view up on a pedestal which sometimes took me out of the world of the play and reminded me I was in a theatre. In addition to this the sound effects designed by Mel Ashley were at times ear-splittingly loud, however understandable in the situations such as the helicopter arriving and leaving. A mention to the wonderful costumes headed by Sheila Johnson, the contrast between the combat clad soldiers and the flowing gowns of the cabinet showing the sides of war and peace was genius.
Overall this was a production of a very high standard and I could have easily believed it was a professional production. The cast will be performing to sell out shows in the evening so if you would like to catch this wonderful ensemble piece with some great standout performances book for the matinee while you still can!
http://www.art.mmu.ac.uk/events/2016/welcome-to-thebes/
Reviewer: Charlotte Green
Reviewed: 18th February 2016