Le Fabuleux Destin d'Amélie Poulain is a timeless film classic about beguiling characters living in the Paris of our dreams. Its director, Jean-Pierre Jenuet was reportedly disgusted by the thought of turning his beloved and perfect brainchild into a mediocre musical. And, while the score of the Broadway production, with its lack of acknowledgment of the saccharine world of Jeunet's Paris may have smashed the director's dream to smithereens, The London Cast make sure their interpretation of the score keeps the story well clear from the realms of mediocrity.
As one of the musical's songs suggests, times certainly are hard for dreamers like Amélie. In the musical, Lonely Amélie imagines and wonders about the inner secret lives and loves of every person she meets on the street. She lives her life delivering small and large acts of kindness, navigating her own loneliness with whimsical, sardonic and sometimes dark musings on life.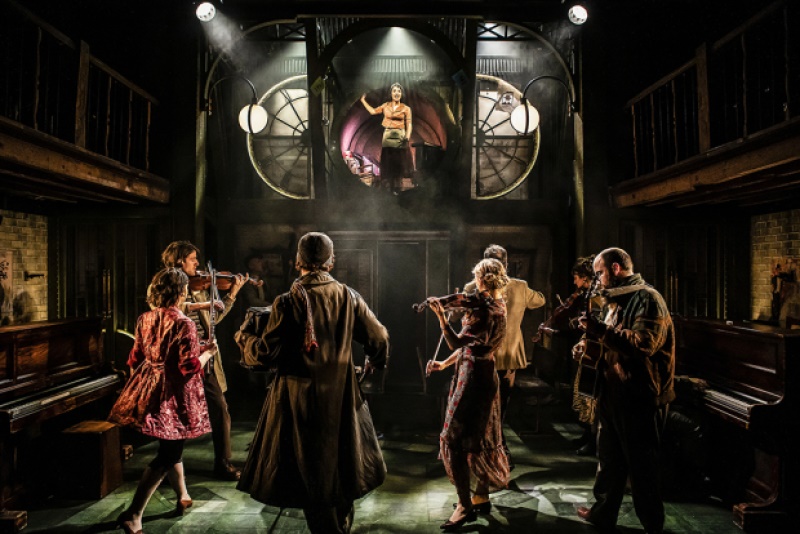 Until one day, she finds herself falling in love, herself. Barnaby Race's arrangements with George Francis' direction situate Amelie in the dreamy streets of Paris, of cafes, accordions, bicycles and romance. It's all so undeniably and stereotypically French sounding. And while this may seem a cliché, it miraculously avoids this. This is itself is a triumphant feat. Nathan Tysen and Daniel Messé's libretto also shines with beautiful and serene moments, as memorable as the film. Fusing monologues with music, we're taken on a tour of Paris as Amélie describes the adorable and lonely world she resides in.
Amélie is bursting with stories. Each number is a compact vignette itself. Audrey Brisson and Chris Jared delight in their roles singing as Amelie, and her love interest Nino. In fact, Audrey Brisson's Amelie, is a five-star performance. 'Times Are Hard For Dreamers' is a triumph, not only nodding its head to, its original composer, Yan Tiersen's compositional style, but in showing the audience a cross-section of Amélie's mind. 'Tour de France', sung as Amélie guides a blind man through Paris melds golden era musical scores with French folk music. 'When The Booth Goes Bright' is an often morose and philosophical number in terms of lyrics but sounds as infectious as any chart number and is the highlight of the album. Meanwhile, duet, 'Girl with The Glass' shines as the absolute gem of the score, showing us how the rest of the world sees Amélie's loneliness and drive to change the world around her. Director Michael Fentimen's cast took the Actor/Muso approach with each character being part of the soundscape. This isn't decipherable on the recording, but what is, is the energy and passion that this approach brings out in the cast. It makes the final number, 'Where do we go from here?' even more joyous.
Musical scores are not meant to be listened to in isolation - it robs them of their magic. But with a soundtrack as immersive, well-crafted and heartwarming as this, one can only marvel at what kind of infectious delight this stage production is.
Jean-Pierre Jenuet, this is certainly not mediocrity, I promise.
Reviewer: Melissa Jones
Reviewed: 6th June 2020
North West End UK Rating: ★★★★★