In 1909, E M Forster wrote this short story which was published in 'The Oxford and Cambridge Review; and was a complete departure from his usual style of writing. He had already written 'Where Angels Fear to Tread' and 'Room with a View' when he wrote 'The Machine Stops' and followed this with 'Howards End' and 'A Passage to India'.
In collaboration with The Riverside Theatre and Ulster University, Big Telly Theatre Company have taken on developing a Zoom version of this story to experiment with Zoom's capabilities and to push the boundaries of what can be achieved theatrically; when socially distanced. Since lockdown, Big Telly has brought us 'The Tempest', 'Operation Elsewhere' and are now venturing below ground to remotely present their production of 'The Machine Stops'. When watching these productions, we have to remember that the performers are still in lockdown and presenting their show from home.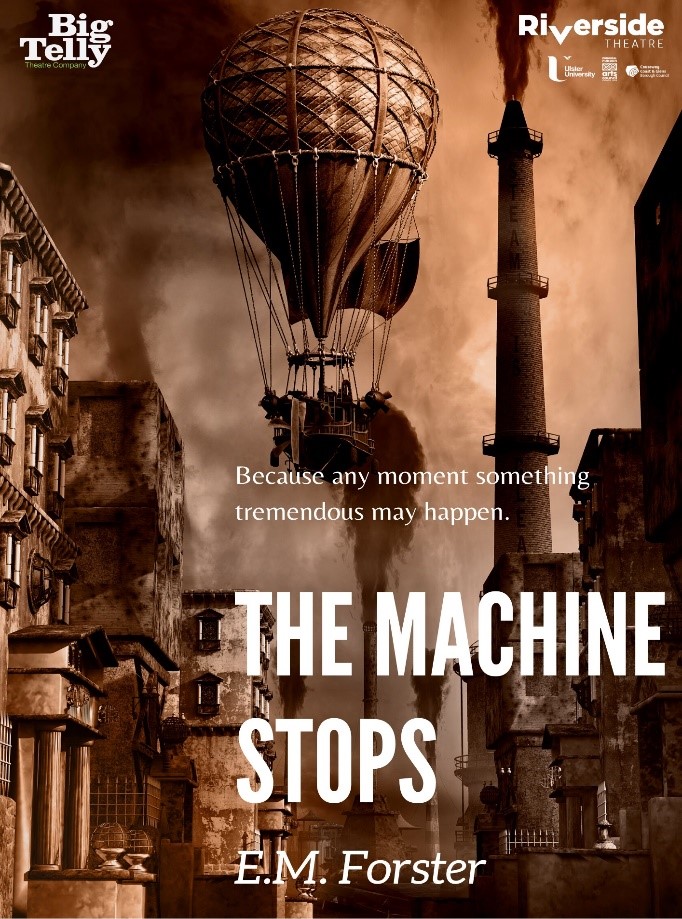 Imagine a world where a machine, developed by humans, now controls how they live their lives. They are forced into an underground world, living in isolation, only contacting other humans by messaging and video conferencing. All their needs are met by 'The Machine', it decides if they can procreate (yes - love is turned into a process), and at times it can decide when they die. To keep order, every movement is watched and restricted. Vashti is content with this world, she is comfortable and does not question why they must live this way, whereas her son Kuno, is disenchanted and has other ideas. You see, Kuno has been to the surface, a place that is restricted. To go to the surface, you must request a respirator and an egression permit which are controlled by the Committee and these jobs worth's, make sure these are not handed out to anyone with rebellious tendencies.
Kuno is keen for his mother to see the surface and so reluctantly, she makes the journey by airship to see him. It is at this point that Kuno confesses that he went to the surface without permission and has now been threatened with 'homelessness', which means that he will be sent away from the safety of the underworld, to the surface and almost certain death. Kuno believes the machine is breaking down. Whether it does or not, is for you to find out!
This production has come at a time when we can all relate to the feeling of being controlled during lockdown. To create a theatrical production in this way is no mean feat, but Big Telly seem to have found a formula that works well on Zoom. Not only do they produce an entertaining production, they break down the fourth wall by encouraging audience participation, which at a time when we may be feeling very remote from personal contact, is gratifying. Anna Healy (Vashti) and Kuno played by Gary Crossan do a remarkable job of developing their characters without the aid of the usual creative team on hand. This is the case for all of the ensemble which includes Jonny Cameron, Nicky Harley, Emily Lamey Rosie McClelland, Niamh McEnhill and Christina Nelson. This ensemble play multiple roles and make the whole production so enjoyable with their flexibility and humour, which is infectious.
David Morgan's set designs and special effects help to make this play feel theatrical, when combined with the slick smooth running of the whole production. This is excellent entertainment for the whole family.
Reviewer: Caroline Worswick
Reviewed: 6th June 2020
North West End UK Rating: ★★★★★