Carmen is a four-act opera by French composer Georges Bizet, first performed in Paris on 3rd March 1875 with audiences initially objecting to the wild and immoral behaviour on view. Sadly, Bizet's sudden death in June meant he did not get to see its resounding success in Vienna later that year and its subsequent international acclaim. It is now one of the most popular and frequently performed operas.
Set in Seville, Spain around 1820, Carmen tells the story of the downfall of Don José (Dmitry Siomkin), a naïve soldier who falls head over heels in love with Carmen (Lubov Dobrynina), a seductive, free-spirited femme fatale. The infatuated Don José abandons his childhood sweetheart, Micaela (Alina Polevaya), and neglects his military duties much to the chagrin of his senior officer Cuniga (Vladislav Kalashnikov), only to lose the fickle Carmen to the glamorous toreador Escamillio (Pavel Kryuchko).
Sung in its original French, my initial concern when the surtitles appeared was that they were in Russian, but I, like many others, know the story of Carmen, and it turned out to be a blessing in disguise as I focused solely on the wonderful performances in this scintillating production.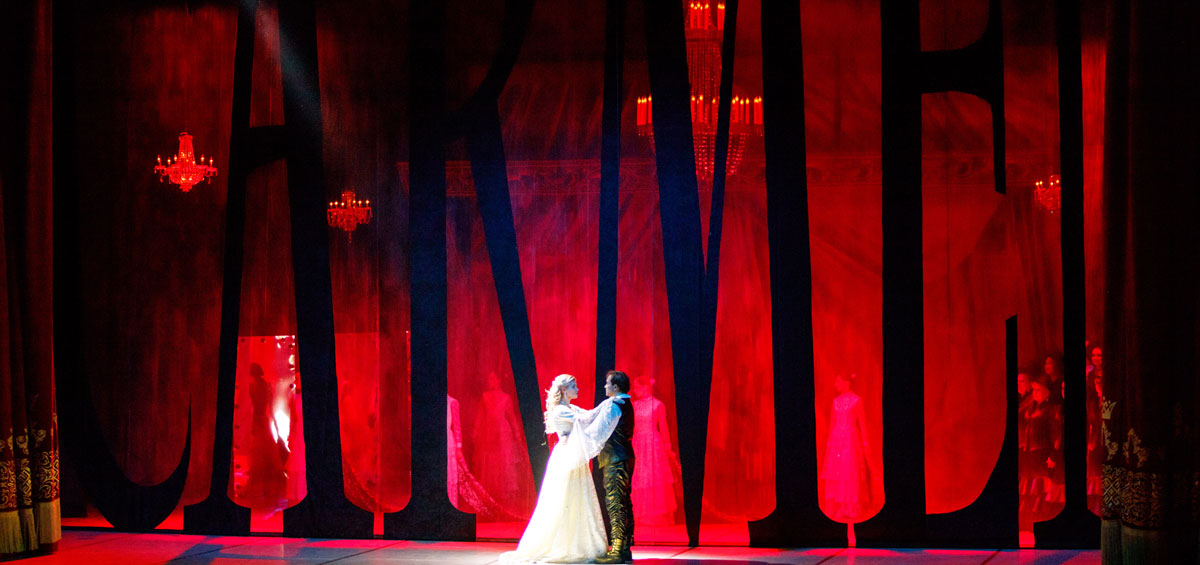 Dobrynina's Carmen was the ideal femme fatale, a peroxide blonde, sultry and sensual at every turn, equally mesmerising and dangerous to boot as she beguiles the initially disinterested Don José at the beginning of the play with her famous seguidilla about dancing and passion, but is comfortably carefree with her later disdain for him. She sung beautifully throughout.
In the other corner, Polevaya perfectly served up the girl next door as Micaela: innocent, loving, and sweet in equal proportion, as dressed in white she remains faithful to Don José until the bitter end, singing sweetly throughout as she seeks to love and be loved.
Siomkin captures the conflicting emotions of Don José perfectly, and you feel for him as he is drawn, inexorably, like a fly, into Carmen's carefully crafted web from which he cannot escape, even after she so bluntly rejects him, his passion for her being one that he will never escape from.
Kryuchko's Escamillio displayed the right balance of bravado and swagger as he seeks the love of Carmen with the famous Toreador Song, only for it to be taken from him as he celebrates his moment of glory off-stage in the bullring.
With Kalashnikov suitably officious, a special mention to Anastasia Ershova and Anna Stolbova for their entertaining performances as Carmen's friends Fraskita and Mersedes, and to Aleksey Chistyakov and Sergey Garashkin as superb smugglers Remendado and Dancairo.
The set and staging were visually stunning with clever use of reds, blacks and occasional whites in set, lighting, and costume to hint at the mood and moment within the opera and provide a rich and erotic undertone to the production. The over-sized red stiletto perfectly embodied the intensity of the piece with passions enflamed further by the candle-lit candelabras, so much so that one feels the agony of Don José as he ultimately dispatches his own personal bull, untamed.
Nikolai Markelov's production from 2017 is presented as opera-ballet and the support of ballet artists and soloists along with children from the National Presidential School of Art only serves to add to the richness of the whole thing, with the orchestra, under the direction of conductor Grigory Arkhipov, perfectly reflecting the brooding intensity of the action unfolding on stage.
The Russian State Ballet and Opera House presentation of Carmen is available to view at https://www.youtube.com/watch?v=W_m-CiUVkuI
Reviewer: Mark Davoren
Reviewed: 6th June 2020
North West End UK Rating: ★★★★★