The Shows Must Go On! is a YouTube channel dedicated to streaming various musicals for people to watch from the comfort of their own homes. The shows are available for a 48-hour period and tonight it was The WIZ Live! that took centre stage. This particular production was filmed in New York at Grumman Studios and was originally shown live on television in 2015. The show was produced by Craig Zadan and Neil Meron and was a perfect way to keep you entertained on a Friday night in lockdown.
Before the show began, Black Lives Matter was shown on screen and this was something I was glad to see, especially given that the majority of this extremely talented cast are of black ethnicity.
The thing that hit me quite early on was the style of the music. The sorts of songs I am used to hearing for this story were replaced by those with a Soulful and R&B vibe, and that brought quite a funky edge to the show. The voices that accompanied the music were incredibly powerful. Vocals from Uzo Aduba in the role of Glinda and Amber Riley as Addaperle are just two exquisite examples.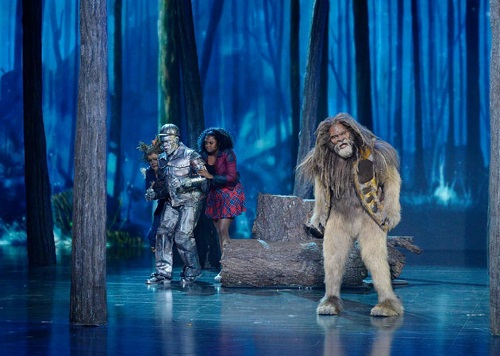 Furthermore, the beautiful harmonies sang by the ensemble are not to be missed.
Costumes were another huge part of the show. I can't remember the last time I was so captured by hair, makeup and costume in the way that I was tonight. Big, bold and expressive seemed to be the theme and the detailing of them certainly caught my eye on multiple occasions.
This production features some big names, such as Mary J. Blige as Evillene, Queen Latifah as The Wiz and Ne-Yo as Tinman. All three were outstanding in their given roles and it was wonderful to see them in a way that you normally wouldn't get to. Additionally, this production introduces a star of the future in Shanice Williams who plays Dorothy. She plays the lead role as if it was written just for her. Her singing is of impeccable quality and her stage presence oozes from within. Every song she sings seems to somehow top the last and she makes it all look effortless.
This production is enchanting. The special effects created with lighting, screen projections and the set are seamless. Members of the Cirque du Soleil performing 'special acrobatic effects' alongside the main ensemble cast was a perfect combination and allowed for the creation of complex scenes in an accessible way.
To finish this piece of televised theatre, as the credits roll, we are shown snippets of rehearsals. The cast learning routines, getting makeup done or practising scenes. It was a lovely touch at the end and gave you just a sneaky insight into the work that went in to producing such a special show.
The WIZ live plays on YouTube until 14th June 2020. https://youtu.be/46S9yppXxKE
Reviewer: Sara Starkey
Reviewed: 12th June 2020
North West End UK Rating: ★★★★★