Daniel Bye and Boff Whalley were just about to set off a national of their new show, These Hills Are Ours, exploring through stories and song the relationship between art and the great outdoors, but then the virus struck.
So in lieu of those live shows they've been releasing a short series of videos where they take a small choir on a hike to the top of a hill singing a specially composed song on their journey to the peak.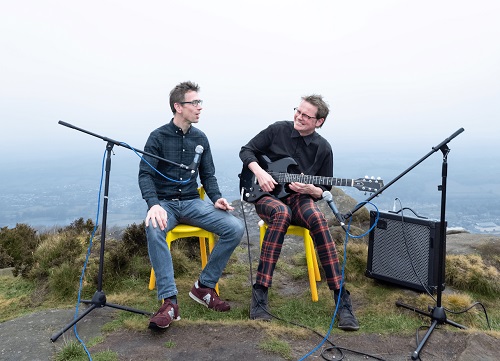 This time they've taken a trip from the nippy shores of Morecambe Bay through town and up some rugged paths to the top of Clougha Pike.
This is a more political video as the choir tramp past Do Not Trespass signs as they sing: 'It's mine, but I don't own it/and it makes me sort of sad/to know this land is parcelled and exchanged.'
Once again, the singers are asking who owns the land – the rich or the people? There's no answer – although there's no mistaking whose side they are on - but the singing is uniformly strong, and conductor Anni Tracey introduces some real dynamics and power into their performance.
Bevis Bowden's direction and editing captures the spirit of what choir is trying to achieve, and even if you don't agree with the sentiments this is still a great choir who have something important to say.

Reviewer: Paul Clarke
Reviewed: 13th June 2020
North West End UK Rating: ★★★★★