Established in 2015 by Artistic Director Shaun Chambers and Tom Platt, the Northern Comedy Theatre have been gradually expanding their repertoire and are now working with playwright David Spicer. The theatre's previous plays include 'The 39 Steps', 'Noises Off', 'Abigail's Party', 'The History Boys' and 'Dead Funny'. The first of Spicer's plays to be performed by the company was 'STOP! … The Play' and they then collaborated on a second Spicer play 'Health and Safety' which they are hoping to tour in Autumn 2020.
In a play written for theatre online, this Zoom production once again crafted by David Spicer, uses the Bard as its subject or Shakespeare's plays to be exact. The Felching Players are to put on a play written by good old Will, but no-one appears to have thought it important to agree which play they are to perform in advance. The players all have their own favourites and believe that their play is to be staged. What could possibly go wrong?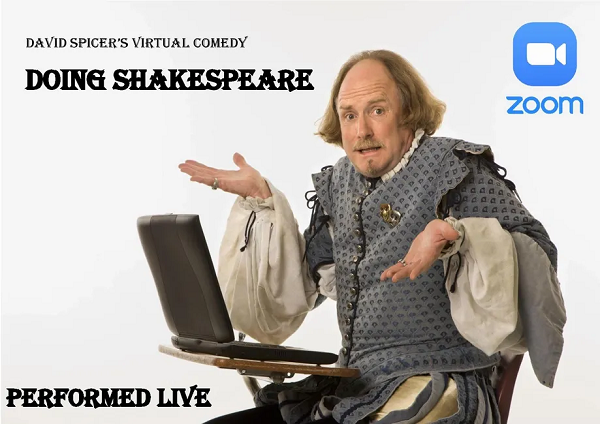 Everything! An artistic director who always seems to have his own way and resentment from the cast, are not a good combination for a successful production.
Whether you have a grasp of Shakespeare or not, you will love this production that pokes fun at this team of players.
All performers wear Elizabethan costumes adding a visual feeling of authenticity and where necessary dressed as their particular character they wish to play in the show. The team of actors include Connor Simpkins playing the artistic director Tom who struggles to organize his actors, Rob Hardie who plays Jason taking delight in playing jokes of Ebon played by Kieran Maleedy who managed to spend half of his time off set. Lauren Molyneux plays cat lover Judith steadfastly sticking with her Shakespearean repertoire whilst Vikki Earle as Rebecca takes on one of my favourite Shakespearean female roles. Kathryn Chambers as Terri takes on one of the Bard's most popular plays with multiple characters. I cannot say more about the plays as I would not wish to give the game away, you will need to tune in to find out more.
The excellent script helps to fuse the different plays together using lines from mainly well-known Shakespeare gems, but there is a lesser known play thrown in there for good measure. The banter between the company is funny and they play off each other well and with the editing of classic Shakespearean lines to fuse the different plays together, it shows a clever and new approach to writing a comedy about Shakespeare. I came away having enjoyed 45 minutes of witty repartee. There are ways visually it could be improved by maybe adding a more interesting back drop along the theme of the play each character will perform. I loved the idea of this play and it works well on Zoom. Congratulations!
Reviewer: Caroline Worswick
Reviewed: 20th June 2020
North West End UK Rating: ★★★★★